Got something a bit different for today's post, in collaboration with Tessuti. They are a designer menswear brand and have a recent collaboration with Hugo Boss and provided me with the ultimate mens essential kit, in partnership with
Hugo Boss
.
As I'm not a man, I thought I'd pass this onto my brother and let him share his opinions on this. So here he goes...
Packaged in a nice wooden box Tessuti, spoilt us with a load of goodies for men.
We've tried on the clothes, used the pen and have groomed with the grooming items and are pleasantly surprised.
Tessuti gave us a couple of MENROCK male grooming items, including their shaving brush and a 100g tub of sandalwood shaving cream. Both pieces are high quality and the subtle smell of the sandalwood is meant to be reminiscent of London's traditional barber shops. The most important thing for me was that it was suitable for dry skin and after a shave. It didn't cause any tightness.
The Hugo Boss polo neck is a classic white t-shirt with a white embossed logo on the chest; this would look equally stylish on a golf course or for a night out. The classic polo t-shirt is look I've always liked and with the added branding of Hugo Boss, this high quality piece will definitely be worn regularly.
There is also a Hugo Boss pocket square – one for the blazers or suit jackets. The overall size is slightly too large for the average pocket. But we were impressed with the silk finish to the pocket square and it did feel like a high quality item to touch.
There's also the Hugo Boss note book; which is a blank notebook with a small Hugo Boss logo on the back and let's be honest who can't have enough notebooks. To go with the notebook, Tessuti also gave us a nicely weighted pen in a high quality Tessuti pen box.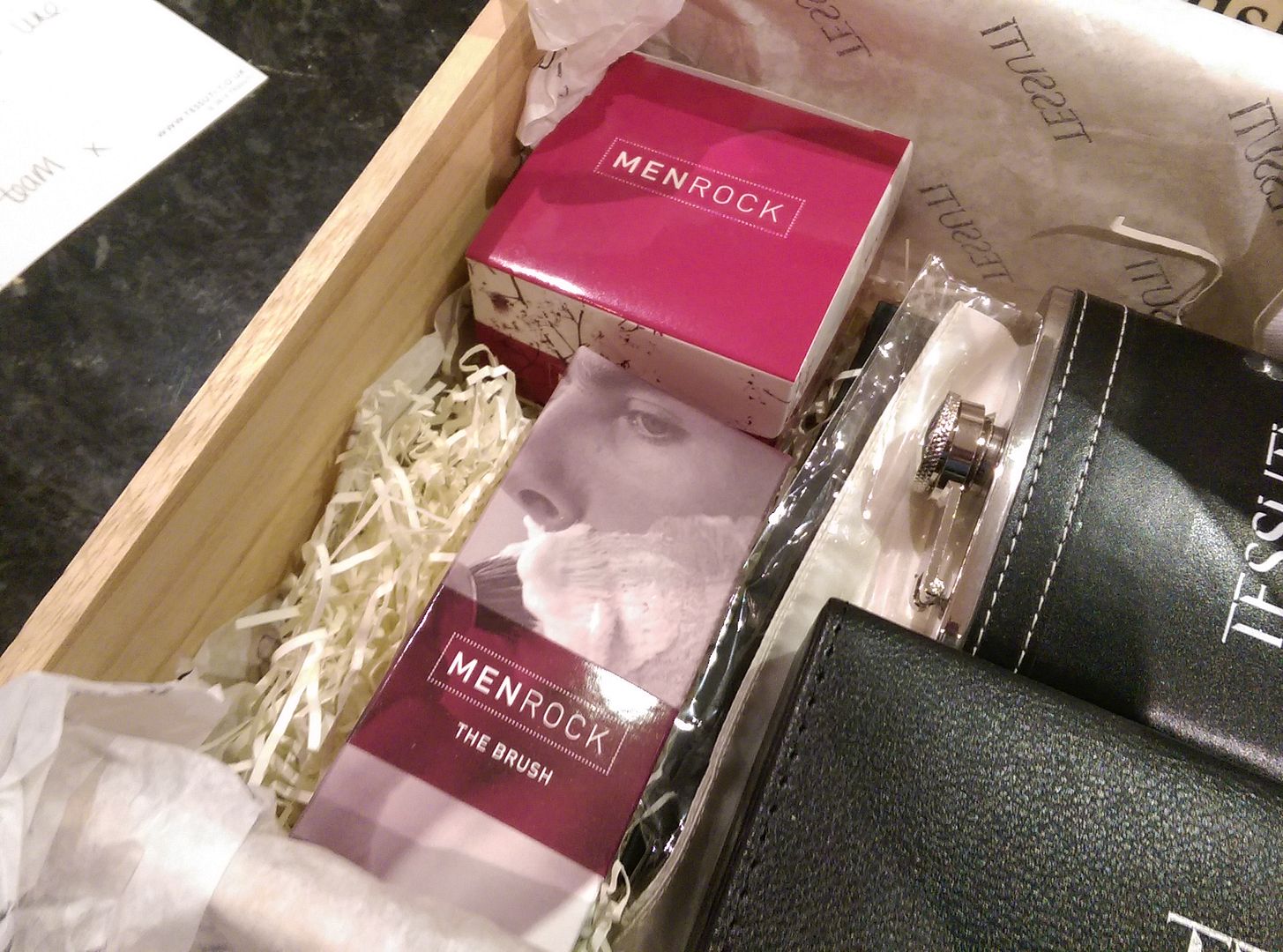 The final item, and our favourite, is the hip flask. Perfect for a cheeky drink or just to display as a fashion accessory. A good quality hip flask is a timeless piece and this Tessuti one ticks all the right boxes. It's well weighted, has a good quality case and of course is a hip flask, which is pretty cool.
All in all, this is a great box for guys, whether a treat for yourself or for the special guy in your life.
Thanks bro
Sherin xx