I had a rare night in this Saturday evening so decided to put on a girly dvd and chill out. While I tend to stick to horror films and thrillers, it was nice to relax with a fun film for the evening. I settled on The Powder Room and I really enjoyed the film.
It's set in a English night club and is based around a group of girls on a night out. The key character is Sam, who's having a bad time of life in general, and goes out with her old friends, who are doing a lot better than her. There are some absolutely hilarious moments and I definitely related to more than one of the girls. It follows them as they have boy drama, fights, all within the powder room (toilet) of this night club. It turns into a messy and crazy night out, which makes Sam sit and re think her own life.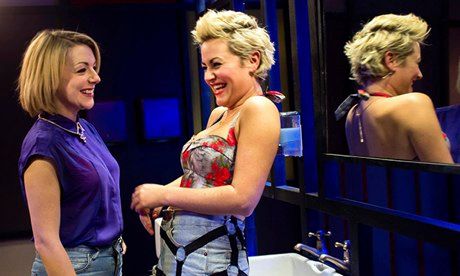 This is definitely a film worth watching. It has some laugh out loud moments and the cast is brilliant. Sheridan Smith is brilliant as Sam. She's someone we can all relate too, while Kate Nash and Oona Chaplin are absolutely fabulous as the glam Parisians. I'm a huge fan of Oona Chaplin and she definitely stood out in the film. Jaime Winstone was great as well - she had such a fun character, who provided entertainment throughout. The girls are all so fantastic in their roles and the film was so much fun to watch.
It was fun watching the make up during the film as well. Make up was constantly touched up and ruined (with tears). I was invited to come to a make up session for 'powder room', which was very useful, with the film's make up artist Claire Carter. It was held at
The Attendant
, which was the perfect backdrop! We were taught that a good base is what you need, so you don't need to take too much on a night out. A good primer - we were recommended Laura Mercier - allows your make up to stay on, so that you won't have to keep re-doing your face. Bathroom toilets have quite bad lighting so while you're tempted to keep applying blusher and bronzer, there really is no need.
I usually bring out eyeshadow, eyeliner and red lipstick for nights out and they always fit in my bag, which is always my big dilemma.

The Powder Room is available to buy on DVD now.
What make up do you bright on a night out?
Sherin xx