I was recently invited to the hidden Kachette, in Shoreditch to be in the audience of
The Fox Problem
. I was invited along by HP, and seeing as I've recently fallen in love with the HP Slate 10, I thought I'd bring it along and use it for the blog post.
I've connected it to the internet, so I get the internet where ever I go now - which is an amazing thing to get from a tablet.
So basically, The Fox Problem is a live YouTube show of just pure and utter randomness - being in the audience was so much fun and I got some nice pictures from my HP Slate 10 too. It's hosted by Gemma Cairney, Georgie Okell and Georgia LA, and these girls definitely have personalities! They immediately caught the attention of the whole room and took over completely with their show.
The venue itself was amazing. It's underneath a railway arch and it's so nicely hidden away, and the show made great use of the space. There was a little bar and some great live performances. The house band was amazing, while the vibe in the whole place was insane.
The theme was space that evening, so special guests were Astronaut Commander Chris Hatfield and Sir Richard Branson! What a line up. They both joined us via Skype and I loved the interview. The questions asked weren't the conventional ones, which gave the interview a unique touch. Both guests are such inspirational guys, and Commander Hatfield was full of wisdom and inspiration. I've secretly been obsessed with space forever, so it was so fun listening to someone who's actually been up there! And Richard Branson is such a legend. Listening to him talk about space travel and the future was so interesting!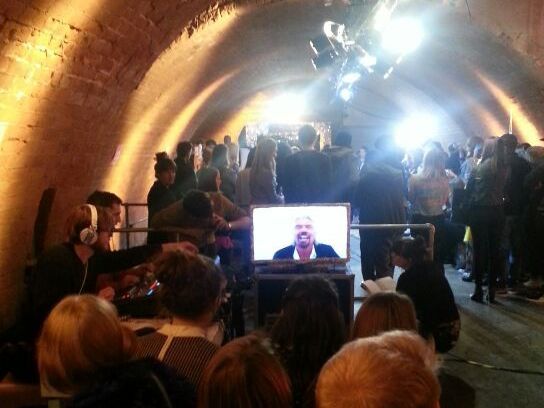 Definitely have a look online at The Fox Problem - watching it is such an experience, and there are always such really cool guests. The HP Slate 10 is a great tab for things like this. I could take pictures and can blog, tweet, instagram on the go. And it's so lightweight, that I can just put it in my normal handbag.
Expect a proper review in the next few days.
Sherin xx