Mascara and eyeliner are the two things I need in my make up bag if I had to choose. I seriously can't live without either of them and I have piles of both of them, and I love alternating between them. I think I currently have a back log of like 6 mascaras at the moment!
The mascara I'm using at the moment is the L'Oreal Double Extension mascara from
The Salon Look
. It's a cool and unique mascara that has 2 sides and works beautifully as a mascara. My lashes aren't the longest in the world so I'm always looking for mascara's that give my eyelashes an extra boost. This one definitely does the job and stays on for ages, and is even waterproof. It's pretty much rained for 4 days straight here recently, so a waterproof mascara is a must.
The two step process is a great idea too. The first step - the white brush - is used to lengthen and condition your lashes while the second step - the black brush - adds the colour. The brush itself on the latter is designed to add colour from root to tip with no clumping either which is great!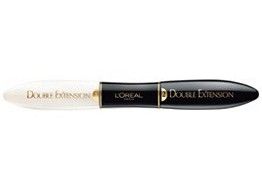 I'm definitely a huge fan of the mascara and I'll be repurchasing it when this one runs out for sure.
What mascara are you using at the moment?
Sherin xx
You're going to have to excuse an impromptu hiatus for a few days from me. A family emergency has rocked us, so just taking a few days to deal with that. All should be back to normal on Monday.