Hope everyone had a wonderful Christmas. I, sadly, sprained my finger so have been suffering for a few days. I did get the chance to go through my favourite outfits of 2013 and I liked looking through it. My style has definitely evolved a bit over the year. I think it's become a lot more classic and grown up, with me opting for pieces that can work season after season. I've also definitely realised that I prefer dressing for the summer. I need it to be warm again asap.
1) I think this was my
first outfit
of the year. I love this dress and think the Vans go nicely with them.
2) Such a
pretty dress
, worn in Dubai. I love the light colours and print so much.
3) A little bit
cold here
. I secretly want it to snow now so I can bring out my bright scarf.
4) First days of
Spring in London
. I love the green top and I need to find these shoes again!
5) I'm obsessed with
these shorts
, again in Dubai. The leopard print flats are so cute.
6) So much love for
this tank
- it's such a fun piece to have that goes with everything.
7) Pretty similar to the picture before, haha. But these
summer flats
are so cute.
8)
This top
was worn a lot this year! A definite favourite. I love the heels too.
9) A
common look
this year: jeans, top, heels. It worked for me and I could wear it for any occasion.
10) I have NO idea where
this dress
is now, but I have to find it before summer hits again.
11) One of my ultimate
favourite looks
of the year. I've worn those shoes and the skirt to death this year.
12) I went to the
beach
and decided heels was a good idea. I regret nothing.
13) A more
laid back outfit
, but I still think it works. The skirt is one of my favourites.
14) I wore
this outfit
for 21 hours: from work to an insane night out and it transitioned so well.
15) I went to Paris and impulse
bought Louboutins
. Love them so much!
16) One of my friends got married this year so naturally I had to get
traditionally dressed up
.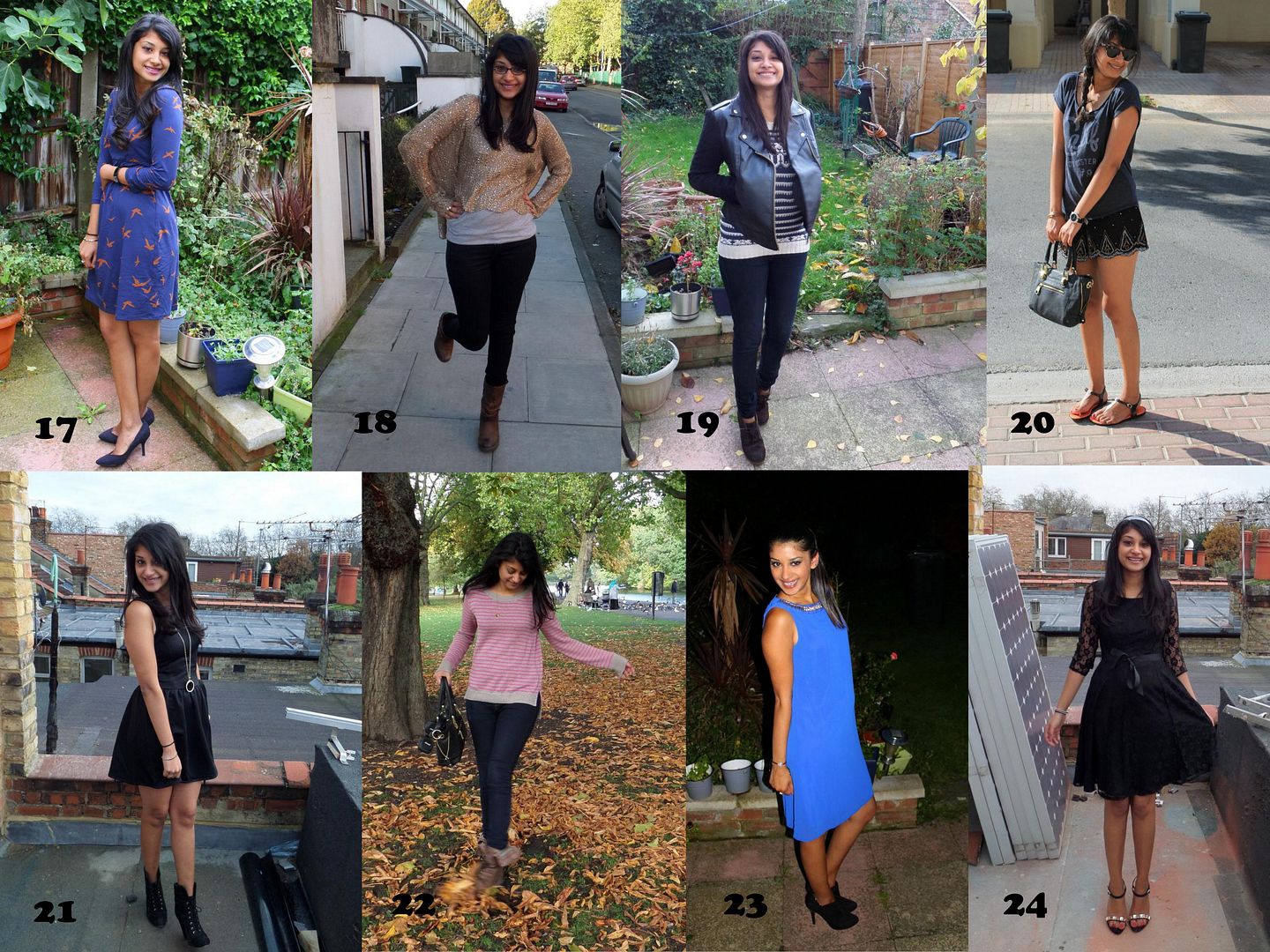 17) I wasn't initially a fan of
this dress
, but it's really grown on me and I can't wait to wear it more.
18)
This outfit
was perfect for a morning after I'd partied till 3am. The top is stunning and look: glasses.
19) I didn't think I could pull of
pleather
, but this jacket changed my perception. It's so cool looking.
20) I have
these shorts
in two colours (see no 5) and Dubai is the only place warm enough to wear them.
21) Another
black dress
. I love how the skirt on this one puffs out a bit.
22) I do love wandering around London in the Autumn, and I'm currently living in
this jumper
.
23) After getting a makeover done, I had to put on this
blue dress
. Another outfit that I wore on a night out.
And my favourite outfit of the year was definitely this stunning
Jarlo dress
.
I feel like I now need to sort out my closet because I haven't seen some of these pieces in months and even forgot I had them. Whoops.
Check out my favourite outfits from
2011
and
2012
too.
Sherin xx