Here's part two of my official gift guide. Be prepared it's a bumper edition! You essentially won't need another gift guide at all for any women in your life. While
Part One
was smaller gift ideas, these ones are for the women who mean so much more to you, and the ones you want to spend a bit more on.
Beauty:
I love make up and beauty products so much, and this time of the year, there are some great gift sets out there, that would be perfect for any really girly girl in your life (meeeeeeee!!) I love how fun and imaginative some beauty brands get around this year.
1. Debenhams:
I went to the Debenhams Christmas Gift Event and there are some amazing sets out there. I love all the different variations and how the sets have everything you need.
2. Nails Inc:
The Nails Inc sets are always something special and I love their fun new packaging too.
3. Shopcade:
Shopcade also has a large variety of cool bits and pieces, including some beauty, so definitely check it out!
4: MyShowcase:
MyShowcase is great for beauty shopping and I love how many really cool things from a lot of brands they have on site too.
5. Wild About Beauty:
They have some great pieces, and I really love this set. It's so cute, and has everything you need.
6/8. QVC:
I always love the QVC Beauty selection. They have loads of brands, and in particular I LOVE the Ciate mini advent calendar and the mini make up set.
9. Lush:
Is there anything better than getting a gorgeous smelling Lush set for Christmas? Their sets are so cute and always put a smile on peoples faces.
10. Space NK:
Another store that carries loads of different brands, and lots of really cute little fun sets. Their Christmas section is just gorgeous with all sorts from the likes of Stilla and Laura Mercier.
Jewellery:
I love a bit of bling in my life, which is why my jewellery guide is so large! You can never go wrong with giving some decent jewellery to a loved one - it's personal but not hard and comes in a whole load of different price points.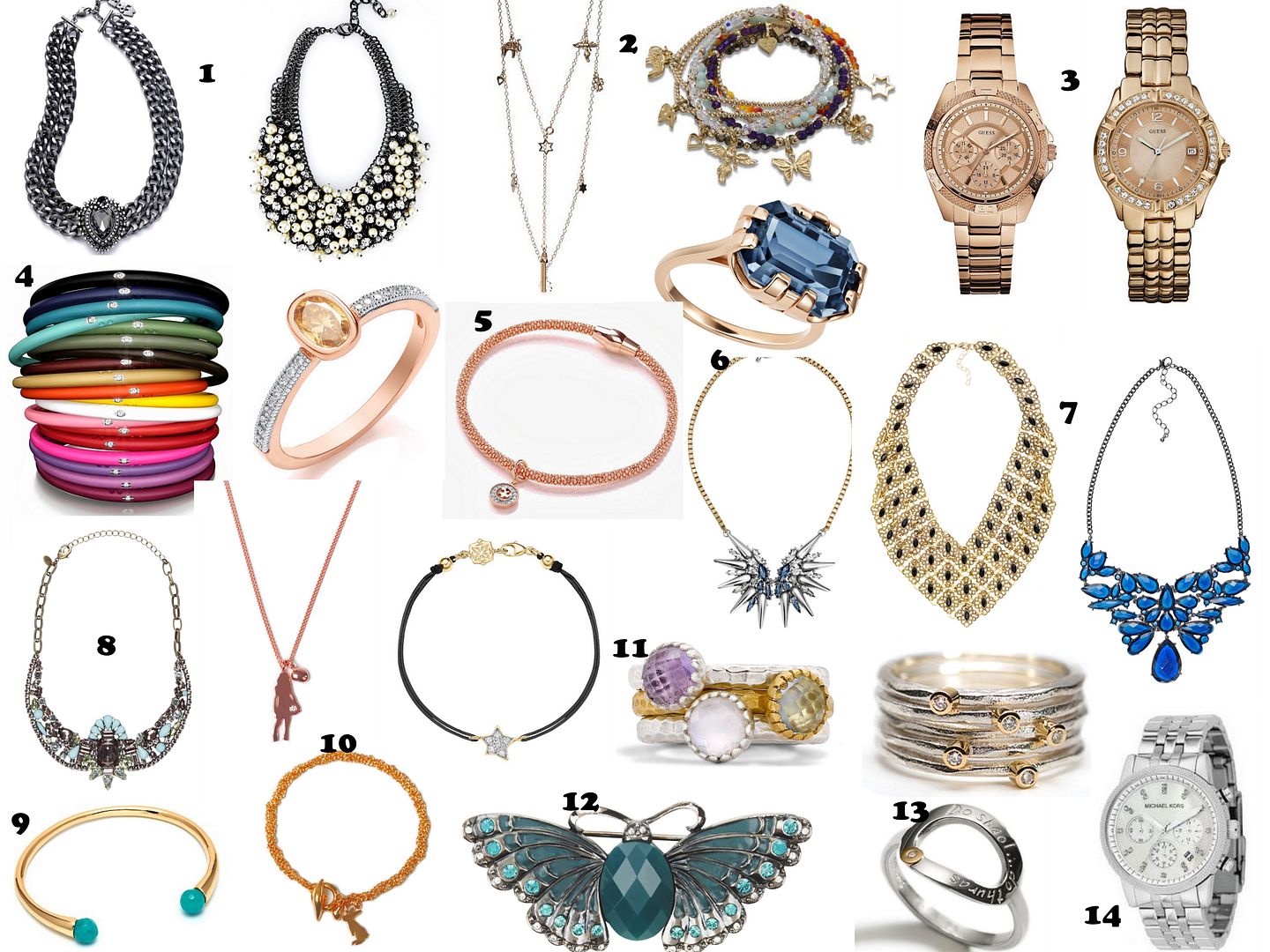 1. QVC:
Love these two necklaces. I'm all about statement necklaces, and pairing them with plain jumpers these days, and QVC has no lack of fun pieces like this.
2. Annie Haak:
A collection that's full of gorgeous and unique pieces. I love how fun the pieces are and the silver gives it a great touch.
3. Guess:
We know how much I love watches and Guess has an amazing selection. I have one which I can't wait to share with you all. These watches are all so beautiful and just look great on.
4. Duepunti:
I mentioned this brand before and I love them. Each of the bracelets has diamonds on a silicon base. It's glam and understated at the same time.
5. Bouton:
Bouton is one of my favourite jewellery brands. The pieces are all stunning and there's just so much from the site I need in my life.
6. Cadenzza:
A new beloved site. They have a wide range of jewellery brands and there'll be tons of pieces perfect for all occasions. I need that ring in my life.
7. Phase 8:
Like I said before, statement necklaces are the best! These two are absolutely gorgeous, with the blue one being especially fun to wear.
8. Next:
This is such a gorgeous necklace. Next definitely some of the best costume jewellery around and it's all so affordable.
9. Amazon:
Amazon has everything you could ever need, so it wasn't surprising that they do stunning jewellery too.
10. Sara Hartley:
I mentioned this brand last year, and it's definitely worth mentioning again. It's fun jewellery that you can wear all the time.
11. Dower and Hall:
Dower and Hall do some exquisite jewellery. Pieces that stand out. The website has a huge selection and you're bound to find a great personal piece, maybe even in charm form.
12. M&S:
I'm always so impressed by M&S everytime I see their new collections. The jewellery coming up is gorgeous, especially this brooch. Check out their
gifts here
b.
13. Enibas:
I've just discovered Enibas and it's so pretty. These are pieces that scream Sherin. I seriously love everything on the site, and might have to treat myself to something from it.
14. WatchWarehouse:
Yes, more watches. WatchWarehouse is worth visiting for all your watch needs. They have all kinds of brands, and I love this Michael Kors watch.
The Essentials:
1. Shopcade:
Shopcade is a great site to play around on. You;ll get distracted for ages and you'll find some great deals.
2. Red Dog Bags:
Such great bags here. They are absolutely stunning and look like they're are amazing quality. There are tons of compartments, so you'll never lose anything.
3. Harlow and Fox:
I love gorgeous lingerie. These ones from Harlow and Fox are just so sexy and glamorous. I would love to wear a set - great for confidence.
4. Ted Baker:
While it's not sunny now, it will be soon!! I have tons of sunglasses and these Ted Baker ones look so cool.
5. Native Union Monocle:
The speaker looks like it's a great way to enjoy music, so it'll be perfect for any music fans. I need this in my life!
6. Bower and Wilkins:
A cool set of headphones, that comes in 4 different colours. This Spectrum of Sound boxset looks so cool - another one great for music fans.
7. Clarks:
A bag is a definitely great present you can't go wrong with. Clarks stuff is amazing quality and this bag is the prettiest.
8. House of Fraser:
House of Fraser has fantastic
bags
. These from Untold and Lulu Guinness are both so stunning.
9. UGGs via Escape Shoes:
I always get cold so live in UGGs. I would love it if someone got me another pair. Escape Shoes is a great European website that have tons of cool shoe brands.
10. Plantronics:
Another great headphone brand. This RIG Gaming set looks the coolest. It connects to all gaming devices and fits the gaming lifestyle perfectly.
11. Frends Headphones:
Love how stylish Frends headphones are. They're perfect for any fashionista who also has a passion for music. The sound quality is great on them too, alongside the stunning design.
12. National Gallery Monopoly:
Monopoly is one of my all time favourite games, and the National Gallery one just looks so much fun to play.
13. Princesse Tam Tam:
Princesse Tam Tam does such amazing lounge and night wear. It's all so sexy and something that any girl would enjoy receiving.
14. Jack Wills:
Jack Wills have such warm and cosy stuff. I can definitely imagine living in a jumper like this! Perfect for the winter months. Check out their
Christmas Ad here
.
15. Volcom:
Isn't this bag so cool? I love the bird print on it.
16: Fat Face:
Fat Fate do incredible things. This bag is such a classic piece. A brown bag is essential for every girl.
Sherin xx