I love spending time on all my various different toys at the moment. I'm currently pimping 2 phones, a new wifi camera and, my favourite of all,
my brand new Kindle Fire HD
. It's my first tablet in years and I'm already hooked on it, using it for everything from blogging and reading to organising my calendar and playing games – I'm more than a little obsessed with Cut The Rope at the moment. I've wasted one too many nights out playing that game!
One thing I do love about having a Kindle Fire to play with is all the great apps there are on it, and I was particularly impressed with the selection of fashion based apps too. They've become a great way to kill time, and I think I might have become obsessed with a few of them too.
Pose:
Pose is a fantastic little fashion based social network and one for every fashion blogger out there. I love the inspiration from outfits, such as street style and personal style blogs, so an app where people upload their looks, and tag where the pieces are from is a perfect app in my eyes. There are some really stylish ladies up on Pose, who I'm enjoying following, and I like taking inspiration from their looks with what I have in my wardrobe. There is nothing more fun then seeing a really stylish girl with pieces similar to what you have, then recreating the look with your own personality.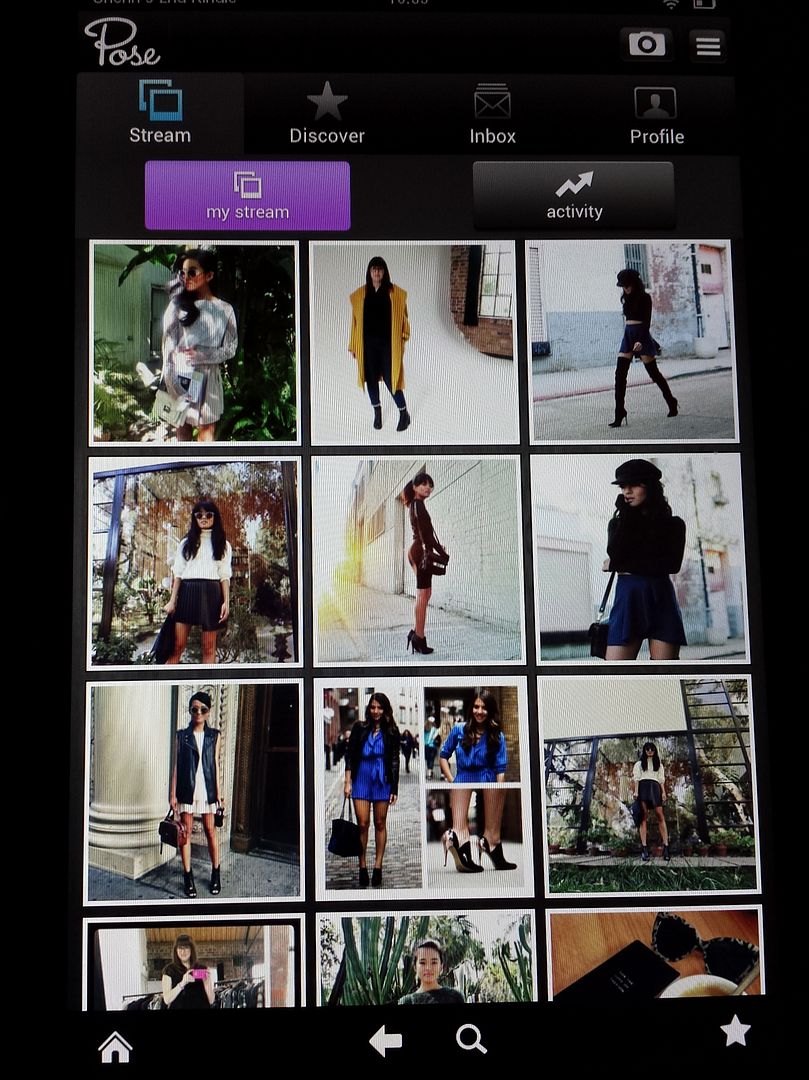 Pinterest:
Do I have to say anything else? Pinterest is a firm favourite site for fashionista's and now, with the app, I can take it with me anywhere. I can never get sick of Pinterest – it is endless hours of pretty pictures, and it's always great to see different ways of styling something. When I'm stuck with how to wear a certain piece, I look at how other people are wearing the trend via Pinterest and it really helps out.
Stylist:
The Stylist is one of the only fashion magazines I read and I always make sure to grab a copy on Wednesday mornings. The app is great though. For some reason, I accidentally downloaded the French version (lucky I'm fluent in French), but it still does the job. You can also get a subscription to all your favourite fashion mags, from Vogue to Glamour, which is wonderful. I know how heavy these magazines can get so it's nice to have them all digital. And I think they also keep past issues on file in your newsstand.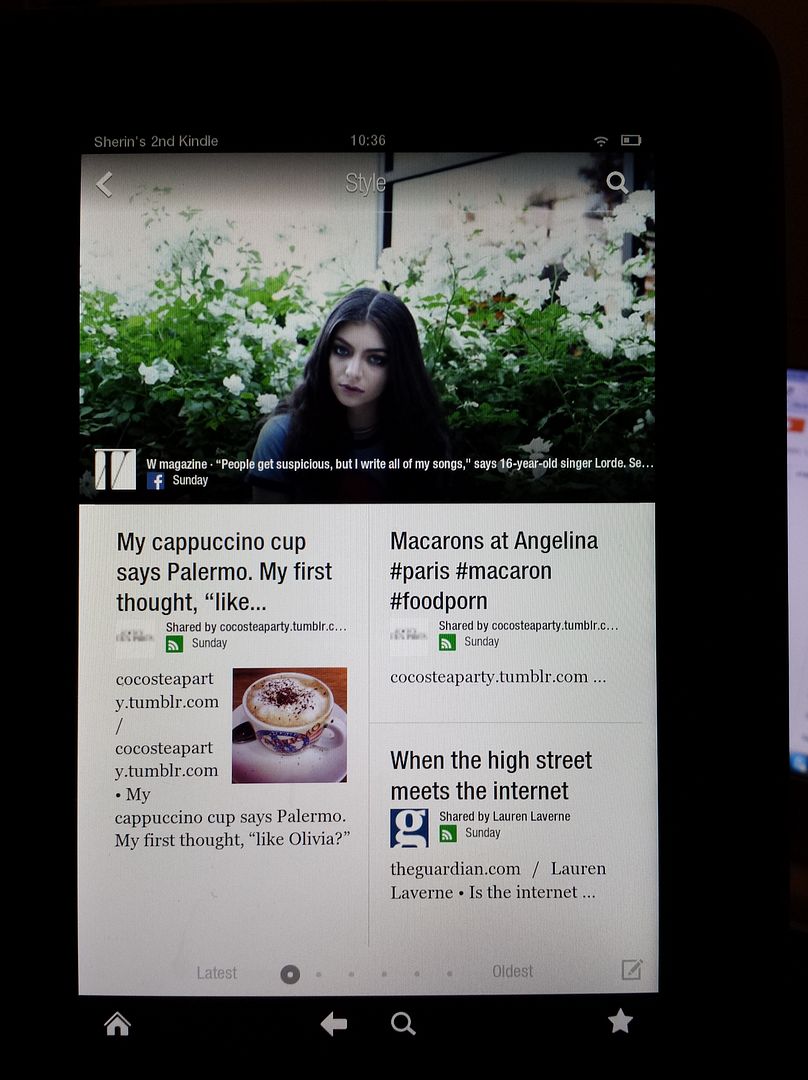 Flipboard:
This is possibly one of my favourite apps ever. I love knowing what's going on in the world but don't necessarily have time to sit down and watch the news in depth. This app lets me pick which topics I want (politics, style, entertainment) and gives me a run down of what's happening in each industry from a wide range of different sources. The Style section is a great way of keeping up with different fashion news, such as the latest collections at Fashion week, fashion tips and celebrity looks. It's a great way to keep up with the latest fashion news as it is all instant and breaking.
Kindle:
This is the main part of the Kindle Fire HD. While I love actual physical books, I've recently realised that Kindles are pretty awesome. I have multiple books saved on my Kindle, so can switch from one to another and the Kindle is really light, so much easier to transport around than a large hardback. I've already downloaded a bunch of great books, such as Mindy Kaling's book, which is supposed to be a really good book. Can't wait to make a start on it.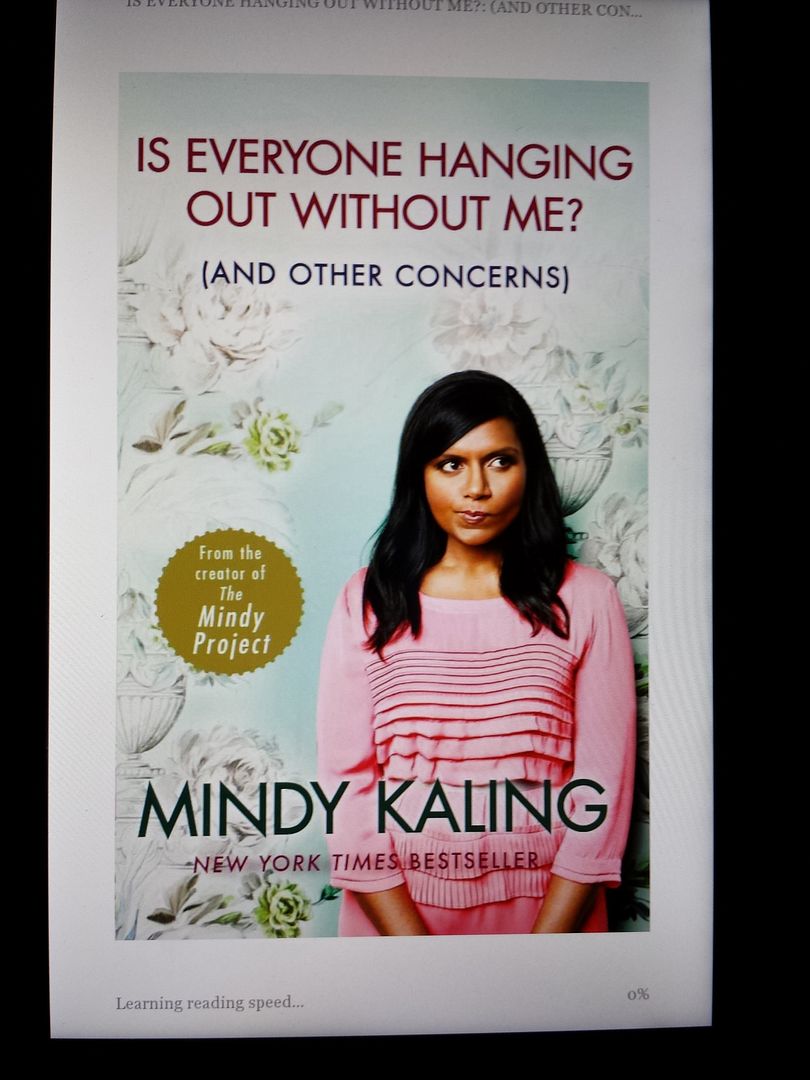 So there you have it, some of my favourite fashion-based apps that I've added to my Kindle. This Kindle is slowly becoming an extension of my life. It's really light and sleek, while the huge memory means that I can have a lot on it at one time. The screen is really sharp and clear, while the interface is really easy to use. If you're looking for a tablet, I recommend this one. It is available from all sorts of stores,
such as Argos
, and is pretty affordable compared to similar products on the market.
What apps can you not live without?
Sherin xx