I love a good road trip: good music, a lot of junk food, great company and the relaxation of watching the countryside pass me by.
I was recently contacted by
iDBUS
to go on a little travel adventure to discover Paris. Not the same old Paris, that consists of the Eiffel Tower and L'Arc de Triumph, but instead to discover Paris's hidden gems. So I grabbed the best friend, Marin, and we packed for a whirlwind weekend in Paris.
iDBUS, a luxury coach service, looked after our transport, with an 8 hour coach journey. They focus on coach journeys around Europe, and there is a direct coach from London to Paris. Now, 8 hours seem may seem like a very long time, but we managed the last coach on a friday - at 10pm - and arrived in Paris bright and early Saturday morning, giving us a day and a half. It was a bit wet in the morning, but it turned into a stunning day in the afternoon.
First stop was checking into our hotel, and then walking around Paris a bit before heading to Rue de Rivoli to meet my favourite Parisian - Cee. She's in Paris for another month, so I was very excited about catching up with her again. Rue de Rivoli is wonderful. I usually go to Champs Elysee when I visit, but Rue de Rivoli is a lot more high street, and we wondered into Zara and H&M as well as our favourites that aren't in England: Sefora and Jennyfer. But the crepe place we went to was hidden off the main road and was absolutely fantastic! My favourite thing about Paris is all the creperies and patisseries. I have a massive sweet tooth and so love having so much variety of desserts.
We then wondered towards the Bastille area. Not going to lie, I only went there as Bastille is the name of my favourite band, but I really did fall in love with the area. We went vintage shopping and after some research, came across
Odetta
. The closest station is Chemin Vert, which also some some cute little places, but I was determined to head over and find Odetta and I was so happy I did. It has some great vintage pieces from really high end names, and I found myself a pair of Louboutin wedges, which I HAD to buy. Below, you can see my new Louboutins, and Marin's new Zara heels.
Our other Vintage store visit was Escape Kiliwatch, which is a HUGE vintage store - comparable to Rokit here. It has a huge selection of clothes and is located in Etienne Marcel, also near Bastille. Again, it has some cute little restaurants and stores.
Our final day stop was at Notre Dame. We definitely had to do at least one tourist thing and we chose Notre Dame. After the Houses of Parliament, it is probably my favourite building. It's so beautiful and gothic, and is the backdrop to one of my favourite books - The Hunchback of Notre Dame. We definitely enjoyed the tourist element, and took tons of pictures!
We then walked across the River Seine and saw a stunning view of Paris, before heading to our hotel (and the local Carrefour, where we stocked up on more junk food) to get ready for the evening and a night out in Paris. Sunday was a lot more low key as we had a 3pm coach into London.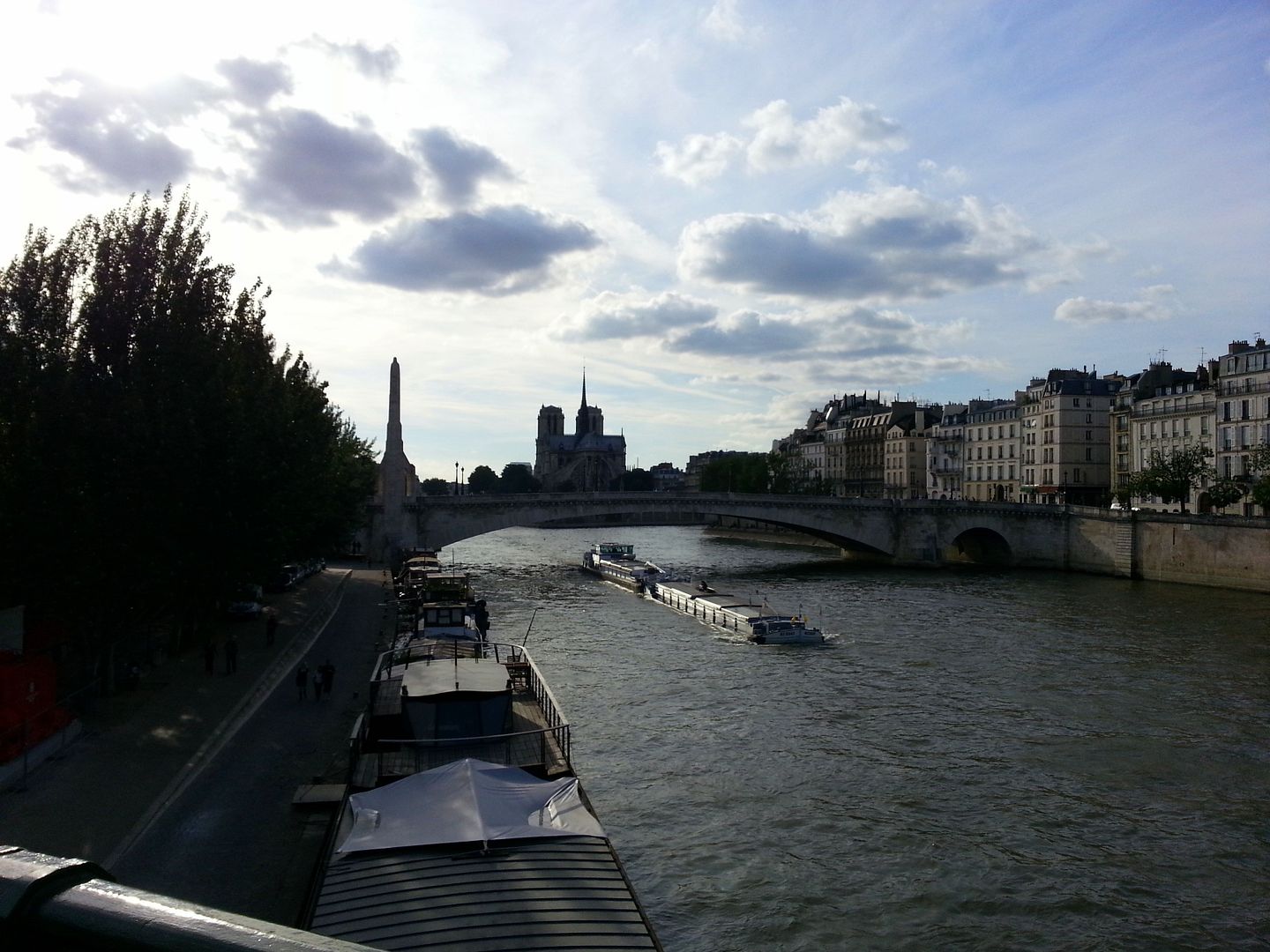 If I'm honest, I quite enjoyed taking a coach to Paris. We slept the whole way there as it was late, but on the way back drifted in and out of sleep, while watching the countryside pass by, before crossing the Channel. I am pretty surprised at how well I slept on the seats.
It's a good service that also includes wifi and several stop overs in case you need to stretch your legs. I would recommend the service, especially if you're looking for new ways to get to Europe - it goes to a lot of different destinations. And it is also a lot more affordable than the Eurostar.
Would you ever take a coach to Paris, or anywhere in Europe?
Sherin xx