If you're in the UK, you'll have no doubt seen O2's latest campaign:
#BeMoreDog
. The aim is to let people be more dog like - i.e. be more adventurous and have more fun in life. It's encouraging the public to be more excited with life and to look at all the incredible things around us.
O2 recently asked me to take part in the campaign and sent me two boxes: a Be More Dog box, which would have a fun experience inside; and a Be More Cat box, which would have something more relaxing inside. This was a complete no brainer. Anyone who knows me will know that I love a good experience, and I always say Yes, so I got the combination for the box from O2 to see what was in store for me this weekend and it was a class to learn how to static trapeze.
Now, I have a slight obsession with the circus and all the acrobats and acts with it. I go to the circus every time it's in town, and once took my little cousin as an excuse and ignored him as he cried the whole way through - true story. I love everything about it and have always wanted to learn how to do some of the moves, so I was really REALLY excited to do a class at the
Aircraft Circus
in South London.
I started with the basics - just hanging and learning to hang upside down. A LOT harder than it all looks. I had to hang from the rope, then lift my legs over, through my arms, then over my head, then lift them up again to clasp them onto the rope and tighten them, so I'm hanging over upside down. Then I had my hands let go so I was fully vertical.
I'm surprised how quickly I picked this up. My leg and upper body strength seriously surprised me as I was hanging there. The swing was a few feet in the air, so it did require some muscle work.
Next step was harder - I had to sit on the swing. I have to admit - it was a very comfortable swing, and I now feel like I need one in my room that I can climb and sit on. This is when I really had to use my upper body strength to lift myself up and climb up on the seat.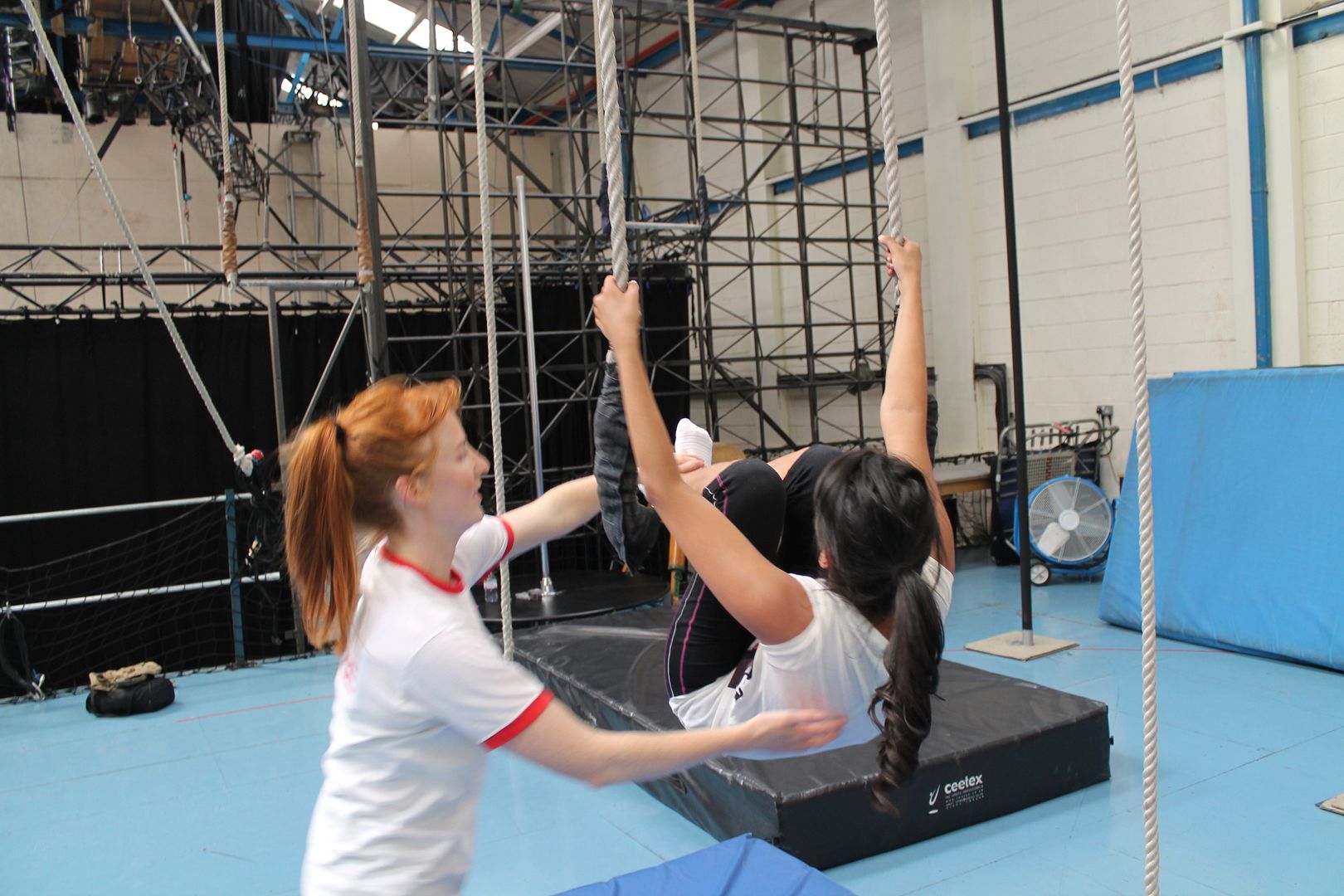 Then the real fun began. I was then able to do some moves, while sitting on the swing, and I might have started showing off then - at this point I was like - this is the most fun thing ever!
My first move was the 'Gazelle'. It's where I sit glamorously on the swing, to one side, with my foot in the air, while my head hung off, upside down again. It took a few goes to perfect, then I like to think I did it like an expert.
I can tell you what though - when you have to take off your hands and dangle, with just your legs, it's scary at first, then you get used to it and by the end of my class I was getting to this move in seconds. This has nothing to do with my talents, but in fact my trainer - she was brilliant. She knew exactly what I was able to do, and because it was a one to one, she could really help me out.
My final move was no doubt the hardest, and I was told not one that's easy to pick up - which made me feel better when it took a few goes for me to do. It was literally hanging completely upside down and dangling. After this picture was taken, I was even convinced to let go with my hands, so it was just my legs around the rope keeping me up. I still can't believe I accomplished this. I never thought I would be able to do something like this! Dangling upside down like that is such an incredible experience. It is seriously exhilarating, especially as the swing dangles a bit.
This was definitely one of the funnest experiences I've done. I'm so glad I chose to Be More Dog, and I can't wait to start doing more unique experiences like this. Aircraft Circus were brilliant and did a fab job training me up. I definitely recommend hitting up a class like this if you get the chance. I did get a few blisters on my hands, but it was so worth it and it's something I'll remember I did for years to come.

What have you been doing lately to Be More Dog?
Carpe Diam - it means 'Grab the frisbee'.
Sherin xx