My hair is my pride and joy, with ghd being my go to for both stylers and products. Everything smells so nice and nothing compares to the shine and finishing you get when you do your hair with a pair of ghd's. I'm not the only one who thinks so with designers using the ghd team during Fashion Weeks every season. London College of Fashion, PPQ and David Koma all had the ghd team on hand to create the upcoming season's hottest hair trends.
I was invited by ghd to check out these hair looks properly last week and see exactly how they were achieved.
David Koma had the sleek ponytail - it's a classic look and ghd did a great job perfecting it so that it matched the clothes on display. It was simple to get with a centre parting, and the hair being perfectly straightened, then pulled back into a low ponytail. To compete the look and give it that edge, the the final tips are to loosen the hairband and pull strands out around the face. I thought this looked so lovely and simple - definitely one for the summer.
The PPQ hair look was incredible and so glam. The beehive used was inspired by the early 90's and ghd made the style easy to use, with the key tip being using hairspray throughout, instead of just at the end to finish the look. The beehive was also achieved by using a large hair doughnut to create the ultimate shape.
London College of Fashion's 'Neo Grunge' look was probably my favourite. It's an easy going hairstyle, and one that doesn't take too long to create. It's done with the straighteners, styling the hair so that it's coming forward, and on to the face. The new ghd Eclipse straighteners (which work amazingly) are also used to create a bit of volume as well. My friend and I both had this look done on the evening, and it was such a fun look to pull off.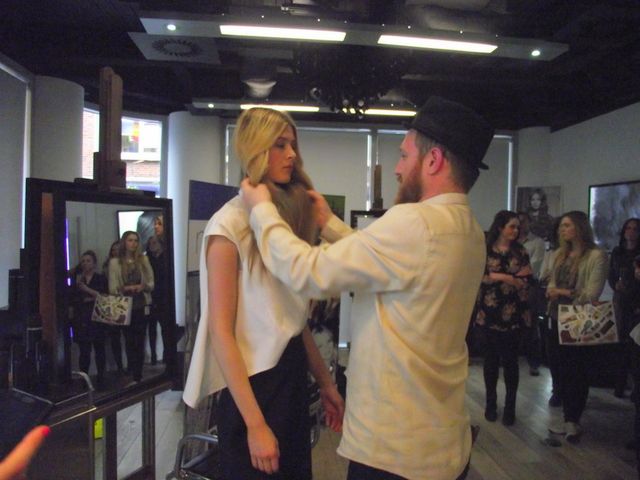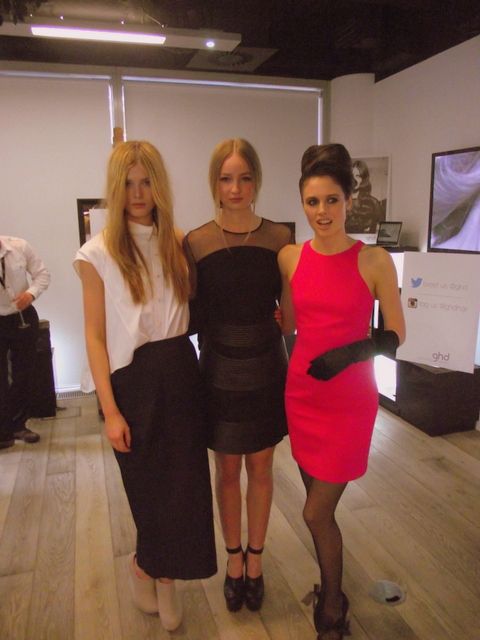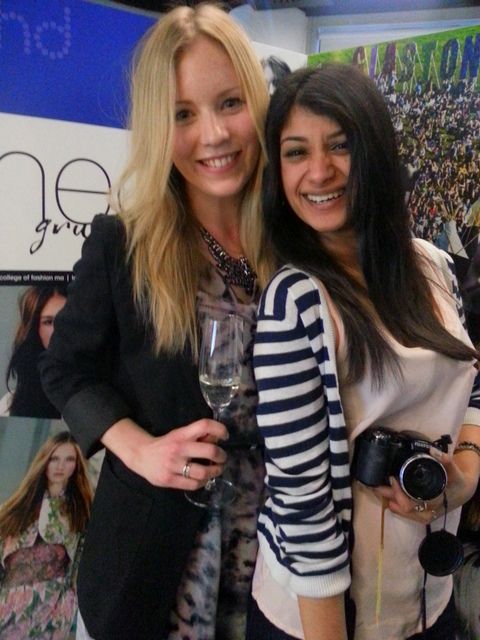 ---
I also went to Breakthrough Breast Cancer's offices a few weeks ago and managed a sneak peek at the new
Fashion Targets Breast Cancer
collection. I love that so many brands get involved every year and this year see's Marks & Spenser, Topshop, River Island, My Wardrobe, Coast and a lot more getting involved with some gorgeous look.
The theme this year is based on unity and how we're stronger together - and this years campaign aims to see mother's and daughters uniting with the line 'Wear Your Support'.
The collection is really stylish and I was impressed by some of the clothes I saw. Coast had some really pretty dresses, while Topshop had some really stylish and cool pieces that will be wearable for any occasion this summer, no matter your age, style or budget. I love how it was easy to see what was for the mothers and what was for the daughters, and how sweet the two looks will look together. I definitely recommend checking out the collections and don't forget to Wear Your Support (even if it's just with the River Island bracelets, which I'm sporting below).
This year see's mother/daughter duos as ambassadors, with Sharon and Kelly Osbourne and Pearl and Daisy Lowe all getting involved.
And this Friday (26th April) is
Fashion Target's Friday
too. The charity are working to get schools and colleges involved in 'own-clothes' days. Certain schools are doing fun parties and fashion shows, while students will be wearing their own clothes for the charity. I know the aim is to get the workplace involved too, so I'm definitely going to get involved and wear something a bit more fun on Friday.
Rosie Fortescue is the face of the campaign and is urging everyone to style a look and sign up to the event. Breast Cancer is something that affects so many women all over the world, so it's nive to get involved with something like this.
Sherin xx