Fashion Week is well and truly upon us. I did a few shows yesterday and if I'm honest, nothing really stood out for me. This time last season I was so inspired by so many gorgeous collections, but this year, nothing has really struck me. Hopefully this will change today and over the next few days, and I hope I'll have some fun collections to write about.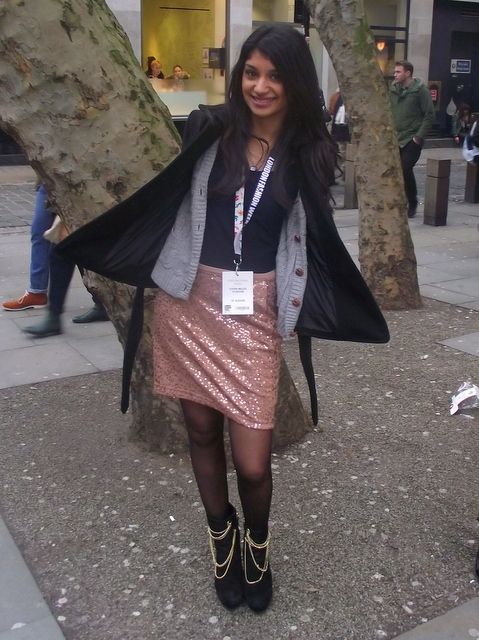 Wearing:
T-Shirt - H&M
Skirt - H&M
Coat - H&M (I swear I had no idea how much H&M I was wearing when I put my outfit together.)
Now when else can I wear sequins so casually during the day? Although, some people get so overly dressed up for Fashion Week that they make sequins look as casual as a pair of jeans, haha! But I do love injecting some sequins into my day to day life.
And of course - my Fashion Week shoes. I love these shoes and for the last few seasons, they have been the shoe I start my LFW with, so I had to keep up with tradition and wear them on Day 1 again. They always get so much love from street style photographers (while the rest of me is ignored, which is how I like it).
Also, I had a mini makeover thanks to Rimmel, and then was laden with some great products to try, which I'm very excited to do. They were there for
The Apartment
, so it was perfect to go there, rest my feet, get my hair done and then my make up - such a perfect mid day treat.
I did have one incredible highlight to LFW Day 1. I was casually hanging in the courtyard of Somerset House, avoiding the massive crowd of photographers around Kate Nash and I look over to my side to find one of my biggest music inspirations standing there: Alison Sudol, from A Fine Frenzy. I grew the courage to speak to her and she was the nicest person ever. I can usually compose myself when speaking to people, but I went total fangirl and she was so lovely to speak to. Her music has gotten me through so much over the years, so to stand there and have a conversation about fashion with her made my day for sure.
She even tweeted me after. As you can tell, I'm still fan-girling over this.
Have there been any Fashion Week collections standing out for you yet?
Sherin xx