I know I don't usually do beauty empties post, but I thought I'd rave on about a few of the products that I loved on holiday. A lot of the time, with holiday's, I just pack a lot of little samples that I have at the back of my drawer, that I've never used before, so it's always a great time to discover new products for me.
Also, I should mention that none of the products actually emptied while I was on holiday so a few of them came back with me.
Jemma Kidd Palette
- It had everything I needed, from the blushers to the pretty eyeshadow shades. The palette has a nice mix of eyeshadow colours and the two brown shades are perfect for day to day wear.
Dove Spa 'Count Your Blessings' Moisturiser
- As it was so hot, I needed a light moisturiser, or it would have felt like my face was melting. This did the trick perfectly. I loved how soft and smooth it made my skin feel.
Monu Revitalising Moisturiser
- I got this product in a GlossyBox a few months ago and ignored it until now. With the heat, my skin - around mid afternoon - got a bit dull but this perfectly added some glow to it. This is something I will actually buy when it runs out fully.
Percy and Reed Hairspray
- They know how to make great hair products, and the hairspray is great! It didn't leave my hair sticky like some other hairsprays, and kept it looking soft, as well as keeping my hair in place all day.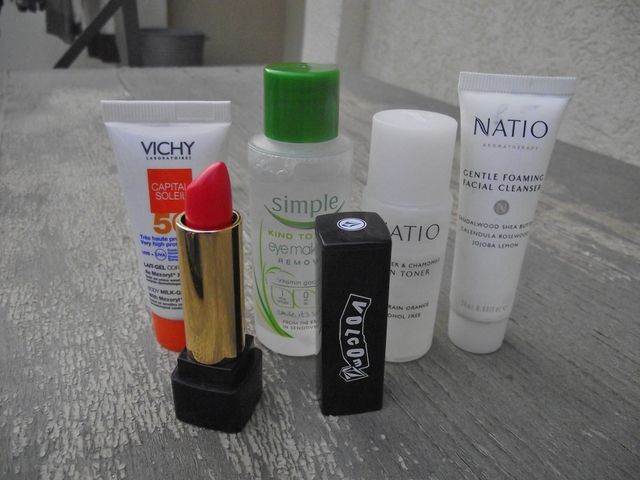 Vichy Suncream
- It was so sunny and bright that going out without sunscreen was crazy. This one protected my skin so well, and wasn't greasy like others can be.
Simple Make Up Remover
- I can not praise this eye make up remover enough. I wish I'd discovered it before, rather than in that mad rush at Boots 20 minutes before my flight. It took off my make up perfectly and didn't irritate or sting my eyes at all when it accidentally went in. I didn't need to use too much and it did a fantastic job.
Natio Cleanser and Toner
- I believe they're an Australian brand, so not sure where you can buy them in the UK. The cleanser and toner were perfect and complimented each other so well. They collectively took off all the dirt from the day (Dubai is very dusty, and all the fumes from all the big cars weren't great for my skin) and refreshed my skin immediately.
Volcom Coral Lipstick
- Technically not a product you can buy as it was a one off for a press day, but this is such a beautiful colour. It fit in so perfectly with the Middle Eastern sun and was a lot more subtle than the standard bright red lips.
What are you beauty must-haves?
Sherin xx