I am officially in Dubai. I left London in a depth of snow and rain, while I landed to a beautiful and sunny Dubai. I'm not here for long, but I'm so happy to finally have some warmth on me.
I apologise for my 'roughness' in these pictures but it was a long and rough flight.
Wearing
Jeans - FatFace
Boots - Deichmann
Socks - Love Label via Very
Sunglasses - Polaroid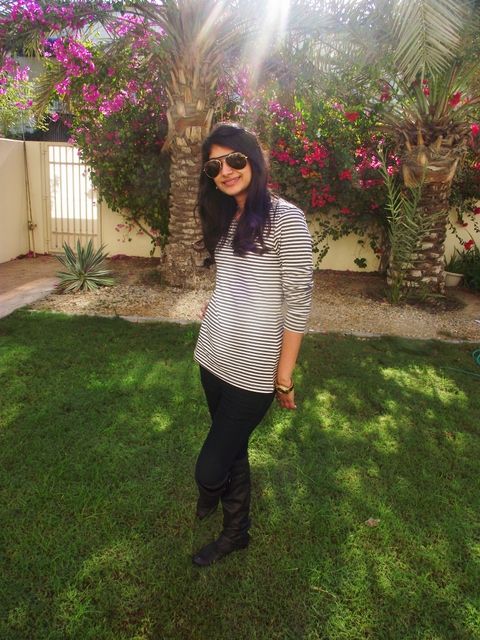 Aren't these pictures such a complete opposite from my last outfit post, which was taken in the snow? The joys of what a 7 hour flight can do! I know this outfit seems a bit out of place in the Dubai heat, but it was a really cold flight - Virgin seemed to have the air conditioning on full blast for the whole flight.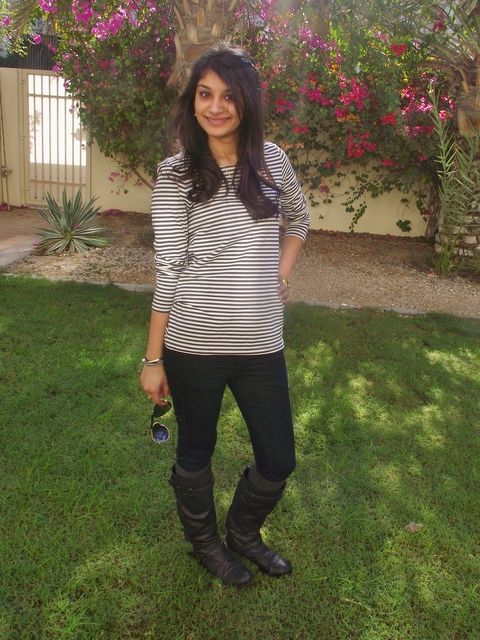 I was also wearing a double layer of socks, and long boots, and so you can imagine, I took all that off in favour of a light dress when I got to the house - It feels so weird having bare legs and a blazing sun in November!
This top is perfect for flying too. It is another piece sent over from Gudrun Sjoden, and is so comfortable. It kept me warm on the flight and also was light enough to move in - I fidget a lot on planes while trying to sleep. So this top is officially my new flying top. It's so soft and everyone loves a good basic striped top, so it's easy enough to wear. They have some great basics and printed pieces on the site, so definitely worth a check out.
What do you wear for a long-haul flight?
Sherin xx