As you know, I'm a bit of a
TOMS
fan girl. How could I not be? Between hot Blake Mycoskie, the adorable shoe collection and the incredible 'One for One' ethic, it's a great brand to work with and be involved with. I was very kindly invited to be a TOMS ambassador last night at the launch of their new pop up GIVE store, just off Brick Lane, and it was so much fun.
It's a big space, so a lot was going on. We were met with food and drinks - of course - before going in and it's so amazingly laid out. There are a whole host of activities and perfect way to spend a few hours. The venue is split into 5 different areas, each doing something TOMS-related and fun.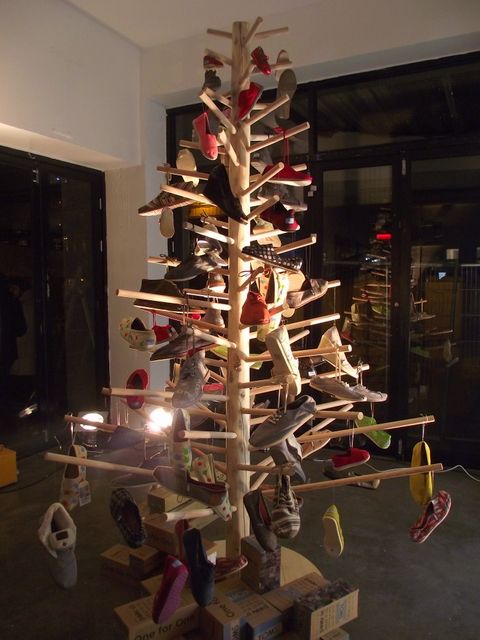 (Yes; a TOMS Christmas tree!)
I loved the GIVE Knowledge section, which is where you can swap books. We know I'm a massive reading fan so I might have to pop by again, even if it's just to sit on the book stools and read Start Something by Blake Mycoskie - such an inspirational book!
There's also a GIVE Market and a GIVE Craft area. The Market is where you can buy odd bits and bobs, but the craft section is where the real fun was at! I love having so much fun getting creative and making long Christmas cards. It was seriously the most fun I've had in a very time - we had string, glitter, glue, pens and even plastic eyes!
And finally, to top it off we were treated to some live music from the incredibly talented and up coming artist Liz Lawrence. She did a wonderful set and it was a great way to end the evening.
The pop up will be on tomorrow, Saturday and Sunday, so definitely worth a look into if you're in London over the next few days. It's based at the Dray Walk Gallery, just off Brick Lane, and I recommend popping in if you have time. There'll be live music a couple of times a day too!
Sherin xx