In case you haven't already noticed from my tweets etc, I am currently in the first week of a brand new job. It's a permanent full time job, and the first of it's kind for me since I graduated from University - yes these are my first steps towards real adulthood. Don't worry, I'll still be blogging constantly and doing all my outfits and events.
Wearing:
T-shirt - H&M
Shoes - Blink
Trench - Vero Moda
I really love this skirt from Beloved. It's another new brand I've recently discovered and I'm already a fan. They're a sister brand to Darling - who I really love already - so was excited to get to know a bit more about Beloved. They have some cool pieces online and are definitely worth a look. This skirt is perfect too. I wanted to get a faux leather skirt for the season so I'm glad I got this one. It's really pretty and I love the lasercut patter at the bottom - it gives a nice and extra touch.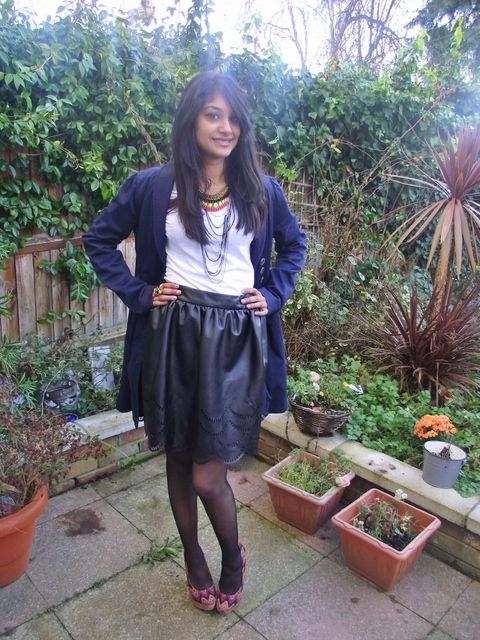 I gave the black and white look some colour with the bright heels and fun necklaces (Forever21 and Dorothy Perkins). I love stacking up chunky necklaces while wearing plain t-shirts.
Do you have any faux leather? How do you spice it up?
Sherin xx