You don't see a lot of nail art on my blog because that's one thing I'm not great at. My nails are usually plain, or have a deep plum/red colour on them, or a nude tone. Apart from that I'm not at all inventive with what is on my nails.
I have heard great things about Ciate's Velvet nails so I was excited when it popped through my letter box last week.
It came beautifully packaged with the nail colour, matching crushed velvet and a brush. The picture of the nails on the front looked gorgeous, so I was eager to try it for myself.
As much as I tried to copy the box, my nails did not look that great. Not going to lie, it was a bit of a messy procedure and I wished I did it over some newspaper and not my expensive jeans, but I think I got the hang of it.
It's easy to do, you just need a steady hand...and lots of practice. First you apply the nail colour and wait for it to dry. Then you do a second coating, while sprinkling the crushed velvet on each nail while it's still wet, so that it dries. At first, I might have tried to make it stick to dry nails then I wondered 'hmmm, why won't it stick'. But I figured it out. The final step is to brush off all the excess velvet so it's smooth.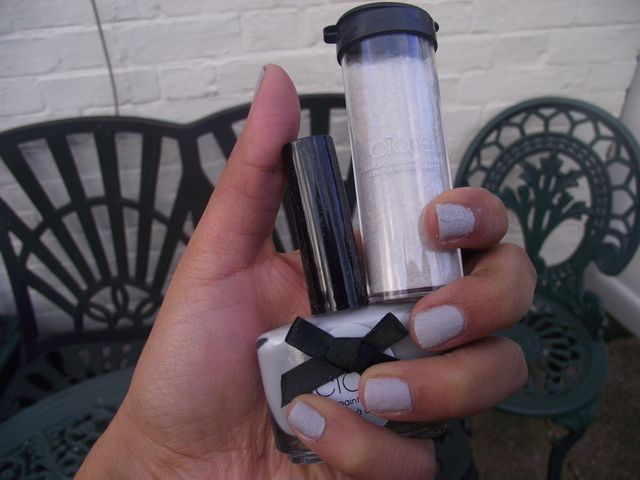 Technically those are the steps I took, but for next time I know what I did wrong. Firstly, I had no where enough velvet on my nails. I think another dose on each nail would have given it a much 'furrier' look. And secondly I should have waited longer before brushing of the excess. I might have smudged more than ne nail like this.
But over all, I liked how it came out and am excited to try it out again, hopefully doing a better job of it.
But what did I think of it? I'm a fan. Once you get the hang of how to do it, I reckon it'll come out great. It's also pretty practical. Unlike Ciate's Cavier ones, you can actually do stuff without it ruining your nails.
In terms of longevity, it's not amazing if I'm honest. As you can't put a top coat on, it's easy to chip and the actual velvet moulds into the nail polish giving it a more concrete vibe (which Nails Inc have been doing well lately) rather than fully velvet. It lasts about 2-3 days before you're forced to take it off as it looks messy and cracked after.
I think this is a great thing to have if you want it for the evening or a day or so. It'll be a great stocking filler, that's for sure! And I recommend putting it on any Christmas Wishlists too.
Have you tried Ciate's velvet nail polish? What's on your nails today?
Sherin xx