So, hopefully you've all pretty much sorted out most of your Christmas presents. This gift guide is aimed at people like me, who seem to have forgotten how close Christmas is as I've been so busy: between a new full time job, doing Bring The Noise stuff AND looking after HiFashion with all its events, I hadn't realised that Christmas is right on our heels.
Winter Warmers:
Winter warmers are my favourite things to give and receive. I love cosying up with something knitted and a warm drink, while sitting in front of the fireplace.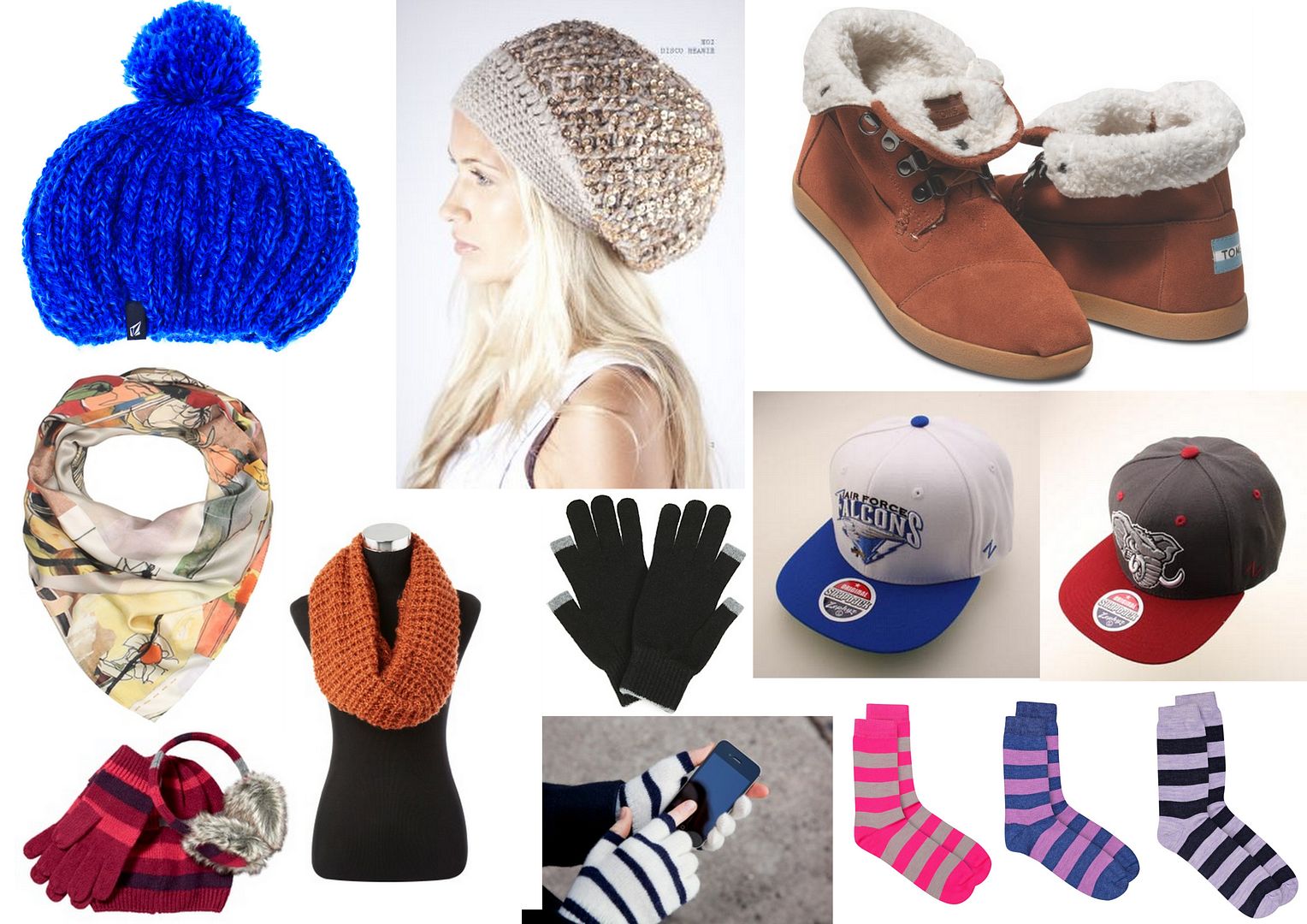 I'm more than a little obsessed with beanies, and this bright blue one from
Volcom
is amazing - retails at £28. The pom pom at the top also gives it a fun look. Speaking of beanies, how amazing is this one from
Madeleine Thompson,
with the sequins on it. I love a bit of
Madeleine Thompson
, who has some amazing knitted pieces in the collection.
These fur lines
TOMS
will be perfect for the winter.
TOMS
are more than a little comfortable and the One For One aspect means that it is completely guilt free shopping. (Speaking of TOMS, if you're in London this Thursday, or over the few days after, they're hosting a little pop up at the Truman Brewery).
If more fashionable warmers are your thing, there are also some stunning bits from
Beta Fashion
and the
Tie Rack
.
Beta Fashion
focuses on 100% Silk scarves and are the softest scarves and come in the prettiest of prints. I also love the selection of warmers from
The Tie Rack
. They have a fantastic selection of all kinds of presents for everyone, and their winter sets and large scarves will be perfect to keep warm.
And while you're out and about, I definitely recommend
Etre
gloves (I have
a pair
) - they come either with the thumb and forefinger missing, or with special technology in the tips, so that you can use your phones while out and about in the cold.
Also not necessarily knitted, I had to include these Snapback caps from
Zephyr
. I've seen so many people wearing these recently (I've been rocking one recently too) and they're so much fun to wear, not to mention super cool.
Finally, my theory is that you can never have too many socks. I seem to have dozens and dozes of pairs, which are perfectly paired with my onesie. These stripey ones from
HotSquash
seem like the warmest and cutest pairs.
---
Stocking Fillers:
I missing having a stocking with small bits and pieces in them - they are the most fun to unwrap. Some of these would be perfect for a Secret Santa too (I haven't sorted mine out yet!)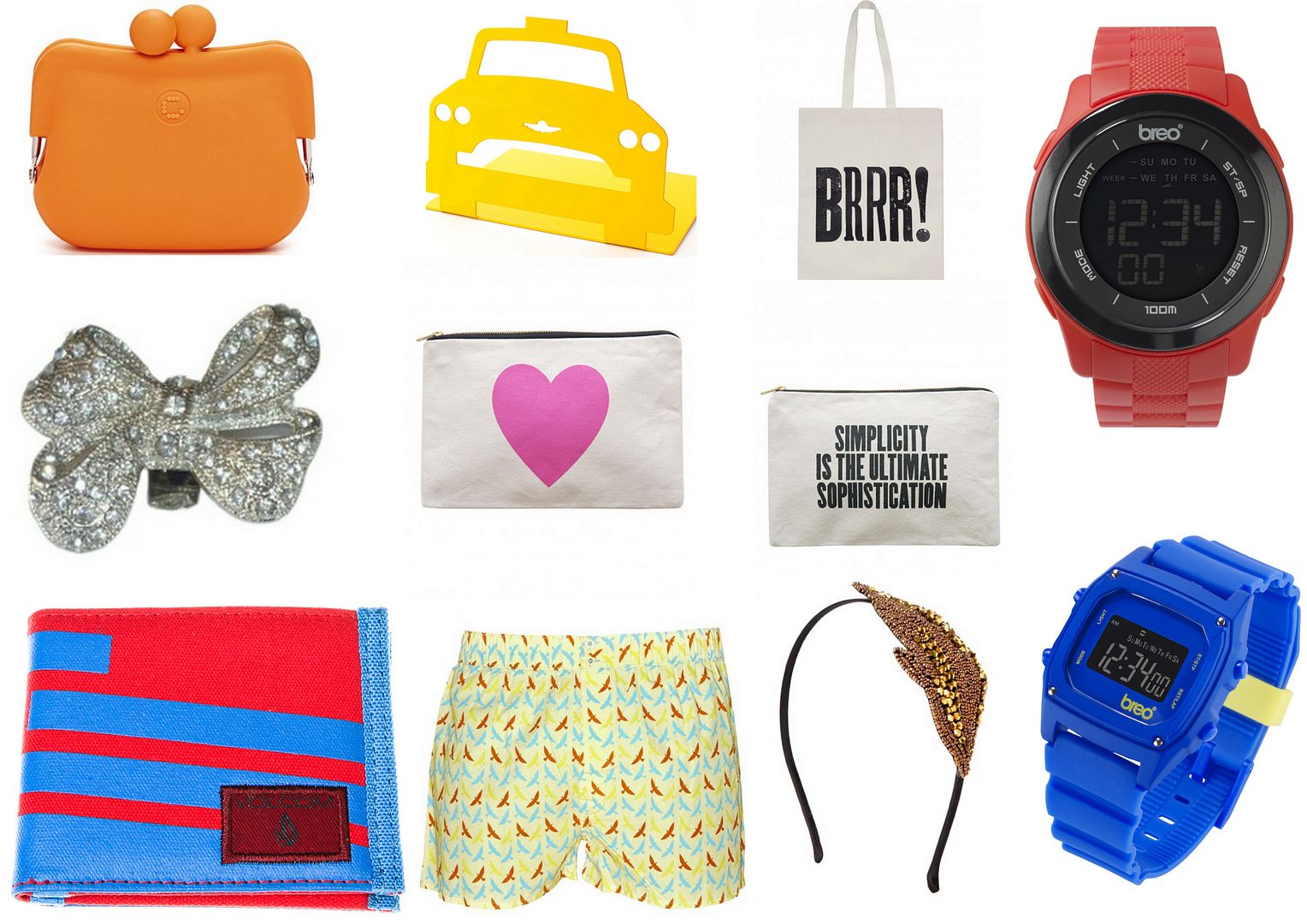 I love the silicone purses and mirrors from
Candy Store
(available from
RED5
) are so adorable. They're scratch and strain resistant, so if you're like me and lose lids of make up, this case will still stay in tact and perfect. They also come in a lot of different colours, so there's something for everyone.
And I love this Taxi bookend from
Blank London
, especially for all those avid readers in your lives. At just £18, it's a fun decorative and practical piece to have in the house.
Blank London
is a great destination for a lot of gifts too.And major love to
Black White Denim
too, who also have a nice variety of cool designers and brands on the site, especially
Alphabet
, who do great canvas bags and pouches. They have some cool slogans/designs on them and would be perfect for when you're out and about shopping.
A watch will always be a favourite gift of mine to receive, and the new ones from
Breo
look very cool. Prices start from £25, and they have such lovely statement styles and designs.
There are a few sparkles here in the form of the
Mi Clips
, which are stunning clips you put on shoes, and this really lovely headband, again from
Tie Rack
.
Mi Clips
are unique shoe accessories that you clip onto your more plain shoes and it adds a instant bit of glam to it. They not only look pretty but are easy to put on/take off and are comfortable, while not damaging to the shoes. I also really like the 20's inspired headband from
Tie Rack
, which is only £13 - a nice way to spice up a standard ponytail.
Another gem from
Volcom
with this statement, bright wallet, retailing at just £18.50, making is a perfect stocking filler.
Finally one for the men in your life, these boxers from
Syndicut
will be perfect and fun. The brand focus on boxers in all prints, colours and designs, and the unique designs on the boxers are all in collaboration with emerging designers.
---
Beauty:
Because we all like to look beautiful, haha! I have so much make up and beauty essentials that it's never enough, and it's always a favourite present to receive.
Label.m
always have some great sets and their collaborations with
Giles Deacon
always go down really well. I love the Christmas special colourful boxes that have been inspired by exotic street style, and the gift box is perfect a it comes with four products you choose and is beautifully wrapped. I have to admit that
Label.m
products are one of my favourites and smell amazing. While on the topic of hair,
James Brown London
(which I love as you can tell
here
) is another new favourite of mine. They have some gorgeous gift sets, and the one featured here has everything you need for a sleek finish.
Make up is always a favourite of mine to receive and
Pixi
is doing some amazing bits these days. There are some incredible make up palettes (with gorgeous eyeshadow/bronzers) and I love their nail colours too. This sparkly set is is so festive and I have the red glittery one on right now. Love it so much!
Wild About Beauty
(a brand I wish I knew more about) has some pretty products too. Their
Divine Nights Palette
has a nice mix of colours and has all you need to complete your look.
ImPRESS
Nails have hit my radar and are such a fun way to do your nails. They're so easy to apply, you just peel them off and stick them on, meaning they're quick and there's no hassle of waiting for them to dry.
And when the stress of Christmas gets too much for you, the perfect presents come from
DoveSpa
and
Sanctuary
. I love the
DoveSpa
revitalising capsules. I've been using them as my skin has been a bit 'bleugh' recently and I found this really worked in giving my face it's personality. They're easy to use - just open them and use the liquid gel on your face to feel revitalised. Definitely a miracle product. And finally the best way to relax this holiday season are these sanctuary gift sets. Each has a nice variety of products that will really help anyone relax. The
Tip to Toe
set particularly looks great. Alongside the pretty smelling face and body products, it also comes with a pair of the softest looking slippers.
Visit again in a few days for Part Two, which will include a more expensive selection, including jewellery, 'toys' and pieces for those really loved ones.
Have you got your Christmas presents sorted yet?
Sherin xx