Did everyone have a good Christmas? Mine was spent watching Dr Who, shouting at the TV while watching the cricket, eating my mums amazing chicken and having my own dish in the kitchen - I baked cookies which is a massive thing for me as I'm such a horrible cook, but these cookies actually came out pretty decent!
Wearing:
Tank - Truffle Shuffle
Jeans - Zara
Shoes - c/o
Lavish Alice
I wore this yesterday while hanging around the house for Christmas. Sometimes it's nice to hang around in a comfy outfit and this is one that I put together quickly, but can see myself wearing it constantly. The shoes are an amazing addition to my shoe collection, from Lavish Alice. I tend not to wear too many flats, but I am so smitten with this pair. I love how comfortable they are and the design of them - leopard print with studs: my two favourite trends! I've worn them to work a few times and are a perfect pair to slip on and just wear. I recommend checking out the website, especially if you have some Christmas money. Everything on the site is so cute and affordable, and also great quality.
And do you like my tank? It'll look familiar to any of you Big Bang Theory fans as Sheldon Cooper has a t-shirt like this. I saw it on him in one episode and I was like 'I WANT IT!'. This was a while ago but I recently discovered the Truffle Shuffle website and saw they had a Big Bang Theory section. I was so happy when I saw this tank and did a mini dance before clicking buy. They have some cool t-shirts online and a selection to keep my nerdy side happy.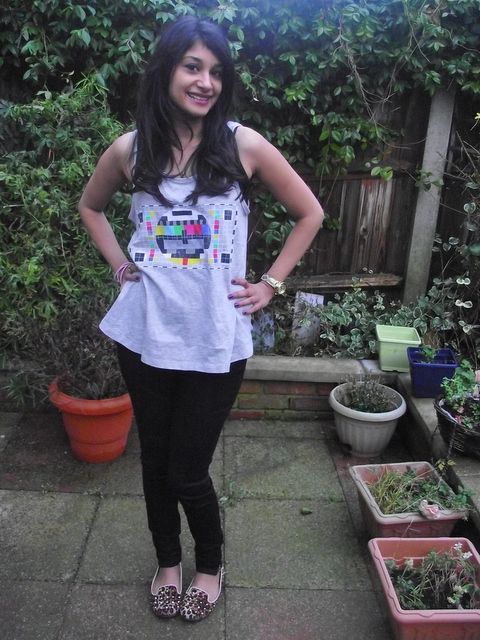 How was your Christmas? Are you a Big Bang Theory fan?
Sherin xx