Most of Saturday was spent raining so I decided to add some sparkle to my rainy day with a new skirt I picked up a few weeks earlier. And yes, the weather was so bad that I really did need an umbrella to photograph the look (my mum actually stood inside the house while taking the pictures, so she didn't get wet).
Wearing:
Top - H&M
Skirt - H&M
Necklace - c/o Your Fashion Jewellery
Umbrella - Boden
I don't know if you can see this in the pictures, but the whole front of the skirt is covered in sequins. Definitely a fun way to wear sequins in a more casual way. I paired it with a plain tee, but snakeskin print shoes, from Deichmann. I have several Deichmann shoes and I love them all. I've been after a pair of fun booties like these for a while so I can't wait to wear them more over the next few months. I have a few fun nights out planned, so these are perfect. And I love how affordable everything from the Deichmann site it.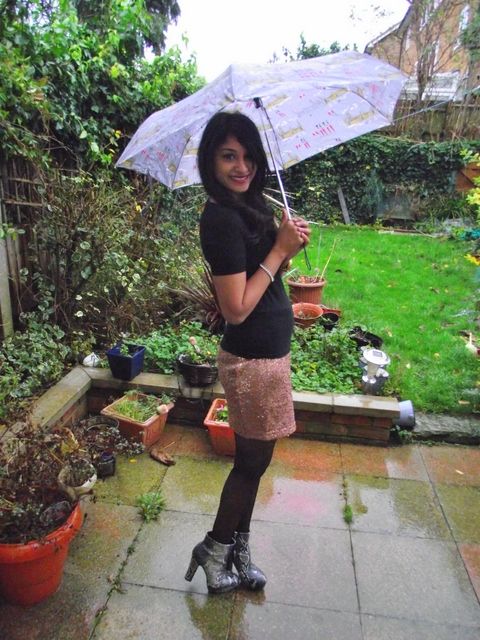 I had a great weekend. Saturday night was A LOT of fun, spent getting dolled up and going to a gig - but that evening will get its own post.
I spent yesterday afternoon literally glued to the TV, watching the last F1 race of the season. For those who watched it: wasn't it epic??! I spent the whole race unable to breathe! But I was over the moon when Vettel, despite coming 6th, won the championship...but back to fashion:
I have a wide range of
candles
keeping me warm this winter and they all smell gorgeous. The latest one to my collection is this one from
The White Company
. It's called Orange Grove and has such a gorgeous fresh scent to it. It has a lovely Orange-based smell to it - with a great little zesty edge. It comes in great packaging and will be a great Christmas present for someone, if you haven't sorted those out yet.
I also have another new necklace. Your Fashion Jewellery do amazing
costume jewellery
, with
necklaces for women
in particular. I love the horseshoe design and can't wait for it to bring me some good luck! There are great pieces up on the site and definitely worth looking at for some pretty jewellery, at some amazing prices.
How would you wear sequins in a casual way?
Sherin xx