I live in t-shirts. I've been embracing cute blouses more recently, but the plain, well fitted, t-shirt is still my favourite. The only issue is that they can be a little bit plain and boring, and that's no look for a fashion blogger, but there are ways to style a plain white tee - the ultimate staple for any closet - and add some chicness to it.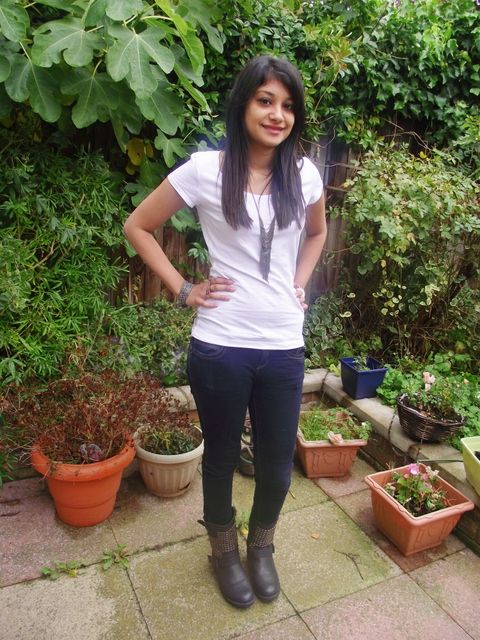 Wearing:
T-shirt - H&M
Jeans - A Wear
Boots - Tribeca
Bra - Wonderbra
Necklaces - Astrid & Miyu
Watch - Daniel Wellington
First up, you need to wear a good bra. As you know, I'm currently taking part in a Wonderbra challenge to style up 4 different bras. You can see me style the
full effects bra here
, but the t-shirt bra has been the one I've been wearing the most has been the t-shirt bra. Wonderbra's everyday bra really is perfect for everyday. It's comfortable and has a bit of padding to boost slightly, and it's also very soft. It's one of those bras that you can wear all the time, not matter the occasion and you'll feel really comfortable, as well as sexy (Wonderbra's are all about the sexiness).
Don't forget, Wonderbra are currently running a Haul of Fame competition with stylist Sophie Stevens. All you have to do to enter is upload pictures of yourselves in outfits and say which Wonderbra you'd style it with and how. The winner will get a £1000 shopping spree as well as a session with Sophie.
Check out more on their
Facebook Page
of via the
Haul of Fame
website.
The second most important thing to do when styling a plain t-shirt is to add some fun accessories. I have a selection of what I call plain white tee necklaces - which are heavier statement pieces which look amazing on plain t-shirts. I've recently discovered
Astrid & Miyu
, who specialise in stunning jewellery.
I got some necklace from Atrid & Miyu and I'm loving them. The first one - above - is a perfect statement piece, made for plain t-shirts. It immediately adds personality and glam to an otherwise casual look, and really stand out against the plain white tee.
The second piece I got was a lot smaller and delicate, but I'm absolutely in love with it. It's a super gorgeous little wishbone necklace and it's so beautiful - a wonderful lucky charm.
Astrid & Miyu have a lot of realy pretty pieces, and an amazing mix of statement pieces, alongside more delicate ones. It's one of those sites that has such a nice variety, that there's something for everyone, no matter what your style is. As you can see below, everything is really pretty, and the prices are decent too, especially when considering how great the quality is too.
I love the idea behind the brand too. They travel around the world, looking for some of the best jewellery they can find, and also work closely with independent designers, meaning there is a limited stock of all the pieces. This means that what you decide to buy is more unique and special than if you were buying from the high street.
How do you style a plain t-shirt.
Sherin xx