Sometimes it's nice to do something different and have a bit of a night off from pure fashion. I'm a massive fan of the theatre and going to shows, so I was very excited when I was invited to Crazy Horse to see a cabaret show -
Forever Crazy
. I've never been to a cabaret show, so I had no idea what to expect, but I really enjoyed it and would definitely go again.
As a newbie to cabaret, this one was definitely a great way to get started. The show comes straight from Paris and is a very sexy show. The show contained a lot of short skits with a total of 10 super gorgeous and talented dancers, fun music and great effects. Each skit has some music and singing, along side some dancing as well. The girls were all so talented and I loved how there was an element to humour in some of the skits. The whole audience loved the show and there was a lot of clapping throughout. The music and dances were fun and seductive; I only wish I could dance like that!
And the outfits were stunning. The shoes that the girls were wearing definitely had me drooling!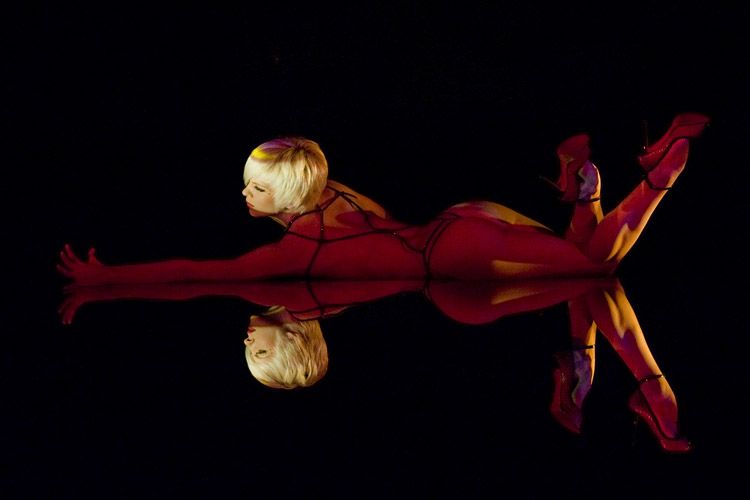 The venue is perfect for the show too. It is a pop up, that's located on the South Bank. It has a lovely bar and the seating area for the show is amazing. There are chairs at the back, and right at the front there are tables and and really comfortable chairs, so you can enjoy a drink while watching the show. The atmosphere is amazing, really welcoming, and the lights are perfectly placed during the show.
It was a little bit 'cheeky' at times, with some nudity, but it was all done in a very classy way and very fun to watch. I was impressed at how elegantly it was all put together and done in a way that no one feels uncomfortable. I would definitely recommend going to watch Forever Crazy if you're in London over the next few months. It's a fantastic little evening out, at just 2 hours long, with a twist and fantastic to go with a group of friends. I was surprised at how many women there actually were.
Book now; tickets start at £35 and are definitely worth it. The show only has a run until December!
Sherin xx