Looks like the weather is improving here...oh wait no; that's a lie. It has been pouring down all weekend, and I took these pictures during the 10 minutes where it was actually dry. Despite the rain it ended up being a great weekend, especially meeting
Rachel
for lunch on Saturday at a gorgeous place in Notting Hill.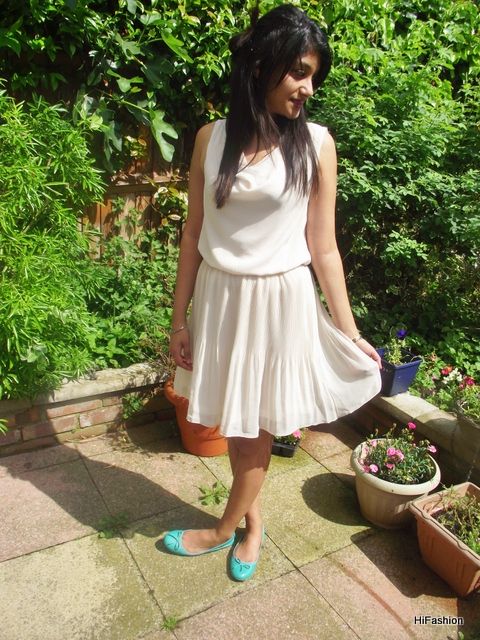 Wearing:
White Dress - Zalando
I love white dresses. After black dresses, they're my favourite thing to wear. I have a whole host of pretty white dresses just waiting to be worn for when some warm weather finally decides to grace us with it's presence. I'm thinking wearing white in the rain isn't the best idea in the world. I love how drapey the dress is at the top, and I don't think you can tell but the bottom is all pleated.
I also liked the pop of colour from the shoes. They're not as turquoise as these pictures suggest; they're more of a subtle green, but I still love them. I have exactly the same pair of shoes (but in orange) from Georgia Rose and I loved them so much, that I decided to get them in another colour. Georgia Rose are probably one of my favourite shoe brands at the moment. In the last few months, I've got about 4-5 pairs of shoes from them! When I like a brand, I go all out!
Hope you have a great week!
Sherin xx