I love a good festival. The vibe, atmosphere and music all in one place is fantastic and so much fun. I've done various festivals over the last few years, I don't have any planned for this year. I was saving up for Hard Rock Calling, but my friend is getting married that weekend, so I might see if I can 'sneak' into Underage Festival, despite being 6 years too old! This still hasn't stopped me putting together a festival look when asked by
George at Asda
.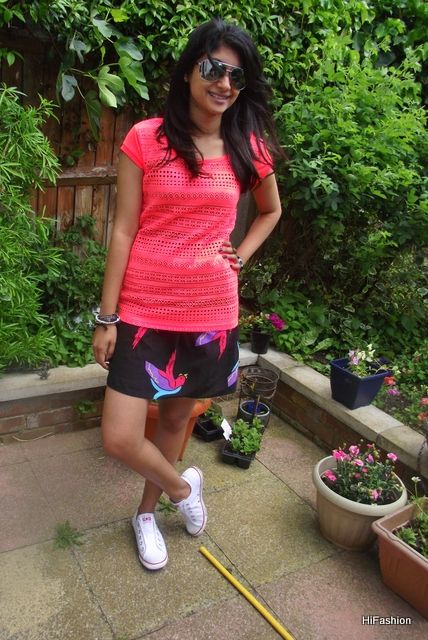 Wearing:
T-shirt/Skirt - c/o George at Asda
Shoes - Converses
Sunglasses - M&S
George at Asda got in touch recently about putting together the perfect summer festival look and I jumped at the chance. I've never been to the George website, so I was pretty impressed at the selection and the prices of the products. And I have to admit the clothes I got are great quality.
This probably isn't an outfit for the likes of Reading or Isle of Wight, but definitely for one of the London ones such as Lovebox or Field Day. In fact, if I had this outfit when I went to Field Day last year, I probably would have worn it there.
I picked a printed skirt and bright top as my festival look. The bird print is really cute on the skirt and the neon top is bound to make me stand out at a festival. And of course white Converses. These ones are fairly new - read clean - so a festival would be the perfect opportunity to rough them up a bit.
What would you wear to a festival?
Sherin xx