After watching that Olympic opening ceremony, I know I can't be the only one in complete Olympic mode. I'm officially cheering on Team GB and am happily directing tourists to where they want to go.
I'm all about community spirit now, so instead of wanting to watch the games on my own, I'm excited to be watching them with other people. Lot's of people have asked me where the best place in London to watch everything is, and I am fully vouching for how amazing The Book Club's
Basecamp
is.
I was invited to the launch the day before the Olympics started and I can't wait to go back. It's based in Shoreditch (so just a stone throw away from the main action) in the carpark of The Book Club (one of my East London hangouts) and has everything you need for a perfect Olympic-watching session.
Basecamp is only there until the 12th August and has large screens to watch the games, as well as a pop up bar, an ice cream van and 'Street Kitchen' are also there for food; so a great mix of food anddrinks. Entertainment includes ping pong, table football and even a paddling pool. The Social Athletics Club will also be hosting some sports, such as basketball, croquet or King Pong, to really get you in the competitive spirit.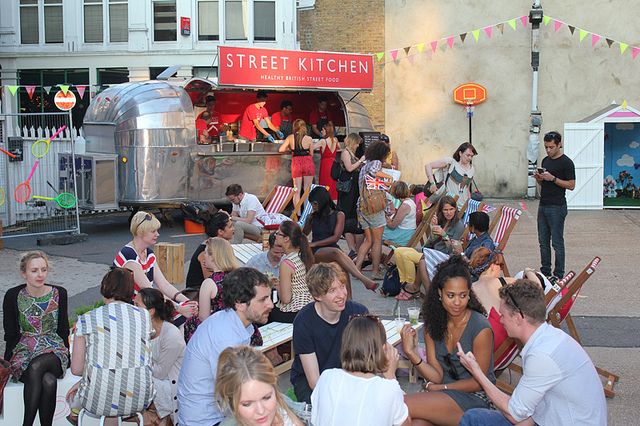 It's a perfect concept and I had so much fun there. We were watching one of the England matches there and the atmosphere was amazing!
And while I have your attention, don't forget that
Cocosa
has launched their sale 'Style Relay' with up to 71% off top brands: from high end pieces to more casual separates. The sale started on the 23rd, and from tomorrow will also include up to 57% off some gorgeous Rigby and Peller swimwear. 30th July will see a sale from Unite Nude, who focus on some great shoes, from striped ankle boots to more colourful heels. The 31st will include Chalayan Grey Line and Jean Pierre Braganza in the sale. These great names will have some massive discounts and definitely not worth missing.
And don't forget, there's a couple of days left
enter to win
this gorgeous Guess watch.
Sherin xx
All pictures of Basecamp courtesy of The Book Club.