A few weeks ago, I mentioned that I would be entering a competition for Cox and Kings to win a holiday (much needed I might add, especially with my Birthday a month away). As a reminder, Cox and Kings to great
tailor made holidays
and
luxury holidays
, so perfect if you're planning a holiday away.
We were asked to make a pinterest board of what we would pack on a holiday. The country I chose is
Jordan
(which I'm planning a trip to eventually as my dad is in the Middle East) and here are my picks: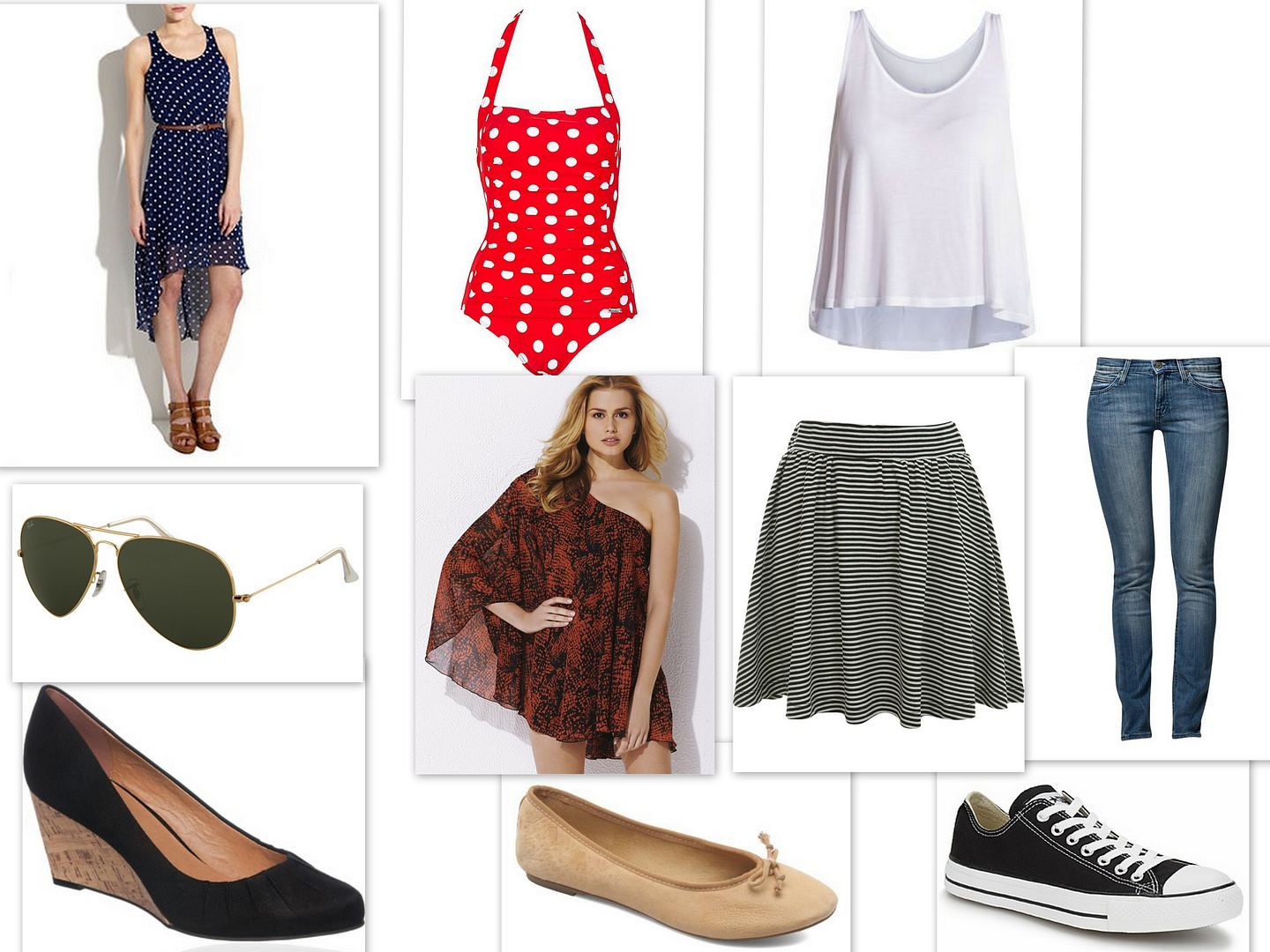 1) Asymmetrical dress - Jordan, I can imagine, is a very cultural and traditional country, so I wouldn't want to be wandering around in anything too short.
2) Sunglasses - Because the Middle East has a lovely supply of sun (unlike England!)
3) Wedges - These would be cute for an evening look, or even for just hanging around at the hotel or a nice lunch.
4) Swimsuit - Isn't this gorgeous? I love the polka dots and retro feel to it.
5) Dress - I would love to wear this over my swimsuits, while at the beach. I also think this would be a perfect with the wedges for a night out on the town.
6) Flats - I'm not one to sit on holiday, so flats would be perfect for running round and shopping.
7) Vest - White and simple: it'll go perfectly with both the jeans and the skirt.
8) Skirt - Paired with the flats and white vest, it'd be a super cute look, especially for some light sightseeing around the country.
9) Jeans - I would definitely fly in with these jeans, and then probably wear them a lot while on holiday, especially on cool mornings.
10) Converse - For more intense sight seeing (with the jeans, it would be a killer combo) such as Petra. I've always wanted to go there and see that Wonder of the World.
As you can tell, most of my pieces are made for walking around and exploring the country. I don't tend to relax on holidays; I try to fit in as much of the culture and sights as possible, so everything I pack tends to be really comfortable so I can be on my feet for hours and hours. (I once fit the whole of Barcelona in just over a day! I'm amazing like that.) Literally, on holidays, all I need is good shoes and a map and I'm good to go (after I've identified where all the McDonald's are).
You can see my Pinterest board here!
What would you pack if you were going to Jordan?
Sherin xx