I am all about fairytales right now, especially with so many different adaptations around. I'm absolutely hooked on Grimm and Once Upon A Time (love Ginnifer Goodwin), planning on watching Mirror Mirror at some point and am also eagerly awaiting for Snow White & The Huntsmen to hit the cinema's. The latter one definitely looks like my type of movie. I love twists on original tales!
I was very kindly sent this palette from Beauty at Tesco. It's a collaboration between Universal Films and
diego dalla palma
. diego dalla palma is a new make up artist brand from Italy and is being sold exclusively at Tesco.
The set consists of 6 gorgeous eye shadows (3 shimmers and 3 matte shades), vivid red lipstick and a very black pencil eye-liner. The eye shadow shades come in great colour such as 'Mirror Mirror', Fairest' and 'Snow', making them very fitting for a Snow White inspired look.
I was asked to create two different looks with a palette; 'Snow White' and 'The Queen', and I had a lot of fun being experimental with the palette and trying something new.
Snow White:
I know Snow White has more of a natural look, with stand out rosy cheeks and red lips, so that's what I aimed for.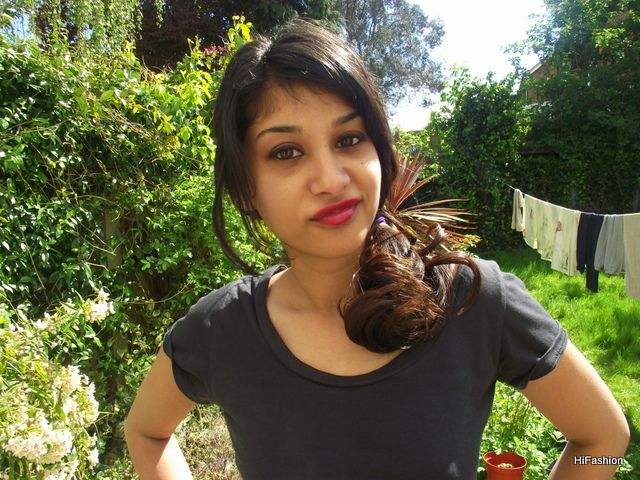 I cheated a bit here and used the lightest eye shadow shade on my face to give me the fairer look. It also has a shimmery undertone, which added sparkle to my face. I then added lots of blusher to give myself some rosy cheeks. For my eyes, I used the mid-tone brown, which was closest to my skin tone, to exaggerate them, but still look natural, and then a lighter brown over it as a high-light under my eyebrows. I then used the black pencil eye liner on my water line and eyelid lightly to create a subtle effect. I finished the look with the red lipstick, and clear lip gloss over it.
Below, I might have gotten a bit too 'involved' in the Snow White role, and picked up an apple. Don't worry: it wasn't poisonous. Although, that also means no Prince Charming will be saving me anytime soon. Oh well: it was a delicious apple nonetheless.
Evil Queen:
I had a lot more fun creating this look. I went heavier with the make up and although the pictures here and of my Snow White look look similar, I promise they're different.
So, like I said I went heavier with the make up. I put on a lot of powder, but was sure not to add any blusher or colour to my cheeks. I then used the two darkest eye shadow colours and a lot of heavy black eye-liner to really make my eyes look more edgy, and to make them stand out. Again, I put on some red lipstick, but this time added another layer of it, to make it really vibrant.
As you can see above and below, I probably won't make the best 'Evil Queen' in the world. Clearly I'm too smiley. Below is me really trying to get into role as an evil Queen; that's actually the closest to a 'mean' face I can do, haha! Beware of my wrath people. That's all I can say!
What did I think of the make up? Well, I LOVED it. Each of the eyeshadow shades is wonderful to use and lasts quite the while. They look so good on, and are perfect for even my skin tone. The pencil eye-liner is probably one of the best I've used. It's a vibrant black and really adds the colour to your eye, without smudging. I've used tons of black pencil eye-liners that either smudge very quickly or are more of a dark grey on your eye, but this one is great. Finally the red lipstick is amazing. It's such a vibrant colour and doesn't fade to quickly either.
I seriously can't wait to try some other diego dalla palma make up! It seems like such a great brand.
How would you accomplish the Snow White and Evil Queen looks?
Sherin xx