The day before my holiday, I headed over to Varg PR's offices to check out some new collections from some of the brands they work with. I've missed a ton of press days since I've been on holiday, but I'm glad I managed to make it to Varg. They work with a whole host of Scandinavian brands and it's clear that the Scaninavians have amazing style.
I loved checking out all the collections, and I spotted some new favourite brands. I absolutely loved Dagmar, Finsk, Swedish Hasbeens, Maria Nilsdotter and Won Hundred.
The
Dagmar
Collection was inspired by Lisbeth Salander (Girl With The Dragon Tattoo) and it was clear to see the inspiration. There was a lot of leather, exposed zips and cool tees, with tattoo prints. That leather skirt was definitely my favourite piece.
Finsk
had some truly unique and amazing shoes. Inspired by architectural shapes, the shoes were really soft leather, and had wooden heels. They were definitely shoes to make a statement.
Maria Nilsdotter
had some incredible jewellery. It's been described as 'art you can wear' and all consists of handmade pieces, including neon dip dyed feathers. I'm a massive fan of edgy jewellery, and these ticked all the right boxes, when it comes to jewellery. I particularly loved the dagger necklace.
And of course,
Swedish Hasbeens
had incredible shoes as always. I definitely preferred this upcoming collection in comparison to their previous collections. The boots looked really cool.
My favourites were definitely Day and their sister company, 2nd Day. Both brands had a lot of really cool clothes and I could see myself in a lot of the collections, especially from 2nd Day. I loved the skinny jeans from both lines, and loved the baggy tees from 2nd Day.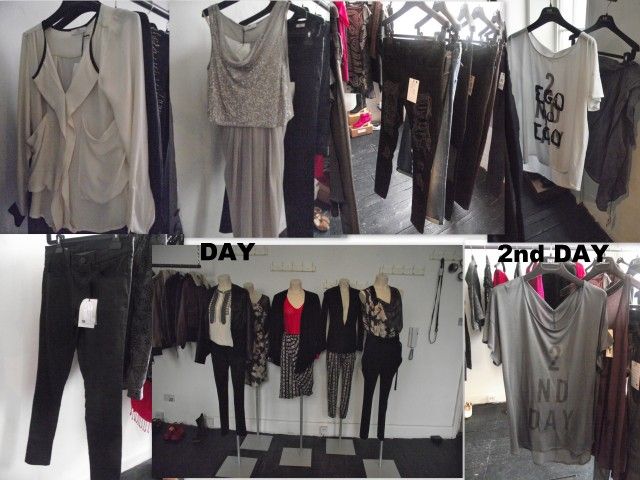 And also a notable mention to Gudrun Sjoden. Her collection was really inspired by nature and elements, and used natural and organic fabrics.
What do you think of these brands?
Sherin xx
P.S. Don't forget to enter my
Wonderbra giveaway
!