Excuse the 2 day absence on the blog - I very sadly had give up my streak of posting everyday as I had so much going on. I've pretty much spent the whole week admiring new collections from old favourite brands, but have also fallen in love with some new brands, and I have also been contributing over at
Bring The Noise
, so you can keep up to date with some music and films I've been into there too. I saw Silent House (the new Elizabeth Olsen movie) and it was beyond
incredible
.
As I can't post about them all, I thought I'll give a mention of my utmost favourites of the week. The Creme de la creme of clothes if you will.
Good Results PR
work with a whole host of amazing brands and I definitely had my favourites.
Becksondergaard
, a Danish brand, have some really beautiful scarves, and it was good to see some gorgeous little bags from them too. All the bright colours were so pretty and the scarves are the perfect accessory.
There were also some really really cute and colourful shoes from
Linzi
. You'll know I'm a shoe-aholic, so I spent a lot of time admiring the heels. I can't wait to buy some from the brand and try them out for myself.
Twist and Tango
, also had some pretty cool pieces, and this red jacket really stood out for me.
My favourite was definitely
Eleven Paris
. They had some of the coolest t-shirts I've seen. Paired with skinny jeans or denim shorts, they'll be perfect.
I absolutely fell in love with
Darling
at their press day. It was possibly one of my favourites from the week. They had, on display, lots of really gorgeous, vintage inspired pieces, from dresses to bags and cute blouses. There were a lot of tea dresses which will look amazing over the summer, for a picnic, of even in the winter with a pair of tights and boots. Everything was fantastic quality, especially this white jumper, below. There was also a little sequins bolero:
swooooon
.
Canoe PR
's press day was just plain awesome. Alongside some great brands, such as Bench, Volcom and 55DSL, I got to check out the new collection from
Vans
. The trainers were as great as I'd expected, and I loved some of their clothes too, especially their skinny jeans. The colourful shoes were a nice addition, and a lot of them were heavily inspired by the 80's.
And of course, I spent some time admiring
Breo
watches. They're simple, stylish and practical, perfect for any sporty people, while adding some colour to your look.
Puma
really surprised me. As well as some designer collaborations, they also had a really cool range of pastel coloured trainers. I have a pair from a few seasons ago and I can definitely vouch for their comfort!
I wish I'd taken more pictures, especially of
Volcom
, who work with a lot of cool artists and designers!
House of Harlow/Winter Kate
was a pleasure to see, as you'd expect. Nicole Richie has done a fantastic job with both brands, and once again, the collection looked so cool. It was nice to see some colour with the clothes, and I particularly loved their laser-cut top (that cam with a matching skirt).
The shoes, bags and sunglasses were all do die for. I loved how their was a range of stunning heels (with some of them having a silver snake wrapped around the heel), but also a more comfortable line of Moccasins. I'll probably be living in mocs this summer, so I'm definitely going to invest in a pair, especially as they look so cute! Their bags were a definite highlight. Again, there was a stunning, glamorous collection, with studs, but also a more boho slouch bag. That means you'll be able to match your House of Harlow shoes with bags.
My final stop of the week was
Chase PR HQ
, and I had a lot of fun going through all the new collections. I've checked out pieces from their
Storm
and
Simply Be
collections in the past, so this was about seeing some new stuff.
I was so impressed with
Miss Sixty
. They've matured over the last few seasons and are now a super chic line. There was a lot of faux fur to admire, as well as some really cool denim, in various colours and styles. My favourite pieces of denim was a pair of metallic skinny jeans and their 'butt jeans', which, thanks to the way they're made, really add some lift and
VaVaVoom
to your little booty. I definitely need a pair!
I had a look at some of the shoes (there were so many amazing pairs of shoes at their HQ, I have no idea how they ever get any work done) and realised
Cats
now do some pretty cool pieces. I've known them as doing work style boots for ages, but it was so good to see them branch out and do some pretty stylish heels, and some colour street wear trainers.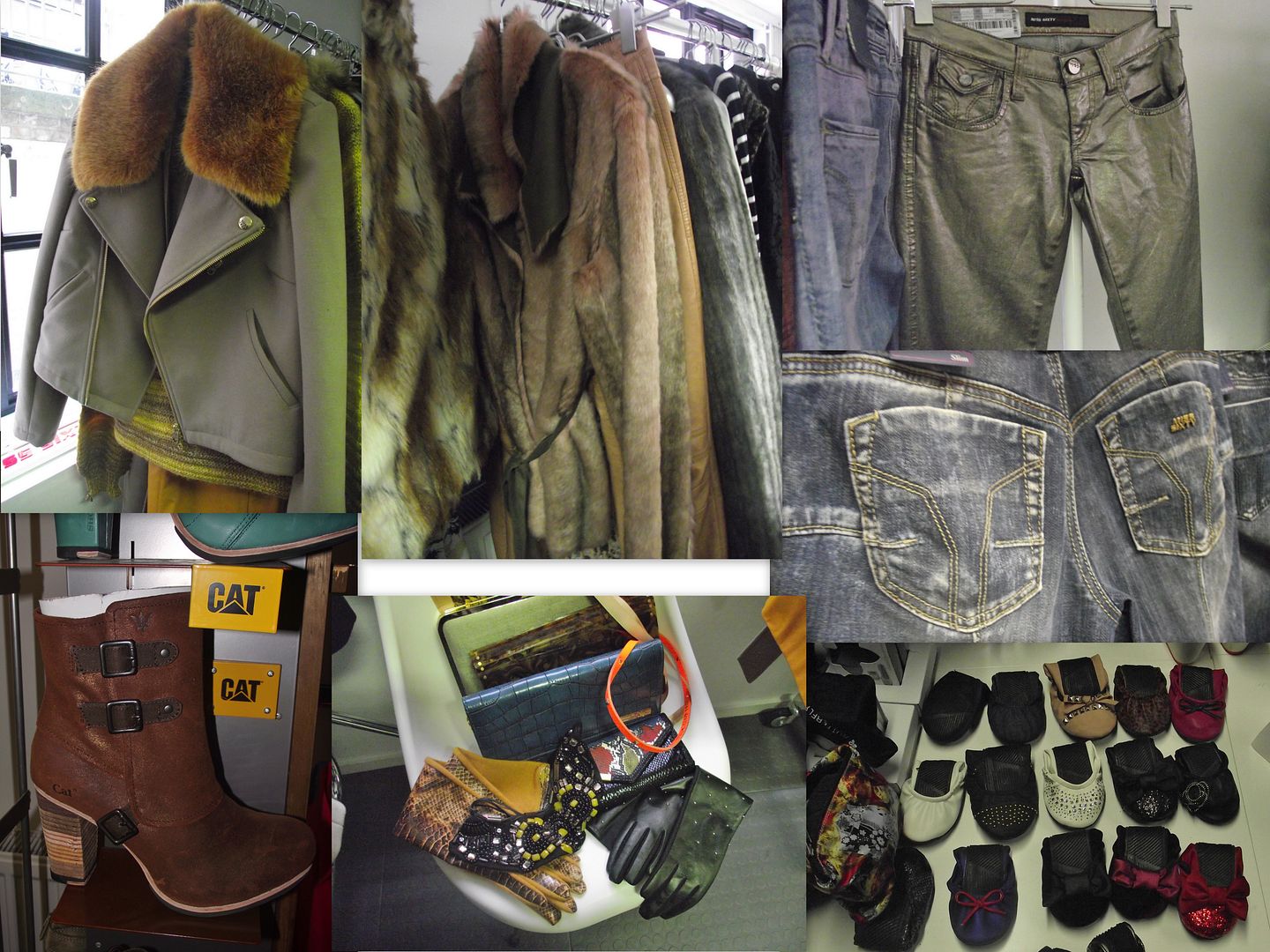 I was also introduced to
Butterfly Twist
, that do really cute foldable flats and boots (that's right: boots that you can roll up). The shoes were really cute and ones that you could wear all the time, instead of just after a night out in heels.
Hopefully that wasn't information overload for all of you, but I had to share it all. Hope you have a wonderful weekend!

Let me know what you think of all these collections.


Sherin xx