Don't hate me, but I did do the unforgivable crime of copying a blogger, or taking heavy inspiration from one. My justification: it was for something incredible.
I saw the uber gorgeous Chiara from
The Blonde Salad
rocking an amazing necklace and ring set from the Middle East and I instantly fell in love. She had her name, in Arabic, on a necklace and double finger ring.
While walking around one of the shopping centres in Qatar, I came across a small stall that made personalised jewellery, and in particular jewellery with your name in Arabic.
I had to wait 5 days for it to get made, but it was totally worth the wait. It came out absolutely beautifully, especially in sterling silver. I love statement jewellery, and multi finger rings are my favourite right now. You can't do much in them, but they look really cool.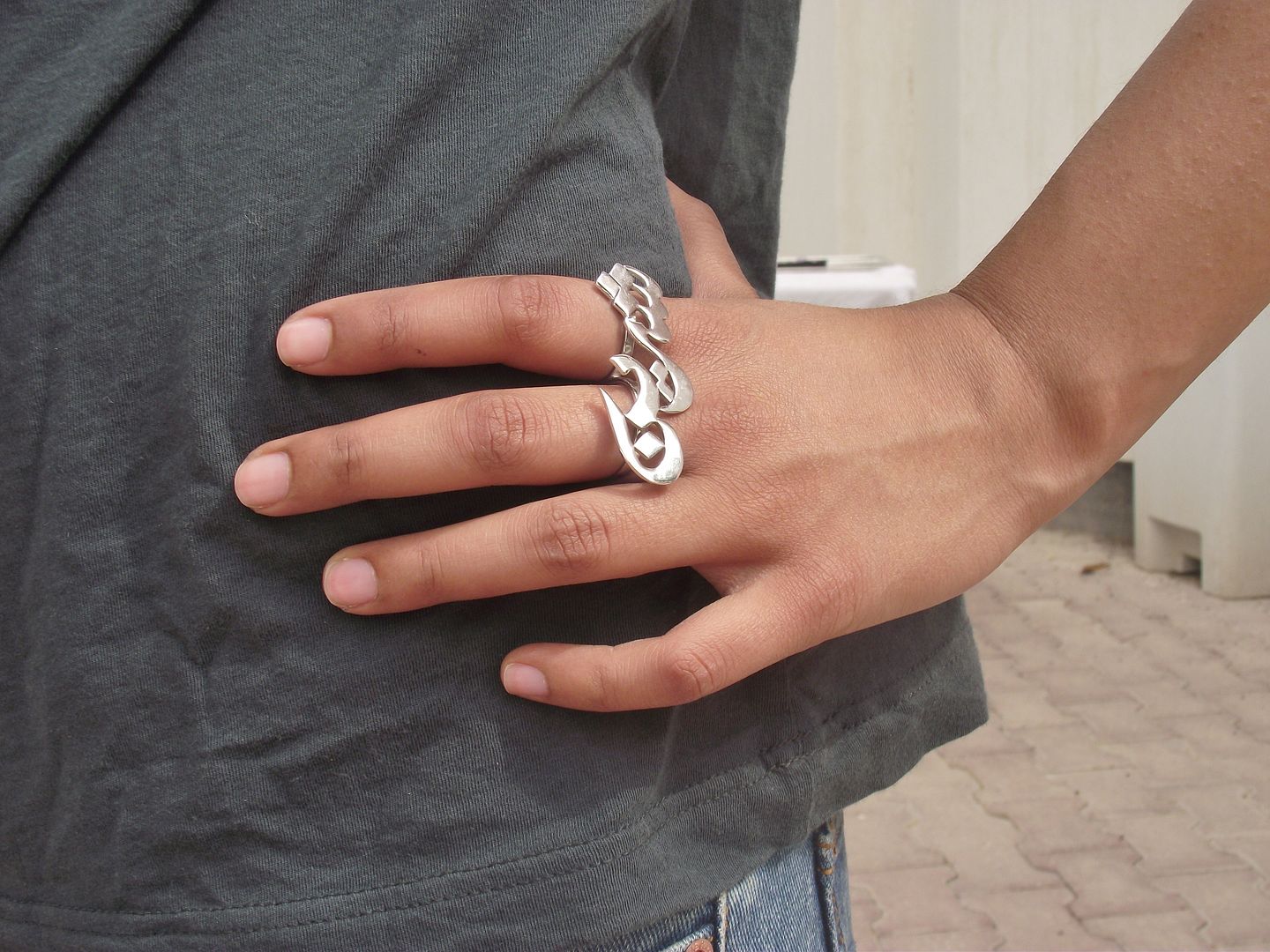 I was actually taught to read Arabic as a child, and although, a lot of it may have slipped out of my head, my name was something I could always recognise. Here's a little Arabic lesson for you as well: Arabic is written from right to left, as opposed to the left to right we use, so my name starts on the index finger here.
I'll explain how my name looks in Arabic as best I can. The squiggly line, with the 3 dots on top (on my index finger), makes the sound 'Sh'. It goes down, signifying an 'I' or 'E' sound, then the character that looks like a 'U', with the 2 dots over it is an 'R'. The character over it again makes an 'I' or 'Y' sound, then it ends with the circular looking shape, with the dot in the middle, which is an 'N'. Hope that makes sense!
What do you guys think?
Sherin xx
P.S. I'm spending the day FINALLY flying back to London. It's been a fun two weeks, but I really can't wait to get home. It'll be a very long journey for me as I'll be flying to Dubai first, then staying there for 12 hours (for shopping), before taking my direct flight home! So I'll be speaking to all of you tomorrow. Have a great weekend!