It has now been raining, constantly, in London for about 3 weeks straight. Seriously, it has not stopped, which means I have my boots out and am snuggling up in some warm knits. It also means that my hair doesn't look good for more than 10 minutes a day.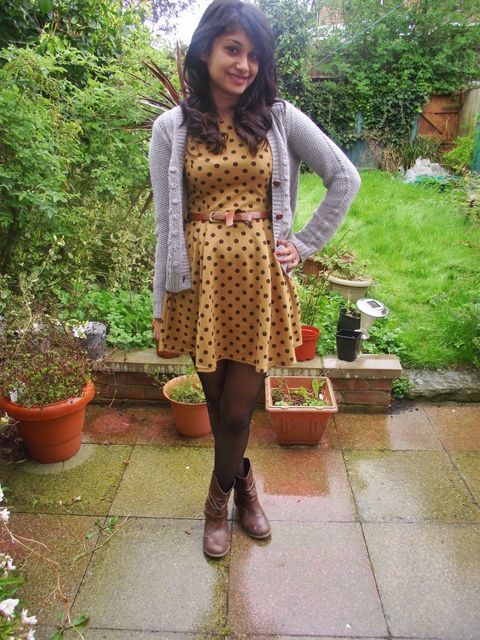 Wearing:
Republic Dress
Zara Cardigan
New Look boots


I wore this on a local errand run (it was raining so hard, that it literally was a run) and I wish I'd opted for jeans.
I love the boots though. I bought them years and years ago, and have only worn them a handful of times. They look more worn than they are as I wore them to see Kings of Leon in Hyde Park last summer. I'm pretty excited about festival/outdoor music season coming round again. Although I won't be doing any of the major ones again, I'll definitely be out and about at the London ones (Lovebox and Hard Rock Calling for sure!)
(Clearly enjoying the rain a bit too much! Also, please ignore the whole in the tights.)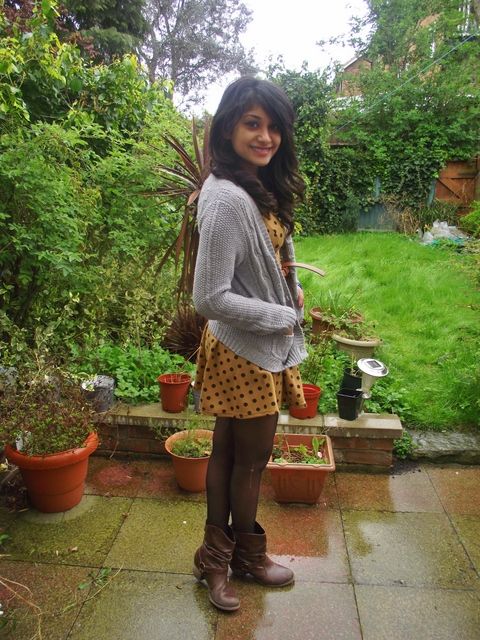 I don't know if you can see my lipstick colour, but it's a new favourite of mine. It's a coral shade from Volcom, which I picked up at a press day (sadly, they don't actually do make up - it was a one off). I never thought coral lips would suit me, but I really love the look of them. And it's less intense than red, so more wearable on a day to day basis.
Oh, and say Hi to yet another, gorgeous, new watch. This time it's from Guess, and I love the blue colour. I'm becoming more and more proud of my watch collection. Hopefully it'll soon be able to rival my shoe collection!
How do you protect yourself from the rain?
Sherin xx