I wore the yellow jeans again last week. I wasn't at all happy with how the pictures came out
last time
, but they're only slightly better this time round. I guess it's destiny that these jeans are NOT meant to photograph that well.
This time I paired it with white and definitely preferred the look. There's no denying that French Connection rocks at making jeans. These ones fit so well and are so comfortable. The H&M tees are amazing quality these days, so I've been stocking up on them in all their prints.
I also added my Love Moschino boots to add a bit of edge to the look. I am so in love with the shoes. They are remarkably comfortable and look amazing with everything.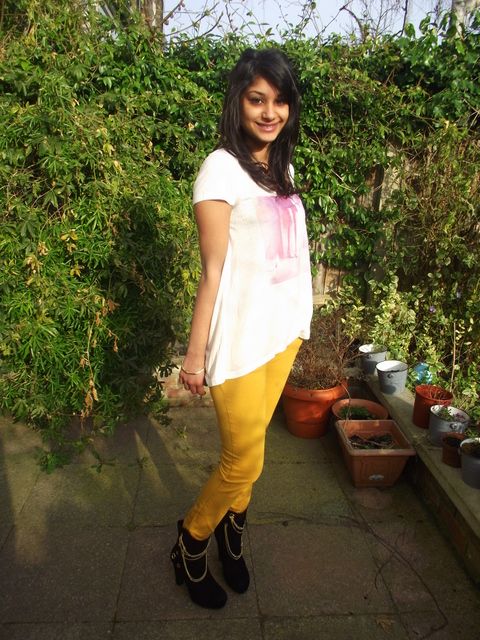 Hope you all had an amazing weekend. I spent the weekend excitedly watching the start of the F1 season. I'm so glad the races have started again: I'll be cheering on Sebastian Vettel again...while lovingly checking out the super hot Kimi Raikkonen. I'll definitely be hosting some kind of an F1 party with
Lizzy
and
Lily
at some point this season as well. I'm hoping for F1 car shaped biscuits, hehe!
How would you wear yellow jeans? I'm still finding it hard to stick them into everyday looks.
Sherin xx