While getting spoilt by
Westfield London
a few weeks back, we were taken into
French Connection
and were told that we could pick out a key staple piece. Being the denim girl that I am, I drifted straight towards the black and blue skinny jeans, which I already have a lot of. The sales assistant, being as awesome as he was, said 'no no' and took me to where the coloured jeans were, which is where I gave him a blank, unimpressed stare. If you've go back through my outfits posts, you'll see a lot of black, white, grey and blue, so apart from the odd red, you're pretty unlikely to see me in a lot of colour.
I was persuaded to take in a pair of red and yellow skinny jeans into the fitting rooms, alongside a bright top, and I knew I had to walk out with the yellow ones.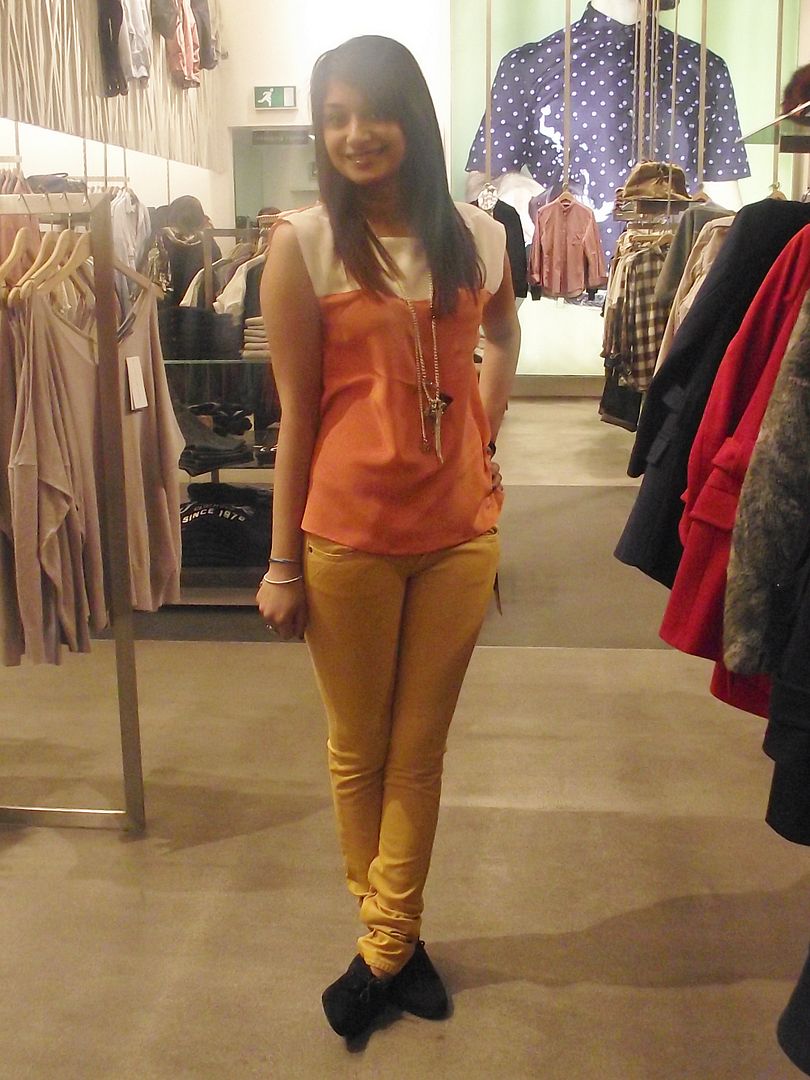 (Taken in the French Connection Store)
So I bought them home and then looked at them for a few weeks, not knowing exactly what to pair them with. More than once I put them on and then changed back into black/blue skinnies, fearing going out in such a bright colour. But I knew I had to eventually take the plunge and wear them, so I did.
I wore them while to a launch a few nights ago, and loved that they got complimented a lot. I decided to go completely opposite with my top, so decided on a slouchy, black Clothing at Tesco top, to complement the bright skinnies. The pictures definitely don't do the jeans (or the rest of the outfit) any justice, so hopefully I'll be wearing them a lot more, and will be able to photograph them properly at some point, really soon!
Would you wear coloured skinny jeans?
Sherin xx
P.S. Apologies for the poor quality of my pictures. My usual photographer (mum) is away on holiday so I had to make do with my dad. And the sun was just setting, so the lighting was horrible. Paired with a tired Sherin, these are the best I could come up with!
P.P.S. Happy March!