My hair has been in dire need of repair. You'll see that my hair is either pretty curly or straight in my pictures, but in all honesty, it is neither of those things. Now it's not unhealthy or dry as I use a lot of protection when I style my hair, it's just slightly flat and boring, hence the constant styling.
So I was pretty excited to try out the new John Frieda Full Repair range, which was sent to me a few weeks back. It's been working wonders with my hair and has livened it up a lot! The aim of the range is to help damaged and overworked hair, and bring it back to it's natural glory.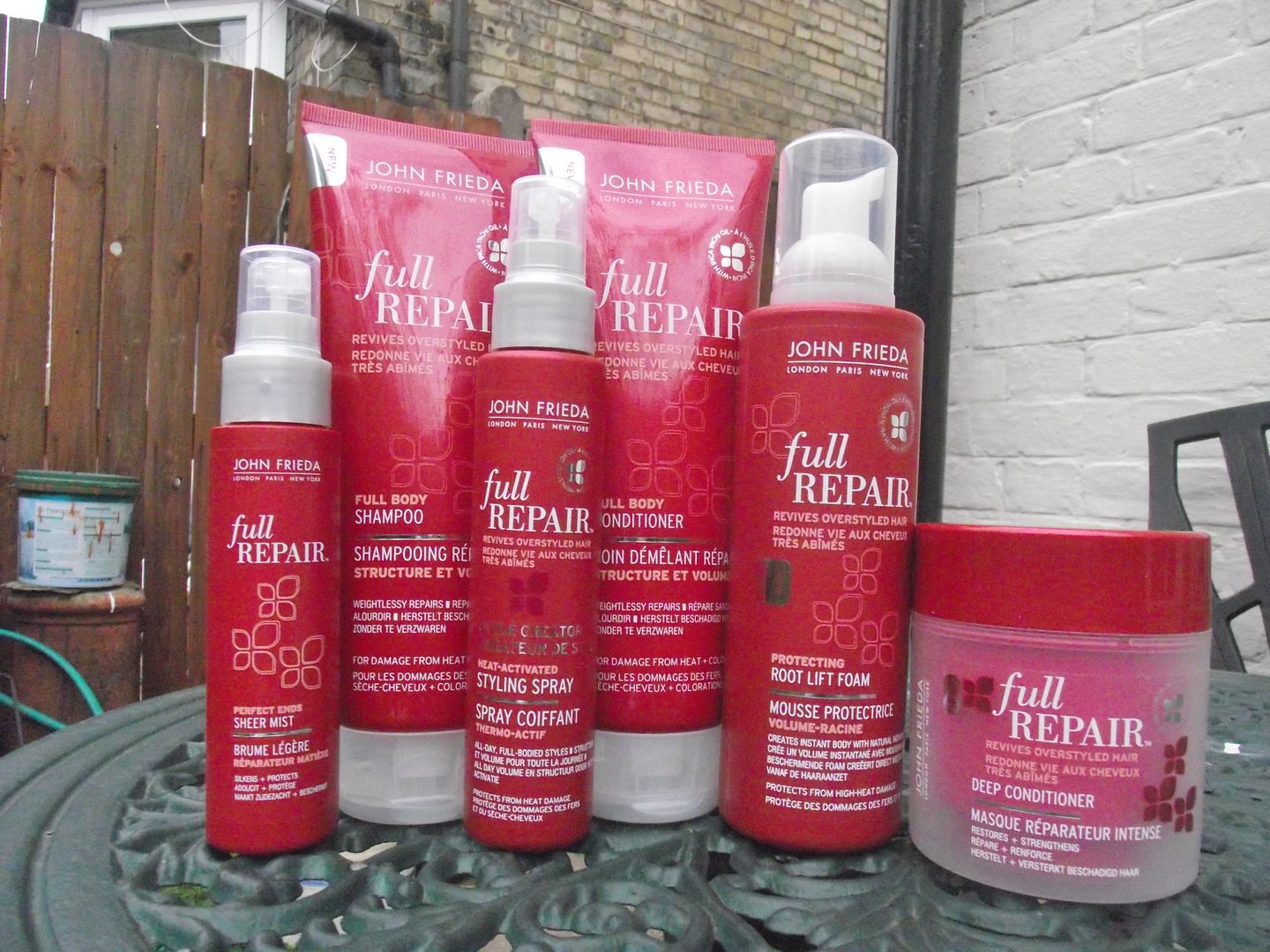 I was sent pretty much the whole collection and they all work great together. The collection includes: Full Body Shampoo, Full Body Conditioner, Deep Conditioner, Protecting Root Lift Foam, Heat Activated Styling Spray and Perfect Ends Sheer Mist. And the range includes Inca Inchi Oil that helps revive and nourish your hair.
Let me do a quick run through of the products:
Shampoo & Conditioner
I've been using these religiously and I can definitely feel my hair becoming a lot smoother. Both are lightweight and and do a great job repairing hair, which mine needed a lot of. Since using it, I can already feel that my hair is a lot healthier.
Deep Conditioner:
Although I still haven't used this product as much as the others, I can't wait to start properly. It's an intensive formula that really helps repair hair and leaves it feeling silky as well as reducing the risk of breakage.
Root Lift Foam:
This was one of my favourites from the range as it works so well! It's a perfect styling foam and gave my hair the body and volume that it needed. The foam also protect from the heat of styling products and we all know we can't protect our hair enough from heat! I've been using it on damp hair, before I style, and this works really well.
Heat Protected Styling Spray:
Definitely my favourite product and a product that I be re-buying for sure. I've been using it as heat protector spray and it makes sure that my hair styles really well with the heat. My hair straightens really well with this and it's also meant to keep your hair looking good all day.
Perfect Ends Sheer Mist:
Split ends is my biggest hair dilemma, and always means that I have to have several inches chopped off to get rid of them all. The spray absorbs into the hair and helps a lot with damaged ends. I definitely feel that's it's helped with my split ends and this is another product that I will definitely be re-buying.
So, all in all, I definitely recommend the Full Repair range. It's nice to have everything you need in one collection and the products compliment each other perfectly. The products are all very affordable and available to buy in both Superdrug and Boots. And the products all smell amazing as well and are safe for coloured or chemically treated hair.
Whether you blowdry, curl, straighten or colour your hair, these products are for you!
Sherin xx