I finally got back into the swing of things yesterday. It felt good running around and checking out some gorgeous collections at events.
First up, I went to
Ted Baker
's Spring Summer Catwalk Preview. I had a lot of fun there and it was an amazing fashion show. Ted Baker definitely know how to host a catwalk show. There were hot male models, blankets for the audience, beautiful dresses and even confetti at the end. There was a huge variety of clothes, such as menswear, womenswear and evening where, which consisted of some amazing pieces.
The men were all amazingly dressed, whether it was casual or special. I love a well dressed guy, and by the looks of it, my dream guy is a 'Ted Baker Guy'. (Also, can you see how everyone got blankets? Amazing). There was a huge variety of clothes and trends including florals, primary colours and nautical. The floral maxi dress was stunning, and I loved the striped skirt, with the red blazer. The later was such a perfect look, and one that I will be trying out myself.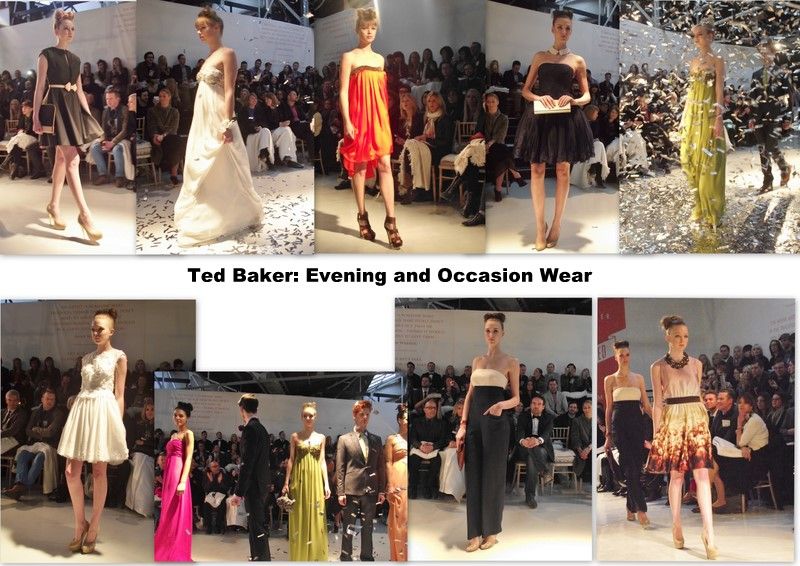 The evening and occasion wear was stunning beyond words. Seriously, these pictures do not do the pieces justice. The two black dresses are bound to be staple pieces, with the first one being a sure favourite. The red dress was my ultimate favourite piece from the whole show. It was a beautiful colour and I loved the asymmetrical hemline. The show ended spectacularly. There was confetti coming from the ceiling as the models walked around in some amazing gowns and suits. The white and greenish ones were my favourites from the evening wear. They'd be perfect for a wedding!
I was also invited to BoxPark, in Shoreditch, to check out the
Playful Promises
store. For those who don't know, BoxPark is pretty awesome. It's a pop up shopping mall, made up entirely of shipping containers. That's right: each brand has a shipping container to themselves, and it looks amazing. I've been a few times since it opened and can't get enough of it. It's right next to Shoreditch High Street Overground, so if you're ever around, I definitely recommend a trip down.
Anyway, Playful Promises invited me to check out the store and take a few goodies home with me. The lingerie is really beautiful, especially since it is vintage inspired. I'm a massive fan of pretty lingerie, so I'm always up for discovering a new brand, and Playful Promises will definitely be a new go-to for me.
I was really impressed by the collection, and everything was the softest silk material, so you know it'll be comfortable. It was really retro inspired, as well as fun, girly and pretty: everything lingerie should be. I loved the black pointy bra, and it was something I could see Madonna in, during her hey day. There was a 'Lost At Sea' collection of brightly coloured underwear (see bottom row) and each one had a cheeky little design on the back, which is fun on a whole new level.
I was also impressed to see things such as jewellery (sorry it's misspelt on the collage), shoes and clothes. The jewellery was gorgeous and the shoes were the most incredible heels. There were also pretty dresses and blouses. The red/pink dress was a particular favourite of mine. I love the shape and how it is cinched in at the waist, making it nice and fitted.
What do you think of the Ted Baker and Playful Promises pieces? There are a ton more picture of both collections on my
Facebook Page
.
Sherin xx
P.S. Have you American and Canadian bloggers entered my giveaway yet? 25 of you can win from InPink!