Every so often, I come across a website or blog that really inspires me, and I spend hours and hours looking through the archives, taking it all in.
I recently came across
Inslee
Sketches, via Pinterest, who does some of the most beautiful sketches ever and absolutely fell in love with her site.
The very talented artist has loved drawing for as long as she can remember, and the website is filled with some stunning designs. I'm as inspired by them as I have been with street style recently, maybe even more. Inslee draws what she's inspired by, be it new collections, celebrity style, street style and even her friends.
Here are a few of my favourites (not going to lie, it was really hard to narrow it down to just 5!!!):
This is the picture that I first discovered Inslee with. I love how well it's drawn and how cute the outfit is. The wreath braid in the drawing was inspired by the Olsens.
This look was inspired by one of the looks at the Kate Spade SS12 Collection. I love how nice and summery the colours are and how floaty the dress is.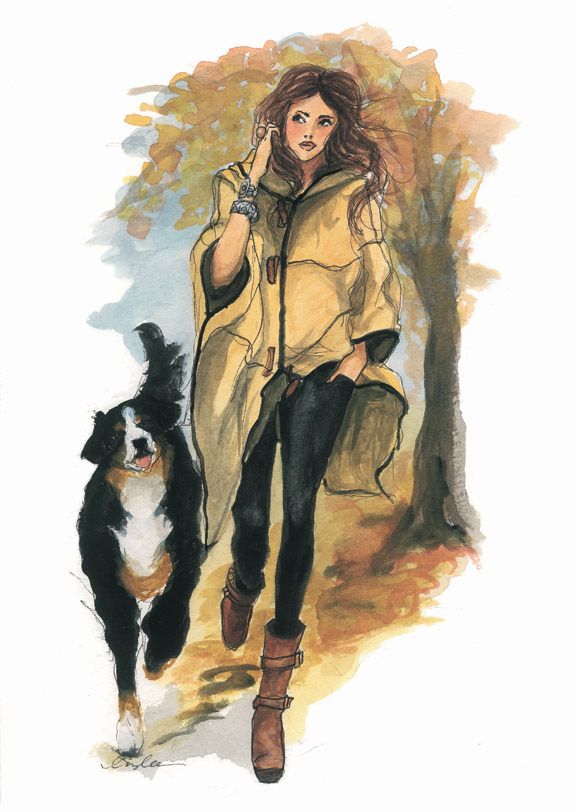 This one, entitled November, is definitely one of my favourites. Inspired by an Olivia Palmero look, I love how well it captures late Autumn. The colours are perfect for that time of year and the look is definitely something that I've been known to wear in November.
Another favourite of mine. This was sketched after she saw these two girls out and about. They've been drawn so well and it is street style at it's best. Also, how adorable is the little dog?
Another one inspired by Kate Spade, this time the shoes. I love how beautiful they are, and I love how classic the rest of the look is. The girl herself is so pretty.
I decided to email and get in touch with Inslee, to find a bit more about her and share it with you.
How did you get started?
I got started designing cards for friends and family while I was a college student, and then my fashion illustration business grew out of the note card designs. I have been sketching and studying art all my life.
What inspired you to make you want to sketch something?
I am most inspired by real life moments of fashion I see on the street, or captured by photographers on my favourite blogs and websites. I love classic, feminine looks.
What has been your favourite sketch that you've done?
My favourite changes daily. That is the best thing about my job: I get to create new favourites all the time.
You can also buy prints, cards or even a calendar from the
website
as well. I'm definitely going to get in early for the 2013 calendar!!
What do you think?
Sherin