Now that we're hitting the end of the year, I thought I'd do a round up post of all my favourite outfits that I wore this year. I found it harder to decide my favourites this year, and I don't know if that means I'm better dressed, or less picky!
Here they are, in no particular order:
1.
I wore this back in January, to the
launch of Sky's new Channel
: Sky Atlantic (a channel which I now can't live without). This dress, from Fearne Cotton's Range at Very has been worn more than once this year to various different events and parties, so has definitely proved it's worth.
2.
This Mina dress was worn back in May, to a
hang out session
with
Susie
, at my local park. Little White Dresses were a must this summer, and again, I've worn it countless times since. I love how the leather jacket toughened it up a tad.
3.
I love these
Sarenza shoes
, which are one of the cutest in my shoe collection. They took a while to be comfortable, and by that time Summer had ended, so I'm looking forward to wearing them a lot next year.
4.
I went more traditional to my
neighbours wedding
, earlier in the summer. I don't tend to wear traditional clothing that much, so it's a nice change when I do. I really love the colours on this suit.
5.
An outfit
that I repeated a lot more than once. The Paprika dress was one of my go-to's for the summer and love how well it fits, and how well they go with my Sarenza heeled brogues.
6.
By far one of my
favourite Take 10 Challenges
that we did. Company Magazine featured us in their November issue with this ASOS dress and we were so honoured. I had a lot of fun accessorising with the hat, bright belt and large sunglasses.
7.
Plaid is one of my favourite things to wear, so I loved this more autumn look, worn just as it was cooling down. Motel do some great pieces, and
this plaid shirt
has become one of my favourites. I love how I glammed it up a bit with those amazing heels.
8.
A
nice girly look
, which I don't wear nearly enough. It was a thrifted Lipsy dress, and we know 2011 was the year of thrifting! The Spartoo heels are one of my favourites of the year as they're so versatile and comfortable.
9.
This was taken during September's Fashion Week, where I was street styled by
Cosmopolitan Magazine
! Exciting, right? The top and skirt are both from Clothing at Tesco, and I love how the royal blue and black compliment each other.
10.
This
cute outfit
, taken as the leaves were falling, was made a lot cuter by
Susie
's incredible photography skills. It was another one of my outfits that has been worn to death this year, and no doubt the 18 and East skirt and the Clarks shoes will be making more appearances together.
11.
Another
autumn shot
, which was a casual outfit that I loved when I wore it. Vans are my favourite shoes, and boat shoes were the shoe of the summer for me. These Vans looked amazing, especially worn with the Hot Tuna Tank, which is a new favourite brand of mine.
12.
Leather really made a comeback for the winter, and this was me
trying out the look
for myself with a Very faux leather skirt, paired with Sarenza wedged boots. I liked how it came out, and was definitely willing to try it again.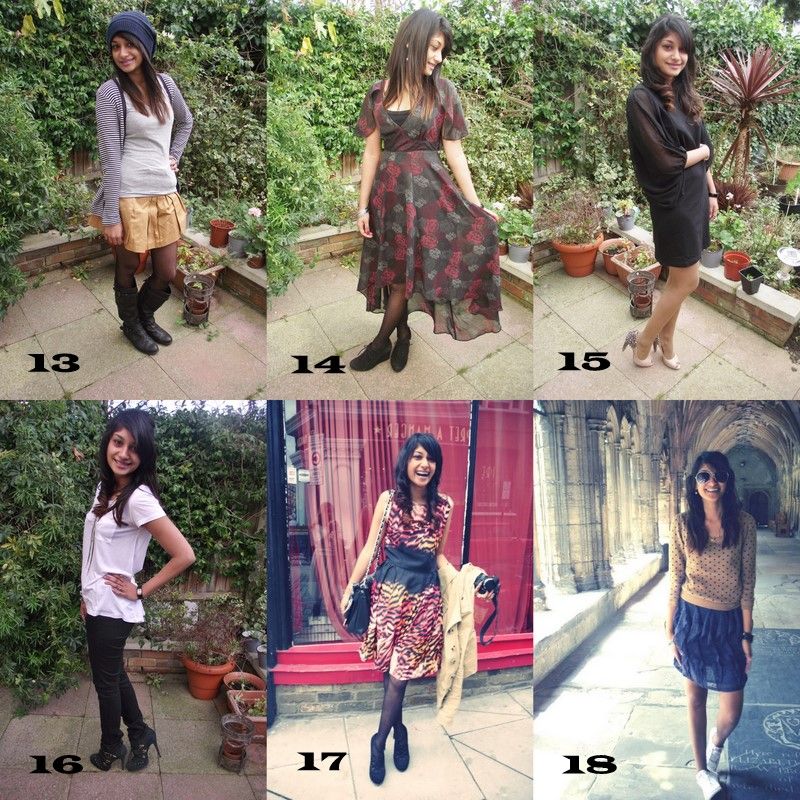 13.
One of my
favourite looks of the year
. I loved the bright skirt but it was this Ganni hat that has made an impact on my life. I've been wearing this hat all season and it never fails to give any outfit that extra little touch.
14.
Another favourite
Take 10 Challenge
of mine. House of Fraser did a great job picking dresses for us and I loved the asymmetrical hem line, along with the pretty print on the dress.
15.
This is at the start of the
Christmas party season
and I got to debut my incredible Sam Edelman spiked heels, that I love! I got them majorly discounted at a sample sale held by The Times Style Magazine.
16.
This was one of the more
'edgy' looks
that I rocked this year and loved how the skinny jeans looked paired with the slouchy H&M tees. I added a lot of silver and jewellery to really finish off the look.
17.
I wore this to the
launch of new brand
, Client, at a store on Old Street. I loved the colours and print of the Mina dress, paired with the really awesome ASOS heels, which never fail to impress.
18.
Finally, another really comfortable pair of shoes, this time
Converses
, which was worn went we went to visit Rachel in Canterbury. I've always been a Converse wearer, and love how great they look paired with a skirt
So, what have I learnt in comparison to
last year
: well, firstly, I've been doing a lot more to my hair (not necessarily a good thing) and that I've been been a lot more experimentative with what I'm wearing this year as well. Hopefully the later will continue to happen well into 2012.
What do you think? Which of these is your favourite? What have you been wearing this year?
Sherin xx