I think I've only given a sneak peek into my inspirations once before, so I thought it was time to do it again and share what's really inspired me in 2011. I've linked where I can, but a lot of the time, I've saved an image straight onto my computer, without a care in the world, not thinking that I'll be sharing it. So, if you do recognise a picture (or it's one of yours), give me a heads up (read: don't sue) and I'll be sure to credit the appropriate source.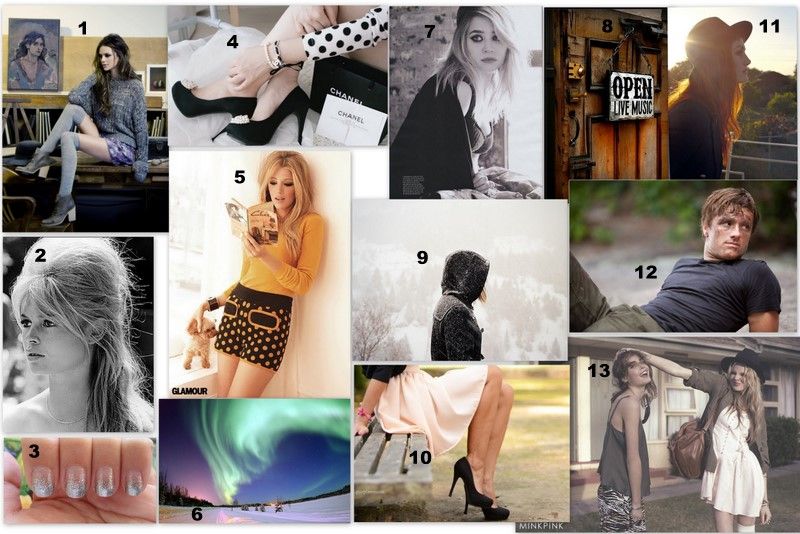 1. I have no idea where this picture is from or who the model is...but I love it. I love the way she's casually sitting, looking gorgeous, while wearing the beautiful heels and jumper.
2.
I'm a sucker for anything '60's, which is why
Bridgette Bardot
is a clear style inspiration for me. I love her hair in this picture, and have attempted it myself many times.
3.
Some nail inspiration from blogger, Tiffany AKA
Will Work For Make Up
. The nails here are gorgeous and so festive. I'm supporting similar glittery nails right now as well.
4.
Chanel
. Pretty heels; Pretty Jewellery. Need I say more?
5.
Blake Lively for
Glamour
is one of my favourite all time editorials. Again, I love the 60's vibe to it, especially her hair and make up, and adore the yellow she's wearing.
6.
Visiting
The Northern Lights
is one of the few things on my Bucket List. I can imagine them to be absolutely stunning and breathtaking.
7. This editorial of Ashley Olsen has her looking gorgeous, as usual. Once again, the clear retro make up has found a place in my heart.
8.
I love
live music
and went to a lot of gigs this year. I already have 5 gigs planned for 2012 (including Foster The People), which I'm really looking forward to. For me, nothing compares to watching live music.
9.
It's pretty cold in London right now, but I'd love for it to get cold enough for it to
snow
. I really want to bundle up in my winter knits and have some snow fights.
10.
2011 was the year that my
heel
collection grew to an unimaginable size. I love walking around in heels and love the confidence I get from them, and these black pumps are so elegant, especially paired with the nude skirt.
11.
I love Alison Sudol AKA
A Fine Frenzy
. I love her hair, I love her music and I love the inspirational humanitarian work that she does. I also love her casual, laid back style, especially the hat here.
12.
I am obsessed with The Hunger Games. I read the book in two days and I'm super excited for the movie now. Another positive is that it stars
Josh Hutcherson
, who is HOT! I first became a fan of his during Cirque du Freak, and have loved him ever since.
13.
A gorgeous picture from a
MinkPink
campaign. I love how fun it is and how the girls are having such a good time. A lot of the MinkPink pictures look like the girls are having a ton of fun, which is fantastic.
What's inspired you this year?
Sherin xx