With Christmas fast on our heels, it's time to think of presents for friends, families and, of course, yourself. I'm probably the worst present giver ever, but thanks to a number of amazing companies out there, I've come up with a great list of presents I can gift people, that I wouldn't mind receiving as well.
Winter Warmers:
Winter is definitely one of the most fun seasons to dress for. I love wrapping up warm in cosy knits, with scarves, hats and gloves, so why not get some lovely pieces like this for your friends and family.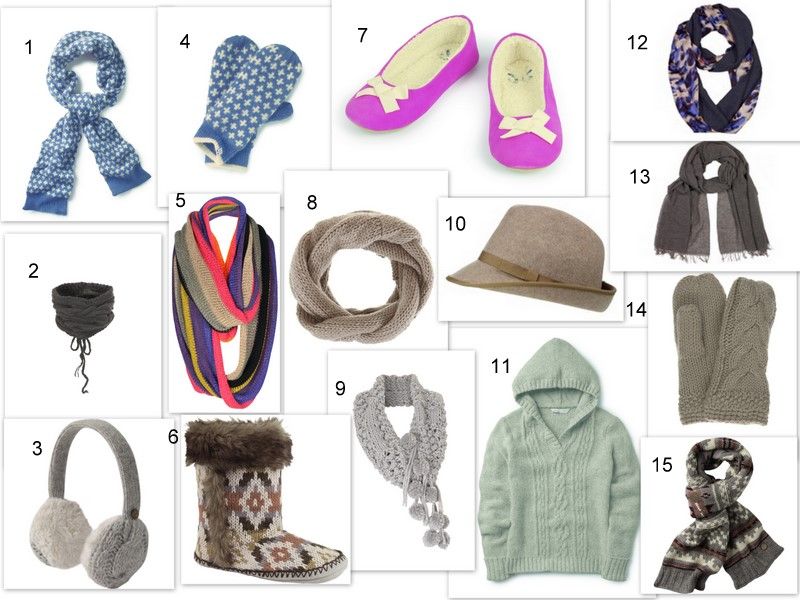 2, 8, 9, 14:
A selection of really cute knitted pieces from
Mint Velvet
. Set up in 2009, Mint Velvet specialises in really pretty womenswear as well as working with the Charity: Wellbeing of Women. I love these knitted pieces. It all looks so cosy, and perfect to wrap up warm in while out in the cold. The snood is my particular favourite, and is a perfect gift, paired with the gloves.
10, 12, 13
: These pretty pieces are from
Black Label
, which is for sale at selected Tie Rack stores, as well as online. Everything looks so luxurious, and it's all so affordable as well, with most of the collection being sourced and made in Italy. There is a cashmere collection, which includes soft snoods, scarves and blankets. I've recently also become a huge hat person and this one is so amazing. Definitely one any girl will be happy with.
5:
Numph
is a Danish brand, which I've only recently discovered. Formed by female designers, they wanted the clothes to be wearable and edgy. I absolutely love this scarf. It's so colourful, perfect for brightening up those winter days, and the layering of it would be great to keep warm.
1, 4, 7, 11:
How cosy do these winter goodies from
Crew
look? Crew specialise in amazing, British Heritage clothing, and have tons of cosy knits and pretty blazers, as well as cool polos. Their winter collection is all so cute and comfortable looking, with some amazing gloves/scarves sets. This matching mittens/scarf set is so adorable, and I can definitely see myself lounging in those comfy looking slippers, while absolutely living in that jumper all season.
3, 6, 15:
Fat Face
have an amazing winter gifts selection this year, perfect for no matter who you're shopping for. These 3 products are amazing for winter. Personally, I love earmuffs; they give you the warmth of hats, but also the glory of showing off your pretty hair, and the print on the scarf is so cute and wintery. Those boots are on my must-have list! They look so warm, cuddly and comfy.
Stocking Fillers:
Stocking fillers are my favourite type of presents. They're the fun little ones, that are both useful and thoughtful. You can easily get by by giving a loved one a lot of little stocking fillers, instead of a single, more expensive present. These are also perfect Secret Santa Gift ideas.
1:
If there's one chef I really trust, it's
Jamie Oliver
. I have a lot of cookbooks in my house, but Oliver's are the only ones that I can get any success from, as the recipes are both delicious and easy to make. This is a perfect book for a beginner, or someone who loves to cook.
2, 10:
Jewellery is always a fab present, and these cute bracelets from
Truth Jewellery
are gorgeous. You can get them from H Samuel and Argos, and they're a great gift for girls of all ages (they even have Truth Cutie, which is aimed at younger girls). All the products are so fun and colourful, and there's such a wide range, that there really is something for everyone.
3, 15:
More from
Fat Face
. My theory is that you can never have too any socks (especially if you're like me and are constantly losing one from every pair) and the pattern on these ones are so festive, that they're bound to put a smile on anyone's face when they open the wrapping. And how fun are the pom poms hanging from it? And the purse is so cute. Definitely something all girls will want in their bags.
4, 16:
Butler & Wilson
, stocked at
QVC
is a personal favourite jewellery brand of mine. Everything is so fun and statementy, making it a wonderful gift. I have a B&W ring, and not only are they great quality, but they look amazing. These 2 sparkly beauties are also pretty affordable, with both being under £40. As a bit of a nerd, I personally love the Star and planet one, and would love to don that on my finger.
5:
Find Me A Gift
have a huge variety of products, and so, there's a lot to choose from for Christmas presents. This Goddess Make up Collection has everything a girl needs, from a wide range of eyeshadows, bronzers, a Light Me Up lipgloss as well as a How To guide, which will be so useful.
6:
A pair of glasses frames may not seem like the most glamorous Christmas present, but as a glasses wearer, I'd love to get a super cool pair of frames. This gorgeous pair of frames is another buy from
Black Label
and personally, I'd love to get this pair in my stocking ass they look so stylish.
7:
Fashion Notes
is a brilliant idea. They fuse fashion and art with their Fashionable Faces collection, where they've made 10 posters, with quotes, with some of the leading icons in the world of fashion, such as Karl Lagerfeld and Marc Jacobs. Each poster also come with a great quote from the icon.
8, 11:
More jewellery, this time from
Goddiva
. Jewellery is the best present you could ever give a girl and these rings are a perfect gift. Goddiva specialise in some gorgeous party dresses and embellished accessories and these rings tie in with that perfectly. They're great to spice up any outfit.
12, 13:
St Martins Courtyard
, hidden away in Covent Garden have an amazing array of shops from Twenty8Twelve to Cos, and a whole load more. It has a great atmosphere, making Christmas shopping fun. I know a candle is a cliche present, but they look great as decorations. This one from The Covent Garden Academy of Flowers is so pretty, while the necklace from Hoss is a beautiful gift to give.
14, 18:
Some pretty make up, again from
QVC
. This Jemma Kidd eye palette is lovely, with everything you need to create gorgeous smokey eyes.The colours in it are all so pretty. The Laura Geller lipgloss set is amazing as well. They come in various different flavours and colours and are perfect to add some shine to your lips.
9, 17:
And how about some gifts that you definitely wont feel guilty about buying.
Heaven's Attic
donate 12% from every purchase straight to charities that help victims of human trafficking, such as A21 Campaign and the Salvation Army. Everything from the bags, jewellery an even homeware has been ethically sourced and it's all the name of helping those who have suffered from a modern day slave trade. This leather card holder and the tribal bracelet are both wonderful gifts to give someone and will also put a smile of their face when they know that the purchase has helped someone.
For that Special Someone:
Sometimes you want to go all out for a loved one, with something more expensive, thoughtful or glamorous.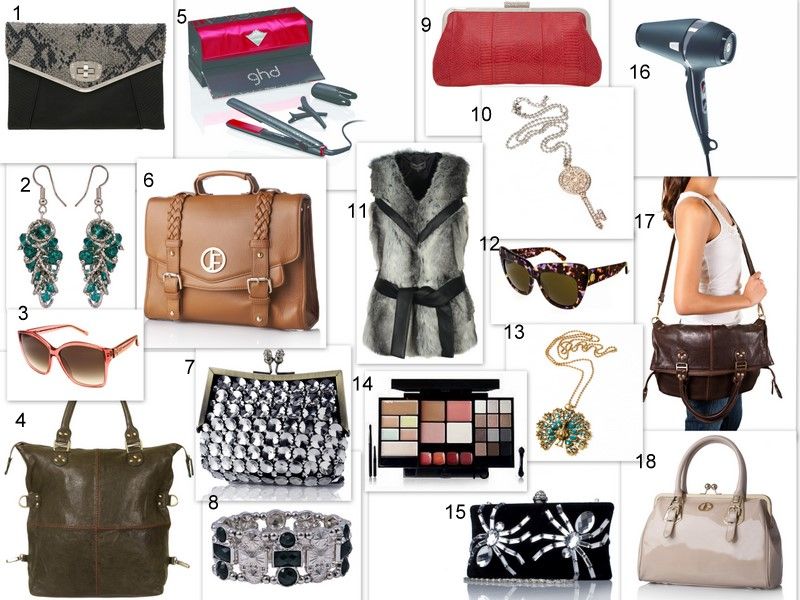 1, 9:
Bags are as a good gift as jewellery and this selection of clutches from
A Wear
are gorgeous and perfect for any occasion. The black and snakeskin one is perfect for any fashionista, while the red one is perfect for any girl who likes colour. A Wear is always such a pleasure to order from, so why not have fun while shopping online.
2, 8:
Although I don't know much about
Krisp
, it's clear to see that they have some really glitzy, glam pieces of jewellery, perfect for a loved one. I think the bracelet is so pretty and any girl would love those earrings. They come in black as well, so can match the bracelet, making it a pretty little set.
3, 12:
Although summer is still far off, these
House of Harlow 1960
sunglasses are great gifts. Large sunglasses always look great, and suit everyone. The patterns on the frames are so unique and fun, so a perfect present for any girl who loves her sunglasses.
4, 17:
I absolutely love these bags from
SU
. Made with luxurious Italian leather, and based in Spitalfields, they're great presents for any girl who loves big bags, and tries to fit as much as she can in them. The foldable bag is an ideal present as it can get smaller, but still looks amazing. The bags are all high end, and really well made, with a lot of attention to detail.
5, 16:
ghd
are probably one of the greatest hair brands in the world. I swear by their straighteners, and believe that every girl should have a pair. Nothing works better on hair, and it leaves your hair soft and silky, rather than heat damaged. The Scarlett set is a perfect Christmas present as it's something different. It's inspired by the 20's and are perfect for re-creating any style. As for the ghd Air dryers, I'm going to say they're a miracle product. I got one a while back (more on that soon) and they're the best hairdryers ever. They work so well, and definitely deserve to be bought as a present for any girl you know who doesn't have one.
6, 18, 7, 15:
More from
QVC
, with these amazing bags and clutches. The amazing handbags are from Jack French and I'm already in love. They're elegant and made with high quality leather, as well as celebrity clients in Kate Moss and Kate Middleton, so whoever you buy them for will be in good company.
And the super awesome sparkly bags are from Butler and Wilson, and will be the favourite present of the girls who get them. That spider bag is incredible looking, while the sparkly bag is truly amazing.
10, 13:
These necklaces are another offering from
Goddiva
. Like from the rings in the previous set, they're so fun and sparkly; perfect for any girl who likes her jewellery loud and big. The key necklace, in particular, is such a glitzy piece, which any girl would love to have.
11:
Finally, this super cute fur vest from
Numph
. It looks so warm, as well as stylish, so it's a must have for any girl. It's hard to find vest like this that both keeps you warm and looks good, so this is a good pick.
Hope that wasn't too much to digest!!! What are you buying, or what do you want, this Christmas?
Sherin xx