I like to think that I know at least a bit about fashion and style, being a fashion blogger and all, but like most people, I was never taught the basics or the easy day to day stuff that you should do...I just learnt it on my own.
Because of this, and a lot of recommendations, I picked up Lauren Conrad's Style book. I absolutely love Lauren Conrad and her style, so it was a no brainer that I should buy the book when I got some Amazon vouchers. After reading it, I can tell you it's a great style guide and is full of a lot of helpful and useful tips.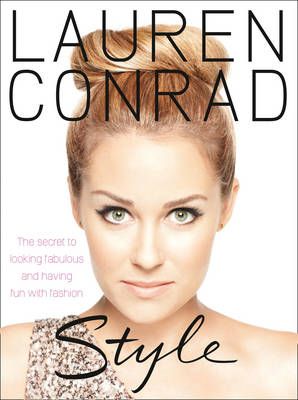 What I love about the book is that it's personal and real, unlike all the other style guides out there. We're all pretty much familiar with Lauren Conrad, and it is written from her perspective. It was like reading something a friend would write, and was filled with her own stories and anecdotes. Her personality really comes out as well, and there are a few funny bits put in there.
Tips include how to shop (such as sitting in jeans when trying them on), mastering your closet (one chapter that I will be reading again, as my wardrobe doesn't shut anymore) and how to dress and be comfortable. I have to admit that I've actually shopped a lot more since buying this book, but most of it is basics and key pieces, which I've been inspired to wear more of. There are also a few little tailoring tips in there, such as hemming jeans, and about not being scared to customise your clothes. I can honestly say that I have been more confident taking a pair of scissors to some of my clothes!
Other really useful tips include why you should test driving trends, how to mix prints and fool proof outfits for a whole host of occasions such as dates and job interviews.
There are also great sections on doing hair and make up, which we know are as important as clothes and can make or break a whole look. I always struggle with false eyelashes, so it was great to read tips on how to put them on.
One really useful section is how to look good in pictures, which is really perfect for us fashion bloggers who are constantly taking pictures for outfit posts. Conrad also ends the book with a fantastic endnote, which made me respect her even more. She says that it's all great looking good, but it's also important to be gracious and helpful to everyone.
I really admire Lauren Conrad and her style, and do see her as a great role model. Her style isn't trashy or tacky and she always looks polished, so she's one celebrity who's style tips I would use.
All in all, it's a great book. I'll definitely be going through it again when in need of inspiration, or if I have a style dilemma. She's intelligent and knows what she's on about, ans she herself uses all her tips.
Have you read Style? Any other fashion/style books you'd recommend as I still have a few Amazon vouchers left?
Sherin xx