I've recently been in a bit of a party throwing mood, especially since I pulled off
Susie's Leaving Party
. I'd love to be one of those people who can throw an amazing party for any occasion, that gets people talking.
I was recently sent Emma Forbes' 'Life & Soul' book and this is exactly what needs to be on my bookshelf. Alongside some amazing recipes, it has some fantastics tip for throwing a whole range of parties, from beach picnics to more sophisticated Black & White or Christmas Parties. While reading the book, you can tell that Forbes is really passionate about throwing parties and absolutely loves what she does.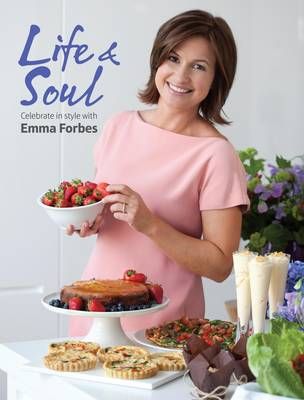 Kicking the book off with some great tips, it really does cover everything about throwing a party from start to finish. There are tips on who to invite and how to get a good blend of people, followed by priorities of any party: invites, food and flowers. She says invites don't have to be boring, and gives ideas of creative ones throughout the book.
There were also great guest and host Do's and Don'ts (such as DON'T turn up empty handed, which is one that I've learnt from my mum), as well as useful websites for any party extras.
The book contains an amazing mix of relaxed, special occasion and family parties, with relevant help on them all.
I particularly loved the relaxed party ideas, such as a beach picnic, and a brunch, both which I will be trying. For the beach party, there were great ideas from filling candle holders with pebbles and how to make a salad basket. And the brunch party has great advice on how to get a great relaxed environment and a delicious recipe for Honey Cake. My favourite recipe for this section was garlic bread for a No Hassle Dinner. I actually managed to try it and it came out delicious.
There were also chapters for more special occasions such as Christmas and Fireworks nights, and how to make them extra special. I loved the interesting decoration ideas, especially for Fireworks night (lit up torches in a basket) and there was a delicious flapjack recipe.
There was also an amazing section on Vintage style parties, that would be so much fun to host. There was afternoon tea and a sophisticated Black & White party. The afternoon tea party was simple and really classic, making it easy to host. I loved how the invite idea was to connect the invite to a tea bag, and there was also some great food features, such as open sandwiches, lemon squares and scones.
The family type parties section looked really fun as well, especially the baby shower, which was unashamedly fun and girly, with a great recipe for oatmeal and raison cookies.
The book also touched on all sorts of other parties such as Halloween, a Garden Party and a Big Chill Autumn Party (perfect for right now.)
I've totally been inspied to plan more parties and the book has helped me get over my fear of cooking and hosting, as the recipes and planning sound so easy. I want to throw more parties now especially brunch (friends look out), and I'm definitely going to cook and bake more.
I was also surprised that I had a lot of food for most of the recipes at home. The book makes it look easy and fun and how hosting shouldn't be a chore. I definitely believe that life needs parties like these so why not have fun and celebrate lifes little occasions. This book is definitely worth getting if you like hosting as there are som great tips in there, or even if you just like cooking because the recipes look easy and delicious.
Do you like throwing parties?
Sherin xx