I've been a fan of
QVC
's jewellery for quite some time now. There's so much variety and everything is gorgeous. I already have a necklace from there, and got to try on some of the pieces a
while back
as well. I know i wasn't the only really excited one when they offered to sponsor this Take10 challenge.
They let each of us choose a ring from Butler and Wilson, who do some amazing, sparkly and animal inspired rings. We all know how much I love statement rings, especially those that can be doubled up as a weapon, so I was spoilt for choice when picking which one to have.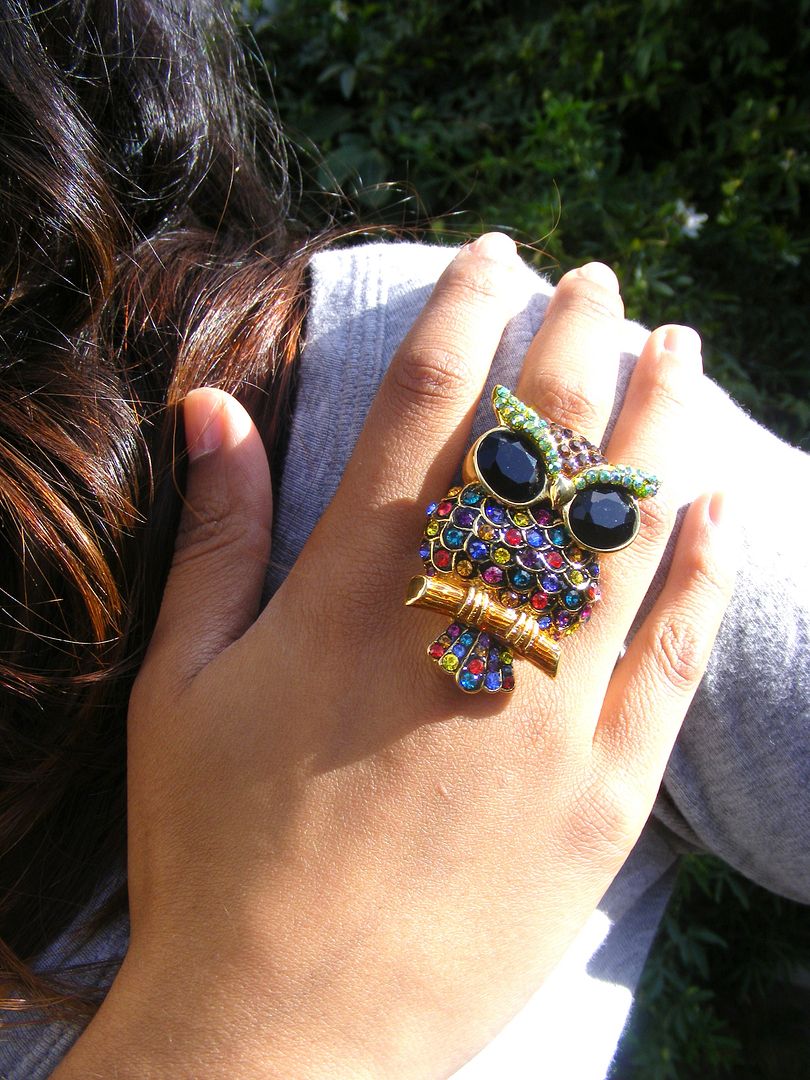 I picked the Owl Crystal ring, mainly because I love owls, but also because it looked so awesome. I love how there are so may gorgeous coloured crystals on it. This ring is definitely bound to make me stand out no matter what: I absolutely love it. And you know it's a great piece of jewellery, if, after you've worn it a few times, no crystals have come out :)
Because it's such a statement piece, I decided to go low-key with my outfit. The plain grey top is from Dorothy Perkins, and was definitely plain enough so that all the focus is on the ring.
I'll definitely be wearing this out and about, especially with Fashion Week around the corner. This has definitely been one of my favourite Take10 pieces and one that I will wear time and time again, to add a little fun to my looks.
And here's how the rest of the girls styled their chosen rings:
Jen from
A Little Bird Told Me
MJ from
Dreaming Spires & Old Car Tyres
Sherin from
HiFashion
Vicki from
Magpie Girl
Paula of
Pinkbow
Ellie of
Pretty Much Penniless
Sabine from
Psynopsis
Susie from
TakeOut in Couture
Sarah from
We Shop Therefore We Are
Harriet from
Where is Harriet
What do you think? Would you wear such a statement piece of jewellery?
Sherin xx