Last time I went to the Theatre, I cried...a lot. This time, there were tears again, but tears from laughter. I was invited to the very beautiful, Vaunderville Theatre, on Wednesday, to see The Flying Karamazov Brothers, and spent the whole performance laughing.
I couldn't find too much information about the show beforehand, but all I knew was that they a) Don't fly, b)Aren't Russian and c) Aren't brothers, so I really had no idea what to expect.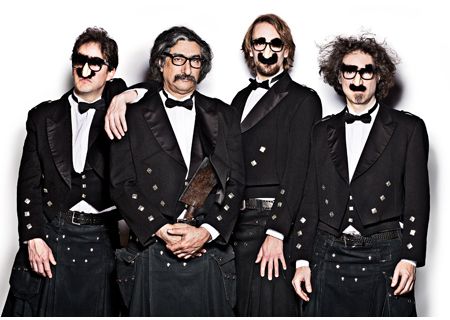 After a bit more research, I found out a bit more. The show has been going on since the 70's and consists of only 4 American guys, in kilts, on stage juggling and generally being really funny.
Really funny is an understatment. It's probably one of the funniest things I EVER seen, like EVER. And it was definitely one of the most entertaining things I've seen in ages. Susie and I spent the whole time either chuckling or cracking up, with full belly laughs.
The play is mainly the 4 guys juggling on stage and having fun. The juggling is FANTASTIC, and they were able to juggle everything from eggs to torches (with actual fire) and so much more. I was mouth open, mesmerised, for a lot of the juggling. There's no denying that they were really really talented jugglers and I loved all the little tricks they did while juggling.
They could really juggle anything and everything. The even did a trick where members of the audience volunteer some of their own objects to see if they're able to juggle it, and if 'The Champ' can't juggle them for 10 seconds, he gets pied in the face.
The rules are that they must weigh more than an ounce, but under 10lbs and they must be no bigger than a breadbox. Our clever audience decided on an open can of baked beans (Tesco brand, I might add), an open umbrella and a high heel shoe. He managed it and got a standing ovation from us.
The comedy is what really added to the juggling and made us laugh. It was realy satirical and there were lots of topical jokes, which we all absolutely loved. The jokes were very clever, and they picked on everything from British mannerisms (which was spot on) and even the House of Lords. Some of the jokes were so funny and clever and others were slapstick, and the two complimented each other perfectly in great balance.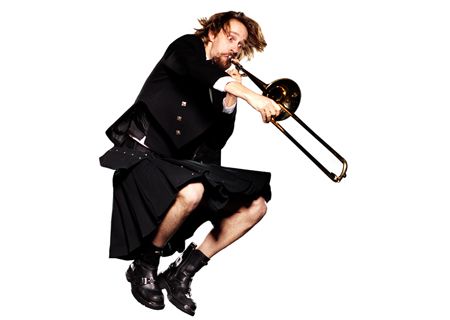 A lot of the show was based around their 'Terror Trick' where, throughout the show, they introduced the audience to 9 objectd of 'terror', such as an egg and salt shaker, in a very funny way, and then they juggle the various objects. I'm not going to ruin it, but I was not expecting them to be able to juggle some of those objects, but they did...and well.
The show is definitely something I'd recommend and I'm really tempted to see it again.
It's a great night out and perfect for a laugh; it was definitely one of the best nights out I've had in a while. It's perfect for a family trip, or just going out with friends. The 4 guys are really interactive and there are bits where the audience can really get involved, especially in the performance we were at: a girl was bought up on stage twice.
The show is about 90 minutes long, which includes a short interval. You can book until the 10 September, and you definitely won't regret going.
For more information, check out their
website
,
Facebook
and
Twitter
.
Have you seen this? Would you?
Sherin xx
P.S. I did an interview with Annie from Makeup and Jeans.
Check it out
.