Few things before I start my post:
Firstly, Hannah won my Daniel footwear competition. Not to worry if you didn't win, I still have my Sari giveaway going on!
Also, any Brits today: please don't forget to vote in the referendum today.
Yup, I've jumped on the colour blocking bandwagon. I really didn't think I would. I'm so likely to be seen in blues, greys and black that I never thought I'd be wearing colours like this...ever. But some of my favourite bloggers have been doing it so well that I was actually inspired. I guess that's the great thing about being a fashion blogger: being more experimentative with clothes and fashion and getting inspiration from all the amazing bloggers out there.
I wore this to a family BBQ last week. Umm, wish I hadn't gone though, because my family is PSYCHO. Anyone else find that their family is just mental? So it was a lovely afternoon of being bullied by my aunts (again), who also hated my new sunglasses (Ray Bans). Lovely, right? But won't get into it, mainly because it was followed by a pretty cool evening evening with
Susie
.
So I'm wearing orange HandM trousers (which I also wore a few days ago, and I'm also wearing them tonight to a tropical themed event), a yellow Hollister top and pink Barratts flats. I also went up a step and added a blue necklace. Go me!!!
I'm not too sure how the colour blocking comes across to everyone else, but I quite liked it and I know my mum loved seeing me in colours.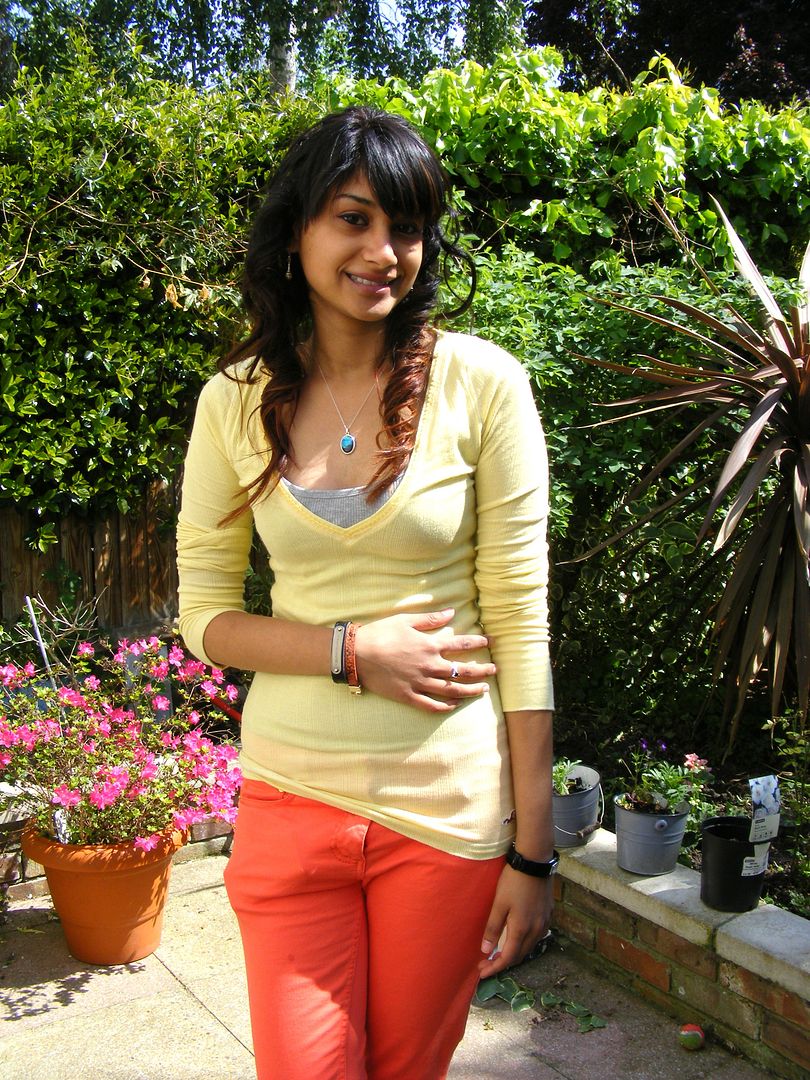 Here are all my lovely inspirations:
Cee
,
Leia
,
Susie
,
Daniela
and
Tanvi
.
What do you think? Am I rocking it?
I changed out of that top, into a more slouchy red top to meet up with Susie and to interview a great band:
The Lines
. They're really cool guys and definitely worth a listen. Anyway, the funny thing is that
Susie
and I were in pretty much identical clothes: bold trousers, grey tank, darkish slouch top. Some drunk guy even came up to us and asked if we called each other up beforehand to match! Great minds think alike, right?
Sherin xx