A few months ago, I won
Amy's
blogiversary giveaway (from her
old blog
). Among all the amazing goodies was a book called 'The Meaning of Sunglasses', by Hadley Freeman and it's a fantastic book.
As you all probably know, I love reading. For me, nothing compares to sitting wrapped up in blankets, and reading a good book, with my music blaring. And between all my Dickens' and Salingers, I do enjoy reading the odd fashion based book as a guilty pleasure.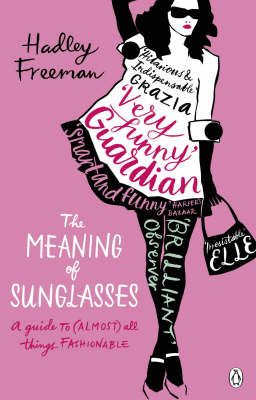 I really am loving this book. It's really witty and quite funny as well. Definitely an entertaining read, full of tips on all topics, such as wearing shorts and information about menswear on women.
The book definitely doesn't take itself seriously, and clearly states that it isn't a guide book that offers advice, but just a general guide to meanings of trends.
I love how the book starts off by mentioning the importance of accessories, and how fashion isn't just about clothes anymore. It is pretty hilarious. It explains how buying the occassional expensive handbag is more than just about wanting it: it's about letting the owrld know that you can splurge.
The book spends a few pages on each trend/topic and explains how it came to be and general opinions on it all.
This book is definitely worth a read and is guaranteed to make you laugh. I haven't finished it yet, but hope to really soon.
Sherin xx