Firstly how gorgeous did Kate look yesterday! She was seriously stunning. I was seriously glued to the TV all day. If you missed it, I'm sure tons of other bloggers will be blogging about her dress (which was McQueen). I was glued to the TV all day and even got teary at several points.
I don't know whether it's because I've recently gotten home from Pakistan, or that I've just been invited to my Indian neighbours wedding, but I'm in a bit of a traditional mood.
I still love my jeans and tee's and wear them like everyday, but sometimes it's nice to have a change, and to switch it up a bit.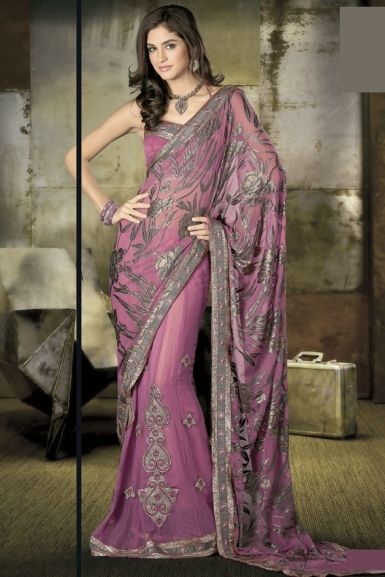 I've recently discovered Sareez, which specialise in more traditional attire and have just fallen in love with all their glamorous sari's.
Basically a sari is a traditional South Asian outfit. It's a long piece of cloth that can be worn in many different ways. They also come in a wide range of different colours, patterns, styles and materials, and are usually wrapped around the body, in many different ways, with a made to measure cropped blouse underneath. It is a piece that, traditionally, has been around for thousands of years and always looks so elegant and beautiful.
Some of the more dressy ones come with a lot of embellisments and embroidery, with a lot of different colours or in silk, and because it's one size fits all, you can really make it work for your body type. For example, pear shaped women can wear them by shifting focus to the upper body. They can wear bolder prints and wear darker shades.
Those with an apple shaped figue can wear a V shaped neck blouse instead of the traditional round neck.
Finally, slimmer women can get really heavy sari's, with tissue or organza, and can wear them very low at the waist.
I am by no means an expert, especially since I don't own one, but I'd love your opinions.
Would you ever wear one? Does anyone own one? If not...well, lets just say that at some point soon, there is an interesting collaboration going on between myself and Sareez. Be prepared!
Sherin xx