Hi,
I'm back from holiday tomorrow, so I thought I'd get started with some outfits that I've been wearing on holiday. This is probably me at my most low maintainance (or rock n roll, as Susie would say).
I'm wearing Vans, Clothing at Tesco t-shirt and Zara Jeans.
My holiday was to Pakistan, but we did have a 21 hour stopover in Qatar, to visit my dad (which completely confused the check in desk at Heathrow!!) The plan was to send our luggage straight to Pakistan and we just spend a night in Qatar, with just our hand luggage. In theory, it was a great plan. In execution, not so good. I don't like to travel with hand luggage (only a handbag), so didn't exactly have anything like spare clothes, creams, hair stuff etc. In fact, apart from money, all I had was eyeliner and a toothbrush.
So, this outfit was worn consecutively for over 2 days. The t-shirt even developed a hole, while the shoes moulded into my feet, hehe.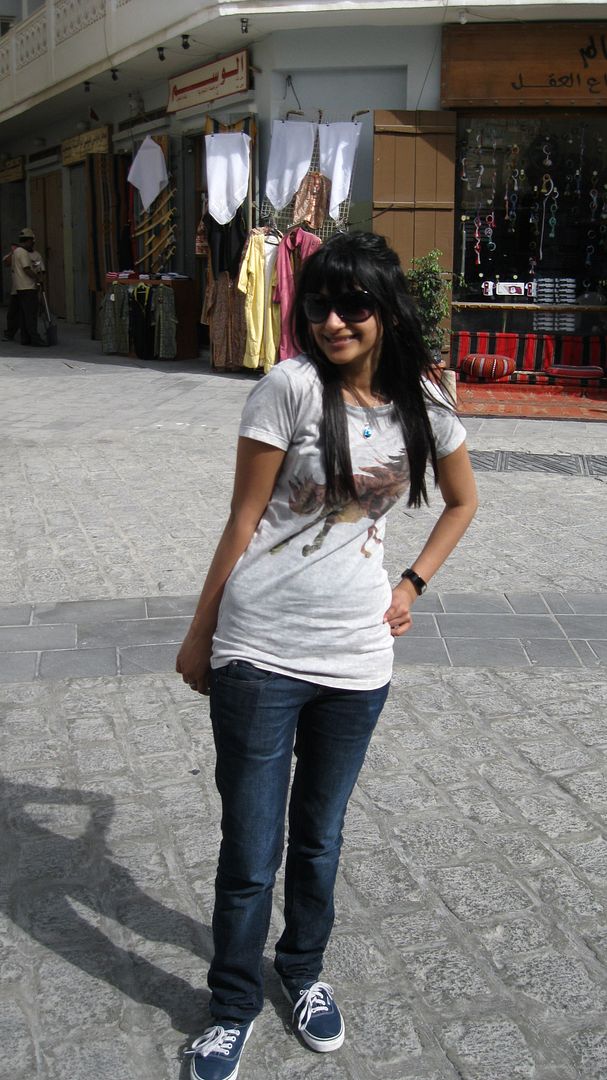 Also, the sunglasses aren't just protecting my eyes from the sun, they're hiding a lot. We landed at a ridiculous hour, so I didn't get much sleep, and I didn't sleep on the plane, as I wanted to make the most of the entertainment services: I managed 3 movies and an episode of Family Guy. Tamara Drewe is a fantastic movie by the way. It's amazing. Anyway, the sunglasses are hiding my bags and my make up, which was done the day before, and I hadn't washed it off or re-done it...and my hair hadn't been washed pr re-done in days either. So, yup, this is me at my roughest!
I did however get 2 compliments by complete strangers, which made me feel much better! Compliments are always good. And the check in desk decided I deserved a free upgrade to Business Class as well! Amazing. I pretty much spent the entire flight with a huge grin, and squealed when I pushed the button that turned the seat into a bed. And the tv's were incredible. was going to watch a new movie, but because everything was so perfect, I had to watch a favourite of mine (Sunshine).
How are you at your roughest?
Sherin xx
P.S. I should be back from holiday tomorrow. Yay, finally.