I think you can all guess who my new favourite band is: that's right: Thomas Tantrum. I saw them live a while back and they were absolutely amazing. The new single 'Sleep' is brilliant, and I got my mitts on the single to review.
Sleep
is the perfect upbeat pop song. It's catchy and full of Megan's amazing voice (which is really good live).She does have a really strong and powerful voice, and it compliments the rest of the band and music really really well. It's a great song to sing along and dance to and will definitely lift your spirits when you listen to it. I'm a sucker for fast paced fun music and this definitely falls into these categories. The chorus is just so much fun to listen to.
I also was lucky enough to ask the band a few questions, so that you could all get to know them a bit better.
Tell us a bit about Thomas Tantrum.
We are a four piece band from the south of england and we pride ourselves on making interesting pop songs that both attract and intrigue. Interesting arrangements mixed with catchy vocal hooks. We released our debut album in December 2008 and have ever since been moulding songs for our 2011 follow up. I am the only girl in the band which is a positive just as much as it is a negative sometimes (they are all lovely though)
Who are your main musical influences?
This is a tricky question because we all have very different musical tastes. For me, the first album was directly influenced by the music of Scout Niblett, Cat Power, Elastica and the Pixies. This changed however and my influences shifted to focus on bands like Blondie, British Sea Power, and The Cure. I did however make an effort to not focus on any band in particular when we were writing the album. I think if you listen to, or want to sound like another band so much then your music loses it's own character. It's very important for bands to be themselves and not jump on any buzz band wagon. Just be yourself and then your music will be honest and speak for itself.
What can we expect when we see you live?
we've got a couple of dates in London. 26th April at Wimbledon Watershed and 27th at Hoxton Bar and Grill which is our "Sleep" single launch. Following that will be a uk headline tour in June with the release of the album.
We put on energetic and powerful shows. I'd go and watch us.
(It's true: very energetic)
What are your plans for the rest of the year?
Festivals festivals festivals. we want to play some. We haven't confirmed any yet but will do so soon!
What's the funniest story you've got from touring?
we once drove into an underground car park in Paris that our van was too tall to fit in. We got totally stuck and had to get pulled back out by French Firemen (who were pretty fit so i didn't mind). Then the rest of the French trip we had to drive around with a big dip in our roof which doubled up as a paddling pool when it rained.
The lead singer of the band, Megan, has great style, and these following questions are directed at her.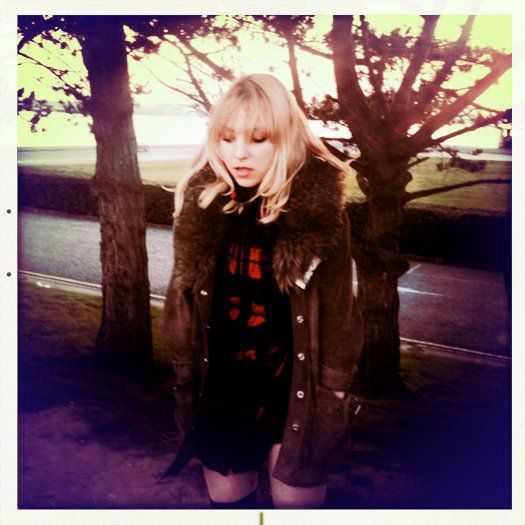 You've got great style; where do you get your style inspiration from?
I don't think i've ever focused on any particular style icon. It must sound really naff but i just wear what i like. Where I don't have very much money it's just fashion on a budget for me so I do the charity shop chic thing. I also visit a lot of vintage stores. I do always think out my outfits each day though and have to plan what i'm wearing the night before.
It's good to know that people think I dress well though. I'm pretty obsessed with Diane Keaton in "Annie Hall". I love the whole "suit and tie" look on girls. I'm always too scared to do it myself though in case I look like a man. I also love the whole Edie Sedgewick look.
I like a lot of bows and block primary colours. No floral or busy patterns. keep it simple and classic.
How would you define your personal style?
elegantly scruff bag with a twist of 60's glamour and school girl chic
What's been your favourite look?
short shorts with knee high socks, white flouncy shirt, brown brogues. classic
Where do you shop?
If I were to go into town right now I would visit Topshop, Zara, FCUK, H&m and River Island. I do like ASOS and Urban Outfitters though. especially Urban Outfitters. If I had more money I think I would dress like a Queen (a queen, not The Queen. Although the Queen can pull out some pretty sexy numbers sometimes). plug plug, any clothes labels want to give me free stuff?
So definitely give Thomas Tantrum a listen! They're amazing.
What are you all listening to these days?
Sherin xx