So, I'm officially on holiday, but I do have some great guest posts to share with all of you. First up, the very talented Allison, who's written a little something about the psychology behind fashion.
Whoever said "it's all been done before" was more correct than he or she imagined, at least when it comes to how the brain perceives color, shape and fit when looking at clothing. Some scientific evidence suggests that the brain may make decisions related to visual stimuli based on past visual perceptions that influence the unconscious neural activity preceding a conscious decision. While it may sound like you need a
psychology degree
to understand why people pick out the clothes they do, the basic idea is simple: people's sense of fashion reflects their past visual experiences. Thus, difficulty deciding between a blue scarf with orange stripes and a blue scarf with yellow stripes might spring from a lack of previous experience with orange or yellow stripes.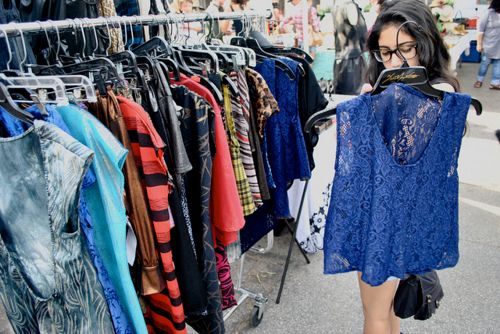 When you look at an outfit, your brain spends some time gathering information before concluding "trés chic" or "fashion fail." Light and color play a major part in this process. Light enters your eye and is interpreted as color by your visual sense, but without some previous point of reference, your brain has no basis for interpreting the perception of color.
Jonah Lehrer
of the Harvard Decision and Science Laboratory says that our brains can only take in a few bits of information at a time before beginning to overload. Thus, he thinks we make better decisions by involving emotion in the process. The emotional portion of the brain is better equipped to handle multiple pieces of information for better and faster processing. Additionally, according to a
study
from the Universities of Liege, Geneva, and Surrey, the perception of light as color influences the way our brains process emotional stimuli.
These studies indicate that decision-making is not a purely rational act, but an emotional process based on past experience in a brain generally unable to process more than a few stimuli at a time. This theory is borne out by another
study
from the Max Planck Institute for Human Cognitive and Brain Sciences in Leipzig, along with the Charite University Hospital and the Bernstein Center for Computational Neuroscience in Berlin. Their scientists used a brain scanner programmed to recognize brain activity in the moments before a decision was to be made. Activity patterns in the frontopolar cortex of the brain indicate choices are being made subconsciously before the subjects made their decisions. The study found that brain activity permits prediction of a decision seven seconds before the subject makes that decision consciously.
Along similar lines,
other research
has suggested that our brains do their best decision-making unconsciously, gathering information below the level of awareness. Once our brain crosses a certain threshold of confidence, the decision becomes conscious.
When it comes to choosing clothes or assessing the aesthetic quality of an outfit, chances are these unconscious aspects of our decision-making process are heavily involved. Your visual perception of those striped scarves, by themselves and in combination with whatever else you want to wear, has gone through your brain and been subconsciously vetted well before you consciously decide "yea" or "nay." Your own past visual experience and the evolutionary tendencies of visual perception have both already been brought to bear in an emotionally driven assessment more or less inaccessible to your conscious awareness. From this subconscious process bubble up deliberate evaluations of one scarf as fabulous and the other merely so-so.
"There's no accounting for taste" takes on a whole new meaning in light of the fact that the psychological basis of taste in fashion lies in these hidden subconscious processes. Thus the next time you find yourself in front of the mirror saying "hmmm…", consider that your decision has probably already been made.
Thanks for the guest post! Hope you all enjoyed it.
xx