I haven't done a Sunday Special's in weeks, but I've decided to re-name it and have it a lot less frequent, so that I get more decent content for it.This is a pretty long one!
We all know that Valentines day is around the corner. I'm single, so my day will probably be spent as every other day, but if you are celebrating it, both La Senza and Matalan have some great Valentines day ranges out there.
La Senza's
range is really very sexy. The sets are really adorable and stunning and in really beautiful colours. There are plenty of ruffles and pretty patterns and colours, so that there is something for everyone. Take a look
online
and see the collection for yourself.
Matalan's
is also fantastic. It's perfect for Valentines Day as there's a lot of red and fun designs. I really love the polka dot print one and there is also a lot of lace in the collection. Check out more of the range
here
.
I also recently came across
Fashion156
, which is a magazine the supports new and emerging designers and talent. For the upcoming season, they are tracking 14 designers in the run up to LFW, such as NewGen designer Fannie Schiavoni, Vauxhall's One to Watch Kirsty Ward and Elle Talent Launch Pad winner David Longshaw.
There are daily updates in these designers and it's a great way to see how they work and their creative process.
The blog allows designers, such as Ashish, to contribute to the site and lets readers know about emerging labels, as well as interviews and behind the scene news.
Radley
chave also teamed up with the British Heart Foundation for a really amazing campaign for National Heart Month. They're hosting a shoe and bag amnesty, where customers are being asked to donate any unwanted accessories, which will be sold to raise money for the charity. Radley will be giving all donators £30 vouchers for shoes or £20 voucher for shoes.
The campaign will run from the 1st-28th February and has raised over £50,000 over the last few years. This year, Gabby Logan and Geri Halliwell will also be donating some accessories.
Clarks Original
are launching their first Pop-up store on 101 Regent Street, from the 7th-20th February to celebrate the launch of SS11 line. They will be showcasing and selling from their SS11 range, including products from their collaborations, such as with Millerain for men and Laura Ashley for women.
There will also be other activities, such as live DJ sets and live music from Strummerville bands, from the 15th. I saw a Strummerville band at their SS11 press day and the band was really talented.
Clarks Originals have a history of working really closely with music and musicians. Bands such as The Beatles, Damon Albarn and Florence Welch have been seen in Clarks and have even been mentioned in song lyrics by the Wu Tang Clan.
Lots of stores are bringing out their SS collections and here are a few of my favourites.
A Wear
, where I've been shopping from a lot lately, are releasing their Chic Safari Collection tomorrow. It's full of animal prints, utility classics and safari suiting as well as statement gold and wooden jewellery. The collection has gorgeous pieces, such as knot front crop blouses, neutral colours and slouchy blazers.
Republic
, one of my all time favourite stores are also releasing their SS11 collection with a wide variety of 70's inspired pieces. It's a gorgeous collection and can't wait to go shopping at Republic now! The wide leg jeans below look fantastic!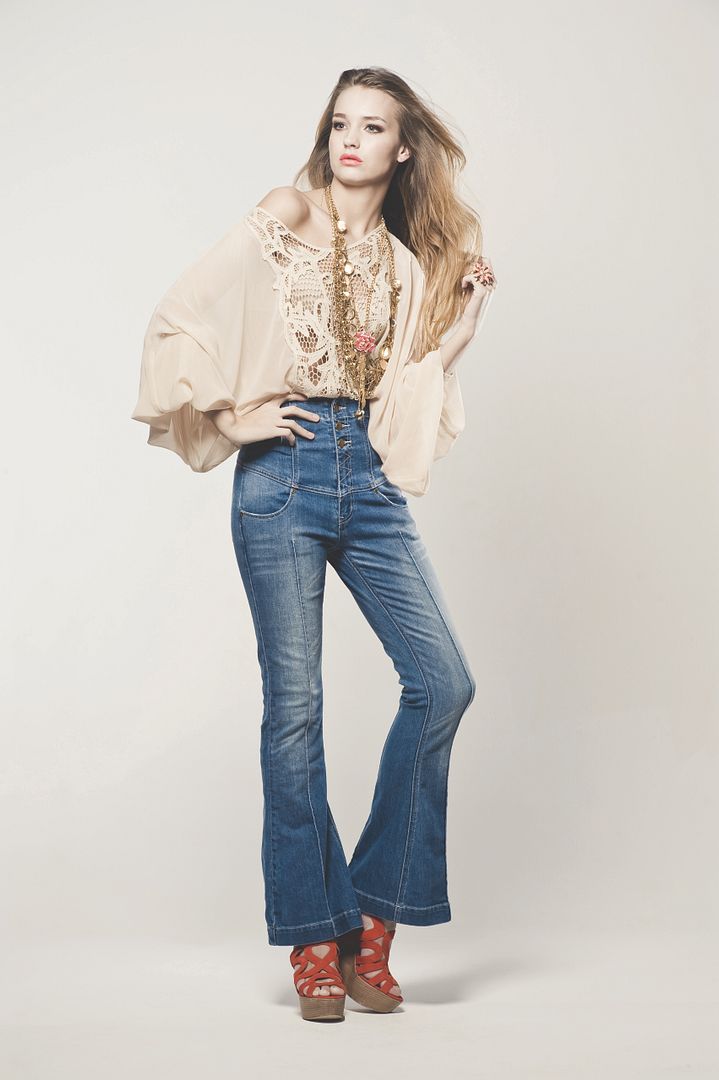 Finally, as you know I'm a huge music fan. A friend of a friend recently did a
remix
of one of my favourite songs of the moment: Adele's 'Rolling in the Deep'. Check it out
here
. He's one half of a new wave band, so I'm excited to hear more stuff soon.
Hope you're all having a fab weekend!
Sherin xx