It's time for another guest post. As the Maxi trend is so huge this upcoming season, I thought it'd be a good idea to have a trend report on them. So here's your guide:
In an age that's seen women's liberation from bras and the proud projection of gams from mini-skirts, why would we take anything from the days of medieval and Victorian Europe--specifically, the maxi skirt?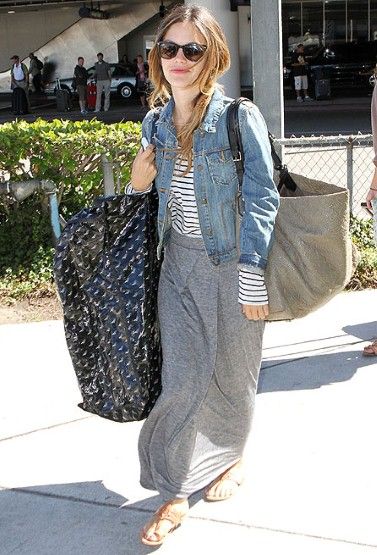 Think about it. Back in the day, peasants wore long skirts and dresses but those working the fields tucked them up to allow for mobility. Noblewomen didn't have to move, so they let their skirts trail practically miles behind them. That was the fashion until centuries down the road when the mini-skirt stormed the streets in the 1960s. Since girls looking for love have discovered that it's no longer trashy to show off our legs, why would we ever go back to something that barely shows any ankle?
Fashion Statement and Revolution
The maxi skirt is "fashion's backlash to the short skirt," suggests Morgan Yakus, a partner in No.6 (a fashion store in Manhattan).
She makes a good point. While covering the legs entirely, the look of the maxi skirt is long, lean, and lithe—all traits for which most women would and do pay money. Lord of the Rings enthusiasts can rejoice and pretend to play Elves when paired with slim, flowery, sustainably harvested bamboo tops while urban fashionistas pair them with military parks and biker boots.
Besides, not everyone wants to wear a mini skirt at the year's first 50-plus degree breeze. Many of us sorta feel like throttling the ones who insist they're not cold when we can clearly see frost forming on their bare goose-bumpy legs.
Moreover, for girls lacking in the confidence to pair a mini with boots, maxi skirts can make them feel just as fashionable and feminine as their shorter-hemmed counterparts.
As with minis, though, maxi skirts come with an understanding that they really don't match everything in your closet. Yes, the look is a classic one, but so is a sun bonnet.
1.
Watch proportions.
While you wouldn't wear a tube top with a mini (for fear of being mistaken for a member of the oldest profession in civilized history), think thin when you're sporting a maxi. If you're going big and flared on the bottom, watch your proportions and go slim up top.
2.
Look for the flare.
Hunt down skirts that hug your hips and flare out. A-line shapes are flattering for many body types.
3.
Keep it consistent.
If you're going for more of a Morticia look than an Ophelia one, stay away from floral designs, especially if you'll be wearing your steel-toe boots.
4.
Perfect for summer (spring?) lovin'.
There's almost nothing more charming than wearing a maxi with a pair of flat sandals to the beach.